Get a
FREE


ENU Intro Pack*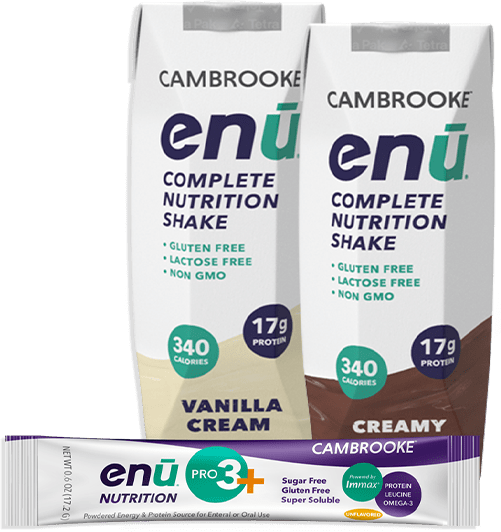 5 High Calorie Ingredients in Meal Replacement Shakes
Meal replacement shakes should be a healthy source of calories and nutrients. Often meal replacement shakes are used by people experiencing unintentional weight loss or medical difficulties that require additional nutrients or an alternative to solid foods. When choosing a meal replacement shake, it must be high in calories as it's meant to be a substitute for a meal or snack. There are certain ingredients to look out for and avoid when choosing a meal replacement shake.
A healthy, high-calorie meal replacement shake has identifiable ingredients. Look out for significant amounts of protein, complex carbohydrates, healthy fats, a milk-base, and healthy additives. All these things can indicate high-calorie ingredients that can help your body receive energy. Meal replacement shakes that are low in calories may have high amounts of sugar or be devoid of important nutrients and ingredients.
At ENU, we understand the significance of offering our customers healthy products. Our ENU Nutritional Shakes are made for those experiencing unintentional weight loss or those who require additional nutrition. Because of this, our ENU Nutritional Shakes are 400 calories per serving, with hydrolyzed protein powder and MCTs for easy digestion. Visit our website to purchase ENU Nutritional Shakes today.
5 High Calorie Ingredients in a Meal Replacement Shake
Knowing the right ingredients to look for in a meal replacement shake is important. If you don't, you may purchase a product made up of empty calories, unhealthy sugars, and low nutritional value. Look out for these ingredients when deciding on a meal replacement shake.
Protein
A high amount of protein in meal replacement shakes may indicate nutritional value. Protein has four calories per gram, making it a high caloric substance, depending on the amount consumed. ENU Nutritional Shakes have 20 grams of protein. Out of the 400 calories in each meal replacement shake, 80 come directly from hydrolyzed whey protein. Not only is protein high in calories, but it's responsible for many necessary processes in your body. Protein is a good source of energy that helps to keep your bones and muscles strong.
Complex Carbohydrates
Complex carbohydrates are a great source of calories. Unlike simple carbs, complex carbohydrates have a higher nutrient density. Carbs give your body energy. In ENU Nutritional Shakes, brown rice is used as a source of complex carbohydrates. High in calories, brown rice is more nutritious than white rice. ENU utilizes brown rice syrup solids to provide your body with necessary carbohydrates. The process is used to make brown rice suitable for gluten-intolerant people. It contains 75 calories per tablespoon, making it calorically rich. The complex carbohydrates of brown rice remain after the process is complete, maintaining its nutritional value.
Healthy Fats
In a high caloric diet, healthy fats are a great source of calories. ENU Nutritional Shakes contain four grams of MCTs per serving. MCTs, or medium-chain triglycerides, are fats that are more easily digestible. A pure fat, MCTs contain 8.4 calories per gram. The result is a high caloric fat intake that is easily digestible for those with sensitive stomachs.
Milk-Base
Milk-based meal replacement shakes don't have to contain lactose. ENU Nutritional Shakes are lactose-free, yet they contain whey protein which is derived from milk. As opposed to other meal replacement shakes, milk-based shakes provide a large number of calories. Milk with a higher fat content will be higher in calories, and it can be lactose-free. The lactose in milk can be broken down into simple sugars, making it easier for lactose-intolerant people to digest. The nutrients and calorie content in the milk don't change, making it a great source of calories in meal replacement shakes.
Healthy Additives
If there are additives to your meal replacement shake, it's best if they offer nutritional value. For example, in ENU Nutritional Shakes, our creamy chocolate flavor includes alkalized cocoa. Though it's in a small quantity, 2%, it carries nutritional value. Alkalized cocoa is very low in sugars but high in protein, carbohydrates, and calories. Even by adding it in small amounts, alkalized cocoa offers nutritional value. Healthy additives can help keep your meal replacement shakes nourishing and contribute to your caloric intake.
Ingredients to Avoid in Meal Replacement Shakes
Along with good ingredients, there are also bad ones. Read the nutrition facts on a meal replacement shake before you buy it. It could be made up of unhealthy sugars, empty calories, and be devoid of important vitamins and minerals.
Added Sugars
While unnatural sugars may be high in calories, they're a source of empty calories. Empty calories are calories from foods that offer no nutritional value. They provide no additional health benefits and no substantial energy, apart from energy spikes. That's why ENU Nutritional Shakes uses stevia as a sugar substitute. It doesn't contribute empty calories, unlike added sugars.
Missing Vitamins and Minerals
While vitamins and minerals offer no calories, they are important to your overall nutritional health. Meal replacement shakes that don't contain vitamins and minerals may not providing you with the nutrients you need. In your daily diet, essential vitamins and minerals can be found in the fruit and vegetables you eat. If you opt for a meal replacement shake, you should be getting the nutrients you otherwise would from solid foods. Check the label of your meal replacement shake to see the nutrients it provides. ENU Nutritional Shakes contain 24 vitamins and minerals that are important for your health.
Buy ENU Nutritional Shakes Today
If you're seeking a high calorie, nutritious meal replacement shake, try ENU Nutritional Shakes. Talk to a medical professional about incorporating meal replacement shakes into your diet. Visit our website to purchase your own ENU Nutritional Shakes today.