Get a
FREE


ENU Intro Pack*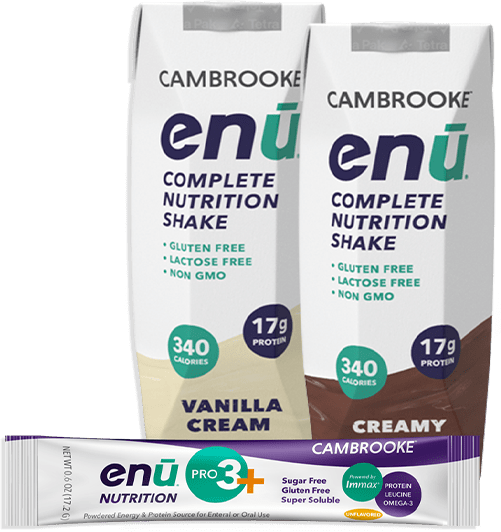 Are Eggs Good for Cancer Patients?
Cancer is a challenging illness that affects millions of people around the world. During cancer treatment, patients have to pay close attention to their environment, fluid intake, and diet. It is a known fact that cancer treatment can be taxing on the body. Therefore, having a balanced, well-thought, and well-executed diet is critical. Eggs are a must ingredient in most homes, restaurants, and hospitals in the U.S. They can provide the body with essential nutrients that can be beneficial for patients undergoing cancer treatment. However, this ingredient shouldn't be the only one to consider as part of a cancer diet. Our experts at ENU explain how nutrition shakes for cancer patients can play a crucial role in their diet and how they can provide nutritional value beyond consuming eggs.
What Should a Cancer Patient Eat?
A cancer patient's diet should be carefully prepared. Not all foods do well for cancer patients, especially when they are undergoing treatment. To maintain their overall health, cancer patients must rely on foods aimed at promoting muscle density and health while avoiding wasting. Some of the foods that cancer patients should include in their diets include lean meats, chicken, fish, beans, nuts, and eggs. It is crucial that all foods are well-cooked. Raw foods – such as raw fish or chicken – should be avoided as they could be dangerous to a cancer patient's health.
Other excellent sources of proper nutrition in cancer patients are fruits and vegetables. Consuming fruits and vegetables can help promote a better immune system, nourish the body with antioxidants, and keep your body energized.
You don't have to feel like you have to eat whole foods throughout the day. In many cases, eating whole foods can be impossible, especially when battling the notorious side effects caused by cancer treatments. You should only eat whenever you feel hungry the most – no matter the time of the day. If morning is the time when you are the hungriest, make the most out of that moment and eat whole, calorie, and protein-dense foods. As you will see further below, adding meal replacement shakes to your diet can provide proper nutrition when your hunger levels are low.
Why Can Eggs Be Good for Cancer Patients?
People undergoing cancer treatment can experience many different side effects. One of the most common side effects of radio and chemotherapy is the loss of appetite. There is no denying that the aggressive approach to battle cancer can cause changes to a patient's overall nutrition. For this reason, you should pay close attention to a cancer patient's calorie and protein intake.
One of the easiest ways to achieve a cancer patient's dietary goals is to add eggs to their diet. Eggs are one of the most versatile ingredients you can find. Although most people associate eggs with breakfast, this simple-looking, oval-shaped ingredient can be incorporated into any meal of the day.
One of the many upsides of eggs is that they are soft and chewy, which can make them easy to consume. Additionally, thanks to their versatility, their form and taste can be tweaked to adjust to any palate. If you are a cancer patient and feel like your appetite is dwindling, eggs can help you give an extra boost to your overall nutrition.
In addition to their versatility and ease of consumption, eggs can add nutritional value to your diet. Eggs are an excellent source of protein, found in its albumen (or white) – and HDL or good cholesterol – found in its yolk. Additionally, eggs can be a good source of vitamin B to boost the immune system and boost your body's energy levels. If you are a cancer patient struggling with your nutrition, give eggs a try.
A Protein Shake Can Promote a Healthy Diet in Cancer Patients
If you have been diagnosed with cancer, it is essential to have an idea about the importance of a balanced diet. Your nutrition plan should start before your treatment begins. As we mentioned, eggs can be an excellent source of vitamins, protein, and other great nutrients, but your diet can be more diverse. During your treatment, you may experience changes in your mood, energy, and appetite. How do you approach these symptoms to ensure you are consuming the essential nutrients your body needs?
Calorie and protein intake are essential to keep your body in check before, during, and after your cancer treatment. There will be days where your appetite can increase and others where you may not feel like eating anything. The best way to tackle your nutritional goals is to consume a meal that requires little or no prep time, is easy to consume, and easy to digest. This is something you can achieve by incorporating protein shakes. Protein shakes can help you maintain weight, keep your muscle density, and improve your energy levels. Nutrition shakes have been on the market for many years, and they can add a lot of value to your diet, especially during and after your cancer treatment.
Many times, chemotherapy and radiation can cause damage to the mouth, tongue, and throat. This can make it very challenging for a patient to ingest solid food. Meal replacement, protein-dense shakes can play a pivotal role in your diet. You can make sure to provide your body with essential proteins, calories, vitamins, and minerals. However, it is essential to talk to your dietitian about incorporating these shakes into your diet.
Medicinal Shakes Adding Nutritional Value to a Cancer Patient's Nutrition
ENU is a company dedicated to manufacturing meal replacement shakes for cancer patients. In addition to their taste, our shakes are conveniently packed in an easy-to-carry container you can use on-the-go. Over the years, we have balanced our product formulas to provide our customers with top-quality nutrition. Thanks to our proprietary blend of nutritious ingredients, we can help you maintain good health before, during, and after your cancer treatment. Call our company today and see for yourself how we can be your top choice. Our phone number is (855) 266-6733.