Get a
FREE


ENU Intro Pack*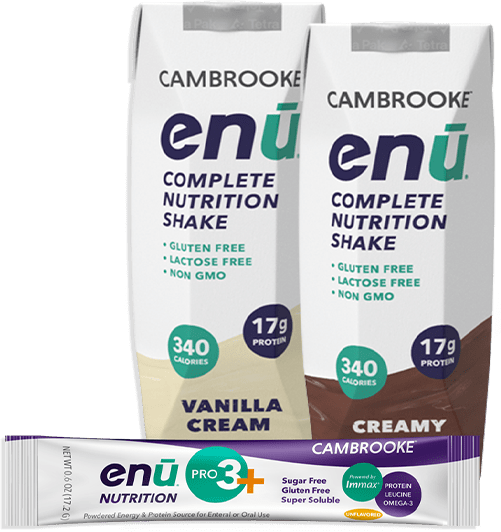 The Benefit of Real Food Ingredients in Meal Replacement Shakes
Nutrition is one of the most important topics in recent times. Nutrition plays a critical role in our health and overall quality of life. However, for many individuals, keeping an efficient nutritional regime requires time they don't have. For certain individuals, it also means preparing whole meals they can't make due to a debilitating illness. Whatever the reason may be, there is an alternative for everyone looking for a ready-to-go meal. Meal replacement shakes are an easy way to substitute a whole meal while getting the nutrition your body craves. ENU invites you to keep reading as we discuss more about weight management shakes and the health benefits of their ingredients.
What Are Meal Replacement Shakes?
Meal replacement shakes are exactly what the name implies. They are a replacement option for a regular meal. These drinkable meals exist as an easy, on-the-go solution for busy people who have little time to prep a sit-down meal (or get out of the office to buy lunch). Additionally, they provide nutritional content that not only satiates hunger, but fuels your body with necessary vitamins and minerals.
Meal replacement shakes are a great solution for people who are looking for a healthier yet simpler approach to weight management. For instance, a shake's high protein, low-sugar combination can help individuals get rid off excess fat and build more muscle, making some meal replacement shakes double as sports nutrition shakes.
That being said, it's important to remember that successful weight management is something a meal replacement shake cannot guarantee on its own. The best way to maximize your weight gain (or weight loss) is combining your food replacement shakes with an exercise routine tailor-made to your needs. Always consult with a physician or nutrition expert before making any changes to your diet, especially if you have specific nutrition needs.
What Ingredients Are in Meal Replacement Shakes?
Some people might try to argue that meal replacement shakes are "not the real deal" since they are not a sit-down meal. While it's true that shakes offer on-the-go convenience, that doesn't mean they lack nutritional value. In fact, providing a nutritionally balanced product is one of our top priorities at ENU.
For example, one of the main components in our meal replacement shakes is protein. Protein can be found in ingredients like chicken, meat, and fish, as well as beans and eggs. Since protein is essential for maintaining body weight and repairing muscle, it's only natural that our health-conscious meal replacement shakes would incorporate plenty of protein into their ingredients – 20 grams per serving, to be exact. One of the best sources of protein is whey protein isolate, which is easily absorbed by the body – and is also easy on the stomach. We combine whey protein isolate with GMO-free soy protein concentrate, providing a source of valine and other ingredients that keep cells functioning smoothly.
Other important ingredients that go into our shakes are carbohydrates. Put simply, carbs are macronutrients (alongside protein and fat) that are used by the body as fuel. However, selecting the "right" carbs is key to keeping an overall balance in your diet. Refined or "simple" carbs, like those found in white bread and pastries, don't satiate hunger and can actually lead to more overeating. The "complex" carbs found in whole foods, like quinoa and brown rice, have the opposite effect because they require more time to digest. We make our shakes with brown rice, quinoa, tapioca, and other complex carbs to help you feel fuller, longer.
As mentioned before, fat is another critical macronutrient. Fats are as essential as proteins and carbs and should not be overlooked from a nutritional standpoint. However, not all types of fat are good for the body. For example, trans fats can increase the risk of stroke or diabetes. Only healthy fats, such as unsaturated fats, can fight high cholesterol and lower the risk of cardiovascular disease. Our shakes feature healthy fats like coconut oil and sunflower oil to help keep your body – especially your heart – in optimal condition.
In addition to providing proteins, healthy fats, and complex carbs, our meal replacement shakes also include essential vitamins and minerals – plus a balanced calorie content. All of these ingredients are health-conscious choices – especially when the alternative is buying take-out, eating junk food, or skipping the meal altogether.
Buy Weight Management Shakes Made with Real Food Ingredients
At ENU, we're dedicated to making delicious, high-quality products that make getting good nutrition easier. Whether you need help fueling your workout routine, recovering from major weight loss after an illness, or keeping your weight under control, ENU meal replacement shakes can make reaching your goals easier – and tastier.
Don't miss the opportunity to take advantage of a ready-to-go and convenient meal replacement drink. To learn more about our products or place an order today, contact ENU online, or call (855) 266-6733.