Get a
FREE


ENU Intro Pack*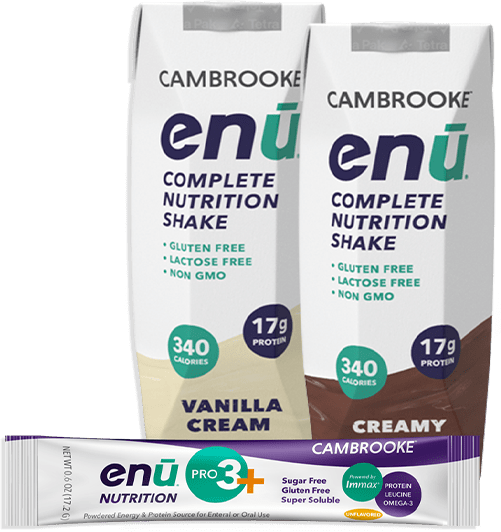 What Is the Best Nutritional Drink for Cancer Patients?
Cancer patients know how important it is to maintain a healthy weight. Nutritional shakes are usually a good choice for cancer patients because they provide all of the nutrients they need in a way that is easy to consume, easy to digest, and easy to prepare. But with so many options for nutritional shakes, how can cancer patients be sure that they're getting the one that's best for them? Continue reading to learn more about how ENU shakes are the best nutritional shake for cancer patients.
Important Macronutrients in ENU Nutritional Drinks
It's important for cancer patients to maintain a healthy weight. Chemotherapy and its side effects (including loss of appetite, dry mouth, mouth sores, anxiety, depression, and nausea) can lead to weight loss. Being severely underweight can lead to malnutrition, which can be counterproductive to the point that it can delay chemotherapy treatments.
One way to avoid being underweight as a cancer patient is to make sure that you're eating enough calories. ENU nutritional shakes are great weight management shakes for cancer patients because they are full of quality calories that can contribute to a well-rounded diet. Each ENU nutritional shake has 400 calories, which make them versatile; they can be consumed alone as a meal, added to a meal as a supplement, or consumed between meals as a snack.
ENU nutritional shakes provide calories that can contribute to the maintenance of health for cancer patients and help prevent malnutrition. With a high nutrient-to-calorie ratio, ENU shakes can provide a full nutritional profile ideal for those battling an illness. The nutrients, vitamins, and minerals found in ENU nutritional shakes include:
Healthy fats – Fats are necessary for maintaining well-rounded and balanced health because they help the body absorb and process other nutrients. Healthy fats also play a major role in creating a sense of satisfaction from food, which can prevent overeating. The healthy fats in ENU nutritional shakes come from sunflower oil (a good source of monounsaturated fatty acids) and coconut oil (a good source of medium-chain triglycerides).
Protein – Protein is a vital nutrient to cancer patients because it helps create muscle, repair body tissue, and boost immune function. It is one of the most important nutrients when it comes to gaining and maintaining a healthy weight. Whey isolate, a quickly absorbed protein known to be gentle on the digestive system, is one of the sources of protein used in ENU nutritional shakes. The other source of protein in ENU nutritional shakes is non-GMO soy protein, which is rich in valine, a compound that contributes to healthy cell and organ function.
Carbohydrates – Rice, tapioca, and quinoa provide the carbohydrates found in ENU nutritional shakes. These are sources of complex carbohydrates, which provide the body with energy without causing blood sugar levels to spike.
Other vitamins and minerals – ENU nutritional shakes contain 24 key vitamins and minerals. In addition to a healthy amount of Vitamin D, ENU shakes provide essential vitamins and minerals such as ascorbic acid, niacinamide, folic acid, biotin, riboflavin, and many others. ENU is also proud to provide shakes that are free of gluten, lactose, corn syrup, artificial sweeteners, algae, and carrageenan.
The nutrients in ENU nutritional shakes are perfectly balanced to contribute to a healthy diet. ENU shakes, which have up to 67% less sugar than other nutritional shakes, are the best option for patients seeking a meal replacement with a full nutritional profile that can be consumed in an easy and palatable way.
Supplementing Your Diet with Nutritional Shakes
ENU nutritional shakes are exceptional at providing medical nutrition support, not only because they provide a full and complete nutritional profile for cancer patients, but also because they surpass other nutritional shakes in their digestibility, taste, and ease of preparation.
Many cancer patients choose ENU nutritional shakes because of their neutral and pleasant flavor. Since cancer patients often have compromised senses of taste and smell and are prone to nausea, eating anything with a strong flavor can be irritating. ENU shakes, on the other hand, are easily consumed and digested without the risk of irritation. They are sweetened with stevia, giving them a mellow flavor while eliminating the need for sugar and artificial flavorings. And since they are available in only two flavors (chocolate and vanilla), they are easy to incorporate into recipes using nutritional shakes that suit the demands of a cancer patient's appetite.
Another reason why cancer patients use meal replacement shakes is that they are easy to swallow. They don't need to be chewed, which makes them a perfect option for cancer patients who are dealing with thick saliva, dry mouth, mouth sores, and other side effects that make it difficult to chew and swallow food. ENU nutritional shakes are also easy to digest, which makes them ideal for cancer patients that suffer from digestive issues such as constipation and diarrhea.
Cancer patients often lack the energy to cook or prepare food for themselves. Since ENU nutritional shakes don't require any preparation to be consumed, they make for an ideal addition to the diets of people going through cancer treatments.
Nutritional Drink for Cancer Patients Dealing With Appetite or Weight Loss
The best nutritional drink for cancer patients is a shake from ENU. The nutritional shakes from ENU provide the healthy calories that cancer patients need to maintain their weight, along with a full profile of nutrients, vitamins, and minerals. To learn more about how you or someone you know can benefit from ENU nutritional shakes during or following their cancer treatment, visit our website today or call (855) 266-6733.