Get a
FREE


ENU Intro Pack*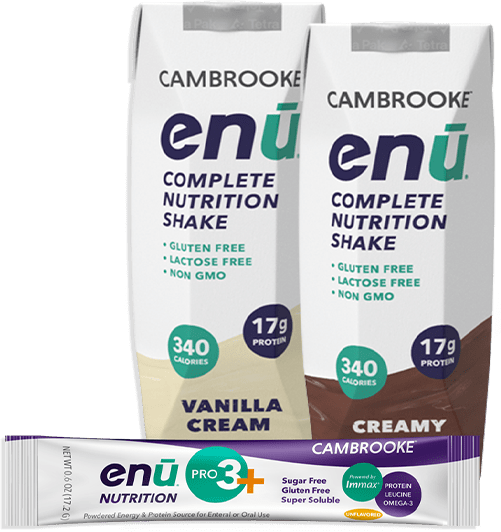 Best Weight Gain Shakes for Women
Some women may find themselves underweight for a variety of reasons. And while gaining weight can sometimes seem like a formidable task, it is an easily conquered endeavor if some small changes are made to a woman's lifestyle. These changes, among other things, can include the addition of weight gain shakes to your daily diet. Read on for more information about how women can gain weight in a healthy way, and keep the pounds on.
The Importance of Being a Healthy Weight
There are many factors that may cause a woman to be underweight. Cancer and chemotherapy, eating disorders, thyroid problems and other forms of metabolism overfunction, celiac disease, diabetes, infections, and other medical conditions can cause women to lose weight and have trouble gaining it back. Other women may work to gain weight for the sake of sports performance. Luckily, there are lifestyle changes that can be made to gain it all in a way that won't compromise your long-term health.
Women who are underweight should understand the impact that being underweight has on a person's overall health. Since being underweight can stymie estrogen production, underweight women can face issues with infertility, as well as delayed menstruation and menopause. Osteoporosis, anemia, decreased immune function, stunted growth and development, general malnutrition, and skin, hair, and teeth issues are other problems that underweight women may face.
Being a healthy weight has many advantages of its own, which can include improved posture, better sleep, higher self-esteem and energy levels, increased longevity, and a reduced risk of diabetes, stroke, high blood pressure, and cancer.
How to Gain Weight in a Healthy Way
Not all weight gain is equal. Weight gain that happens too quickly can lead to a host of health problems including indigestion, diabetes, weakened metabolism, and an inability to maintain blood sugar levels. Weight that is gained too quickly is frequently gained as fat; ideally, new body mass should be in the form of muscle. Weight gained as muscle is less likely to be lost as quickly as it was gained.
The health problems associated with rapid weight gain means that it's generally best to increase your weight at a steady, consistent rate. Most doctors recommend weight gain at a rate of 1 to 2 pounds per week, though this can vary based on a few other factors, such as being severely underweight.
The only way to gain weight at a steady rate is to eat more food. Eating between 250 and 500 more calories per day, every day, can result in stable, healthy weight gain. The exact number of additional calories that a person should be eating every day in order to gain weight at a consistent rate is dependent upon a few factors, which include sex, age, height and body shape, metabolism, medical history and current state of health, and desired amount of weight gain.
Knowing and understanding the Body Mass Index (BMI) may be a helpful tool in determining how much weight should be gained. BMI is calculated by taking a person's height and body weight into account to generate a number along a set scale; this indicates that a person is underweight, at a healthy weight, or overweight. However, it should only be treated as a guideline for determining a range of ideal weight; some factors such as pregnancy can exempt someone from these guidelines.
Women who are endeavoring to gain a healthy amount of weight are advised to begin and/or maintain a regular exercise regimen. Exercising consistently can help develop muscle instead of fat, in addition to other lifelong health advantages.
Why ENU Weight Gain Shakes are the Best Option for Women
ENU weight gain shakes are an excellent choice for women who are trying to gain a healthy amount of weight, because they provide all of the nutrients necessary to maintain optimal health while building muscle. ENU meal replacement shakes are especially suited to be added to the diets of people who are gaining weight because they provide the perfect balance of carbohydrates and proteins, not to mention supplemental vitamins and minerals. All of the ingredients in ENU weight gain shakes are from wholesome sources: the protein in ENU weight gain shakes come from whey and soy; the carbohydrates are from tapioca, brown rice, and quinoa; and the fats are from sunflower and coconut oils.
ENU weight gain shakes contain 17g of protein in each shake. Drinking them as a supplement to a healthy, balanced diet can deliver all the protein a woman needs to gain weight in a healthy way. However, drinking too many in a day can cause health problems, which is why it's recommended that no more than three be consumed daily. It's recommended that women who are trying to gain weight speak to a doctor or other health care professional before making any major adjustments to their diet or exercise routine.
Healthy, Effective Weight Gain Shakes for Women
Women who are trying to gain weight can drink ENU meal replacement shakes to put on weight at a healthy, sustainable rate. The chocolate and vanilla weight gain shakes sold in online store can be easily incorporated into any modern woman's diet. Contact ENU for more information by calling (855) 266-6733 or visiting our website today.