Get a
FREE


ENU Intro Pack*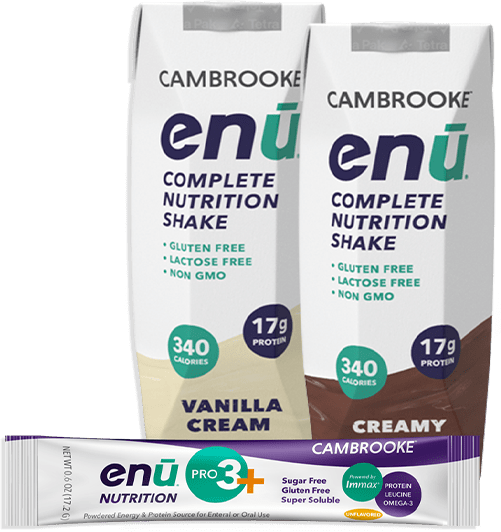 Can I Just Drink Protein Shakes to Lose Weight?
Diet and nutrition are complicated topics made all the more convoluted by the massive amount of information (both true and false) available online. A number of popular diets promise to give you the body of your dreams by simply relying on a specific food or product for every meal, from juices to protein shakes for weight loss. But do these diets actually help people lose weight, and are they good for you? The specialists at ENU will address these points and others; continue reading to find out more.
The Importance of Protein
A healthy diet contains a balanced mix of ingredients, including the three important macronutrients – fats, carbohydrates, and protein. Each of these plays an important role in the body, but protein has long enjoyed popularity among health-conscious and fitness-focused consumers who tout its ability to control hunger, build muscle, and promote weight loss. While protein is certainly an important facet of any diet, let's take a closer look at what it actually does for our health.
Protein serves a multitude of roles in our bodies, some of which are well-known, but all of which are critical to the function of our systems. Probably the most common knowledge about protein is that it is used to build muscles, which is true. Protein is the primary resource with which our muscles repair themselves after exercise, and it helps to preserve those muscles as well. This makes it an essential complement to strength training or weightlifting.
There are also some important chemical processes in your body that require protein to function. These include the production of enzymes, hormones, and neurotransmitters, all of which are indispensable. Protein is also a cornerstone of the body's healing processes – one reason why it's an important staple of a medical nutrition support diet – and it's used to create everything from bones and cartilage to blood and skin. This is one of the reasons our ingredients in our protein shakes include healthy amounts of protein. Plus, when the body's supply of carbs and fats have dwindled, protein can be used as an internal fuel source. In short, we could not exist without it.
Common Uses of Protein Shakes
The protein shake is hardly a fresh concept, but these beverages have been launched to a new level of popularity in recent years. What was once a specialty drink for athletes is now sold in convenience stores across the country to amateur athletes of every background. Many of the protein shakes available near you are tasty and effective, making them the perfect complement to your exercise routine.
Drinking a protein shake after working out or exercising is all-important for those who want to restore and grow their muscles as quickly and efficiently as possible. In the aftermath of a tough workout, the muscles you pushed will have microscopic tears from the strain – these need the proper materials to fix the tissue; drinking a protein shake provides just what you need. Depending on your body weight, aim to drink 20-40 grams of protein after each workout.
Is It a Good Idea to Only Drink Protein Shakes?
OK, so protein is kind of a big deal, but does that mean your diet should rely on it entirely? In the spirit of fad diets, some have suggested that a person can subsist entirely on protein shakes as a way to lose weight. As with most diet ideas of this type, the entire premise is generally a bad idea. Getting all of your daily nutrients in shake form, no matter how high-quality the beverage may be, is nowhere near adequate in the long term.
Any nutritionist or dietician worth their salt will tell you that eating balanced meals made up of solid, healthy foods is superior to relying entirely on liquids, though the type of drink does make a significant difference. Whereas diets that rely on juices, teas, or other extremely low-calorie beverages typically prove to be both impossible to sustain and counterproductive in the long run, those that incorporate meal replacement shakes or well-rounded protein shakes can be somewhat more effective for weight loss or medical nutrition support.
After all, weight loss is based on a very straightforward equation: consume fewer calories than your body needs, and it will be forced to use its stored energy (fat) instead, causing you to lose weight. This means that calories are the most important factor for weight loss, but you still should not neglect the nutritional components of a liquid diet. Make sure you get the right amount of fats, carbs, protein, vitamins, and minerals, whether they come from a shake or solid foods. However, it should be noted that solid food that requires chewing will cause you to feel more satisfied than a drink with similar nutritional content.
In summation, you shouldn't rely entirely on protein shakes for your diet, but using them once a day or once in a while can help cut your total caloric intake. Meal replacement shakes from ENU contain 20 grams of protein in each carton, along with a healthful mix of carbs, fats, and other key dietary elements to provide wholesome nutrition at home or on the go. If you have been considering the addition of protein or meal replacement drinks to your diet, try a nutritional shake from ENU.
Meal Replacement Shake Offering a Healthy Balance of Nutrients
Finding a protein or meal replacement shake that tastes good and works for you can be challenging, especially since the market is saturated with processed, unhealthy options. ENU meal replacement shakes contain whey and soy protein for fast absorption, complex carbs from quinoa and brown rice, and heart-healthy fats from coconut and sunflower oils. To learn more about our products and how they can help you achieve your weight loss goals, visit us online or call (855) 266-6733 today.