Get a
FREE


ENU Intro Pack*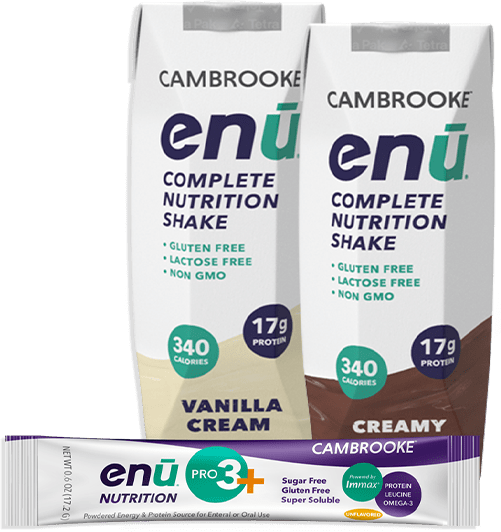 Can Meal Replacement Shakes Help You Lose Weight?
Weight loss is probably the most extensively debated topic there is. Anywhere you go, either on the internet or among friends, it seems like everyone has advice or an opinion, and it's all contradictory. Add the constant barrage of local news stories, fad diets, nutrition studies, and unlikely anecdotes, and it can seem impossible to parse fact from fiction without a medical degree or doctor friend. What really helps people lose weight?
The simplest answer, and one that any nutritionist will confirm, is maintaining a calorie deficit – taking in fewer calories than your body needs to force it to use stored fat. For most people, this is a simple matter of degrees. Do you eat 200 fewer calories? 300? 500? Keep reading to find out more about meal replacement shakes and weight loss and how they can help you reach your goals.
Caloric Values in Meal Replacement Shakes
Figuring out how many calories you should eat may seem complicated, but there are a few rules of thumb that can help. First, take into consideration your level of activity on a daily basis, including any exercise you get at work, at home, or at the gym; the more active you are, the fewer calories you need to cut. Second, remember that the bigger you are – in terms of height, weight, muscle mass, etc. – the more calories your body burns; this also means that as you lose weight, your body needs fewer calories. And third, be mindful of your health; don't starve yourself, and try to limit weight loss to around 1 percent of your body weight each week.
Dieticians place the caloric value of one pound of fat at about 3,500 calories, so to lose one pound per week, that's how many calories you need to cut from your diet: about 500 calories per day. This may seem like a big number, but keep in mind that you can make small adjustments to reach this number. Try cutting back on snacking, eating smaller portions, and increasing your energy expenditure through exercise.
Another of the more difficult aspects of trying to manage your calorie intake is figuring out exactly how many calories are in each dish you want to make. Phone apps and websites sometimes offer approximations but nailing down the precise amounts can be a tough task, especially if you're trying to hit a specific goal for each meal. This is where meal replacement shakes can prove handy: you always know how many calories you're consuming (not to mention proteins, fats, and carbs) because the information is right on the label.
Managing Your Appetite with Nutrition Shakes
Your appetite can be a powerful opponent for people trying to stick to a diet, especially in the first week. Although your body is more than happy to pack on the pounds, it is generally less excited to shed them and will use hunger in an attempt to maintain your body weight and undermine your efforts. Luckily, there are a few ways to subdue your appetite and curb the temptation to gorge at mealtimes.
Chief among these tools is protein, one of the three core macronutrients your body needs. Protein comes with a number of advantages for people on a diet: it is effective at increasing the feeling of fullness that comes after eating, helps to preserve muscle mass as your body burns more fuel, and can boost your metabolism so you burn more calories overall. The presence of protein also increases the levels of hunger-fighting hormones in the body and decreases the amount of ghrelin, a hormone that stimulates your appetite.
This combination of effects makes protein an ideal staple for any weight loss diet, especially when used alongside exercise. The amino acids found in dietary protein are crucial for the post-workout recovery process; they are what get used to repair the miniscule tears your muscles develop with repeated strain, thereby strengthening the muscles, building lean muscle mass, and further boosting the number of calories you burn over time.
Healthy Ingredients in Meal Replacement Shakes
As with anything else, quality matters when it comes to what you put into your body. Meal replacement shakes come in a variety of brands, each with its own mix of ingredients and corresponding pros and cons. If you are trying to lose weight or eat healthier, make sure to choose products that are low in added sugars or unhealthy ingredients, as these could sabotage your goals.
ENU meal replacement shakes are made with all-natural, non-GMO ingredients including complex carbohydrates, soy and whey proteins, and a blend of healthful fats to help you meet all your body's nutritional requirements. Each shake is also flavored with stevia leaf, so you can be certain no sugars or corn syrup has been added.
Find a Nutrition Shake That Works for Your Weight Loss Goals
Getting in shape can be an exhausting process. Adding calorie counting, exercise, and meal prep to an already-hectic routine can be both physically and mentally draining. ENU meal replacement shakes can help relieve this burden; drink one, and you know exactly what you're putting into your body and in what amounts so you can stay in control of your diet without running yourself ragged. To learn more about all our products, visit us online today.