Get a
FREE


ENU Intro Pack*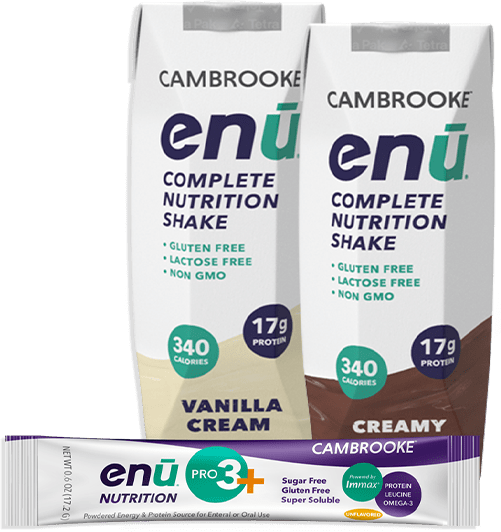 Can Meal Replacement Shakes Provide Daily Calorie Recommendations?
If you read the nutrition facts on the back of any food product, you'll see a message that reads, "Percent Daily Values are based on a 2,000 calorie diet. Your daily values may be higher or lower depending on your calorie needs." This message exists for a reason: every person needs a different caloric intake, depending on factors like age, height and weight, gender, and activity level. Calorie needs can also change depending on whether you're trying to lose weight, gain weight, or maintain your current weight. While only your physician can give you personalized daily calorie recommendations, nutritional shakes can be a healthy part of just about anyone's diet. If you want to learn more about high calorie meal replacement shakes, or you're simply curious about your daily calorie needs, keep reading: you've come to the right place.
How to Determine Your Daily Calorie Needs
A calorie is simply a unit of energy. The more calories are in a certain food, the more energy that food supplies. Unfortunately, in high-calorie foods, these calories usually come from sugar and saturated fats, especially in processed products like candy, cookies, chips, crackers, and flavored rice, pasta, or noodle mixes. Healthier high-calorie options include avocado, bananas, seeds and nuts, and quinoa.
Ideally, you should talk to your doctor about determining your daily calorie needs, because he or she will be able to provide the best and most accurate information based on your current goals and medical history. Though they are not as specific, personalized, or accurate as the information you would receive from a medical professional who knows your history, online calorie calculators can also help to give you a rough idea of how many calories you need each day.
While there are minor differences from one calorie calculator tool to the next, most will ask you to supply the following information to provide you with a daily calorie estimate:
Age
Gender
Height
Current weight
Exercise/activity level
Goal weight (weight loss, weight gain, weight maintenance)
While nutrition labels are based on a 2,000 calorie daily diet, most people actually need a slightly higher or lower number of calories to meet their fitness goals. To walk through a real example – well, almost real – let's try using a few popular calorie calculators to determine the calorie needs for two imaginary people.
According to Calculator A, a woman who is 32 years old, is 5'5" tall, weighs 160 lbs, and exercises three times per week should have 1,582 calories per day to lose weight (or about 1,977 calories per day to maintain weight). Plugging the same statistics into Calculator B produces slightly different results: about 1,975 calories per day to maintain weight, about 1,475 calories per day to lose weight, and about 2,475 calories per day to gain weight.
Calculator A says that a man who is 40 years old, is 5'11", weighs 190 lbs, and gets little to no exercise (sedentary activity level) should have 2,155 calories per day to maintain weight, and cut down to 1,724 calories per day to lose weight. Based on the same input, Calculator B recommends 2,153 calories per day to maintain weight, 1,653 calories per day to lose weight, and 2,653 daily calories for weight gain.
As you can see, both calculators produced nearly identical results when it came to maintaining weight. But when it came to weight loss, the calculators had different ideas – and one calculator didn't provide any options for seeing weight gain recommendations. This little experiment proves our point: calorie calculators can give you a helpful starting point, but your doctor will provide more accurate diet data.
Buy Meal Replacement Shakes for Weight Gain, Loss, and Maintenance
With 450 calories in each delicious beverage, meal replacement shakes by ENU Nutrition make a convenient and nutritionally-balanced addition to nearly any diet plan. Whether you're looking for a weight gain shake, a weight loss shake, or weight management shakes, our Vanilla Cream and Creamy Chocolate nutritional drinks provide the proteins, complex carbs, and essential vitamins and minerals your body needs – all delivered directly to your doorstep for stress-free, zero-hassle shopping. We'll even give you a discount when you order your first trial pack.
If you need help gaining, losing, or maintaining your weight, ENU meal replacement shakes can give you the boost you need to succeed. To learn more about our products or place an order, contact ENU Nutrition online, or call today at (855) 266-6733.