Get a
FREE


ENU Intro Pack*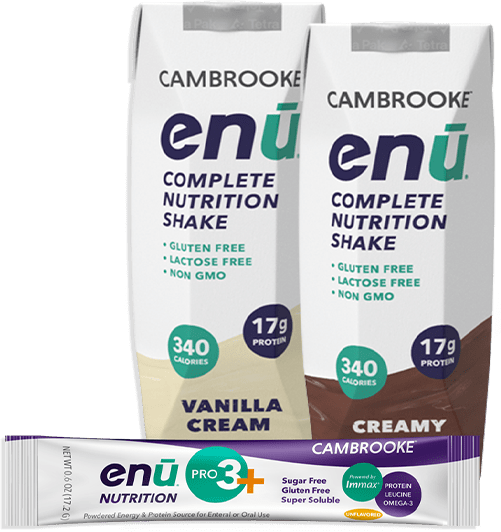 Can Nutritional Shakes Help You Maintain Weight During Cancer Treatment?
Cancer can have a huge impact on the body's ability to function. Although it is intended to help target dangerous cells in the body, cancer treatments can carry side effects that can severely damage a patient's well-being. One of the most prevalent side effects that can come from chemotherapy is weight loss. Losing too much weight can lead to other complications, which is why, if a patient undergoing cancer treatment is at a healthy weight, they should do their best to maintain it.
ENU nutrition shakes are an excellent option for people that are trying to maintain a healthy weight while they are going through cancer treatment. Continue reading to learn more about how you can use ENU nutritional shakes for cancer patients to maintain a healthy body weight.
Maintaining Weight During Cancer Treatment with Nutrition Shakes
Cancer treatment can often lead to severe weight loss. When a cancer patient is at a healthy weight, weight management shakes such as those offered by ENU can help them maintain body mass in a healthy way. Patients that are enduring cancer treatment can benefit from the full nutritional profile that ENU shakes provide. Those undergoing cancer treatment can be certain that their bodies are receiving everything they need when they consume an ENU shake.
The Importance of Proper Nourishment During Chemotherapy
Since cancer treatments can compromise the body's fundamental ability to function properly, it's important for people going through treatments to make sure that they give their bodies the nutrients they need to be able to fight cancer as effectively as possible. Receiving a full complement of nutrients in their diets can help them maintain healthy energy levels, prevent anxiety and depression, decrease the chance of infection, and guard against other negative side effects associated with cancer. Our protein shakes for medical nutrition support can help.
Shakes with a Rounded Nutritional Profile
ENU nutritional shakes contain everything that cancer treatment patients need to be certain that they are receiving a full nutritional profile, which will give them the strength they need to deal with the rigors of cancer treatments. ENU shakes have optimal ratios of protein, carbohydrates, and healthy fats that contribute to digestion and the absorption of vitamins in the best way possible. ENU nutritional shakes also have a full profile of vitamins and minerals that contribute to the maintenance of a healthy weight.
Protein is one of the most important nutrients needed to maintain a healthy weight during cancer treatment. Protein contributes to the growth and repair of body tissue and plays a major role in the regular functioning of the immune system. ENU nutritional shakes derive protein from whey and soy, two of the most effective forms of protein.
Carbohydrates are another crucial macronutrient for cancer treatment patients. Carbs are the main source of energy for the body. Complex carbohydrates are the best form of carbohydrates because they are less likely to cause a sugar spike; the complex carbs in ENU shakes come from natural sources such as quinoa, tapioca, and brown rice.
Another crucial macronutrient that contributes to the health of cancer treatment patients is healthy fats. Healthy fats are important because they aid in the absorption of other nutrients and help the person consuming them feel satisfied. The healthy fats in ENU shakes come from sunflower and coconut oils, which have a plentiful amount of Omega-6 fatty acids and medium-chain triglycerides.
How to Supplement Your Diet with Shakes During Cancer Treatment
Cancer treatment patients that are interested in using ENU nutritional shakes to maintain a healthy weight should note that ENU shakes should not be consumed for every meal. Patients should make an effort to consume a balanced selection of nutrients in their diet by consuming whole foods as meals and snacks.
ENU meal replacement shakes should be used only as supplements, either in addition to meals or as a snack between meals. They can be used as a meal replacement but are not intended to replace every meal. It's important for cancer treatment patients to consult their doctor before making any changes to their diets or lifestyles.
Benefits of Nutrition Shakes for People Undergoing Cancer Treatment
Many cancer patients use ENU nutritional shakes because they are easy to consume and digest. ENU nutritional shakes are beneficial for cancer treatment patients for the following reasons.
ENU nutritional shakes have a neutral flavor, making them unlikely to induce nausea or irritate an already-compromised sense of taste or smell.
Since ENU nutritional shakes are available in two major flavors — chocolate and vanilla — they are easy to incorporate into other recipes using protein shakes to better suit the demands of a patient's appetite.
ENU shakes can be consumed without chewing and are easily swallowed, which makes them ideal for cancer treatment patients that may be dealing with mouth sores, dry mouth, or thick saliva.
Cancer treatment can cause patients to suffer from digestive problems such as constipation and diarrhea. ENU nutritional shakes are unlikely to agitate these conditions since they are easily on the digestive system.
Since ENU nutritional shakes require no preparation, they are a great option for cancer patients who lack the energy or time to prepare full meals for themselves.
Use ENU Nutritional Shakes to Maintain Weight as a Cancer Patient
Maintaining a healthy weight is one of the most crucial parts of staying healthy while going through cancer treatment. People going through these treatments should know that they can easily incorporate ENU nutrition shakes into their diets as part of a weight maintenance regimen. To learn more about how you can use ENU nutrition shakes to maintain a healthy weight, visit ENU's website today or call (855) 266-6733.