Get a
FREE


ENU Intro Pack*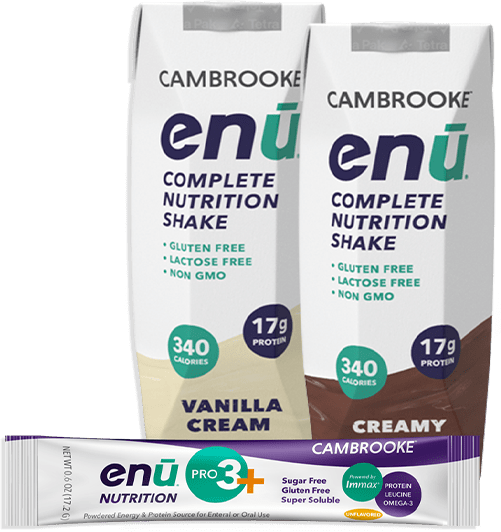 Can You Replace Lunch or a Meal with Nutritional Shakes?
Nutritional shakes are popular because of their nutrient density, taste, and convenience. They are frequently incorporated into the everyday diets of those trying to meet certain health and fitness goals, but is it possible to only replace some meals with nutritional shakes? The answer is yes.
Nutritional shakes are great for replacing a meal when you feel like it's needed, whether for the purpose of getting nutrition, helping you meet your weight loss or maintenance goals, or saving time. You can eat the food that you like every day and include nutritional shakes only when you want or need them. Read further for more information about the reasons that people are turning to ENU nutritional shakes to meet the needs of their bodies and daily lives, and the benefits that can come from drinking a shake instead of eating a meal.
The Benefits of Replacing Occasional Meals with Nutritional Shakes
ENU nutritional shakes provide all of the nutrients a person needs to go about their day with energy and focus while supporting their general health. They have a plentiful amount of whey protein and soy protein; a healthy dose of complex carbohydrates from brown rice, tapioca, and quinoa; a boost of healthy fats from sunflower oil and coconut oils to assist with nutrient absorption; and a multitude of vitamins and minerals including ascorbic acid, niacinamide, folic acid, and biotin. They are also free of corn syrup, artificial sweeteners, algae, gluten, GMOs, carrageenan, and lactose, and are certified kosher. All of the ingredients are derived from sources that were selected for their ease of absorption, digestibility, quality, and their value to overall health.
Providing
Medical Nutrition Support
The complete nutritional profile of ENU shakes makes them a great option for those with strict medical dietary requirements caused by medical conditions. They are appealing to those that are struggling with a loss of appetite or who have trouble chewing and can assist with immune function. People dealing with cancer and chemo, eating disorders, cystic fibrosis, unwanted weight loss, and other conditions frequently replace meals with nutritional shakes in the pursuit of a healthier life. If you replace a meal with an ENU nutritional shake, you can go about the rest of your day knowing that your body is nourished and prepared for anything.
Assisting with Weight Loss
Replacing some meals with nutritional shakes can help you lose or maintain weight. They're a great replacement for an unhealthy meal, an alternative to less–than–ideal choices, and are able to boost your metabolism to boot. Replacing some meals with a nutritional shake can help you reduce your overall calorie intake. Since all of the ingredients in an ENU nutritional shake are clearly listed, you'll know exactly what and how many calories and nutrients you're consuming.
ENU nutritional shakes can also help you maintain balance of your blood sugar levels, which will allow your body to burn stored fat to use as energy. And since ENU nutritional shakes are both filling and easily digested, you'll stay satisfied while maintaining optimal bowel health. Most importantly, nutritional shakes can give you extra energy, which you can use to exercise and stay active.
Offering Convenience
Nutrition shakes are great for replacing lunch or a meal because they're easy to incorporate into a busy lifestyle. They can fit into a purse or backpack and don't require any special preparation, so you can bring them to work, the gym, or anywhere you're headed. You can save time by drinking nutrition shakes instead of preparing your own meals at home, which requires buying ingredients, deciding what to cook, and then preparing and storing it. Nutrition shakes are also much cheaper than buying meals or getting takeout from a restaurant. ENU nutrition shakes comply with collegiate sports requirements for nutritional shakes, so they are suitable for college athletes on the go as well.
Things to Consider Before Incorporating Nutritional Shakes to Your Diet
If you're considering replacing meals with nutritional shakes, it's advisable to talk to your doctor first. He or she can assess what the healthiest options are for you and can recommend an ideal number of calories to eat daily if you're trying to lose or maintain weight.
When beginning to replace meals with nutritional shakes, it's recommended that you first observe your eating habits to notice when you're less likely to make healthy choices, when you're most in need of energy, and when you're busiest. These are the times that are best for replacing a meal with a nutritional shake. Finally, keep in mind that nutritional shakes are meant to fill in nutritional gaps in a person's diet; they are not meant to be your sole source of nutrients.
Begin Replacing Meals with
ENU
Nutritional Shakes Today
Replacing lunch or a meal with nutritional shakes can help you get all of the nutrients you need or support a weight loss or weight management plan. The portability and lack of required preparation allows them to be taken with you as you go about your life. They can even be delivered to your doorstep. If you'd like to learn more about the benefits of using nutritional shakes, you can visit our website or call us today at (855) 266-6733.