Get a
FREE


ENU Intro Pack*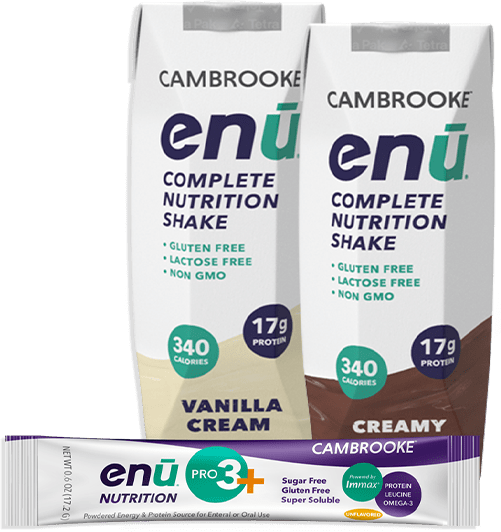 Can You Replace Part of Your Diet with Nutritional Shakes?
No matter your current diet and fitness practices, it's possible to have a body that meets your goals without sacrificing your health. Whether you're altering your diet for medical nutrition support, a fitness or exercise regimen, or for weight management, ENU nutritional shakes can be a part of a varied and complete diet while pursuing or maintaining your healthiest body possible. However, it's important to be cognizant of certain aspects of your health while transitioning from a diet consisting of entirely solid foods to a diet that balances solid food with nutritional shakes. Continuing reading this post for more information about how to incorporate nutritional shakes into your everyday diet.
Ways Nutritional Shakes Can Be Incorporated into Your Diet
Due to their convenience and array of nutrients and vitamins, nutritional shakes are easy to incorporate into almost anyone's diet. Here are a few of the reasons that people use nutritional shakes to supplement their health in their everyday lives:
Medical Nutrition Support
ENU nutritional shakes are a good addition to a diet for treating a health condition. The complete nutrition offered in ENU nutritional shakes help bodies do their best to gain or maintain health. Their neutral flavor and digestibility make them appealing to those dealing with a loss of appetite or those that have trouble chewing. ENU nutritional shakes also offer necessary nutrition to people who are unable to prepare a full, balanced meal for themselves. Made without gluten, lactose, GMOs, or corn syrup, they are easily consumed and digested by almost everyone. Substituting some meals with nutritional shakes is helpful to those dealing with cancer and chemo, cystic fibrosis, eating disorders, and other causes of unwanted weight loss.
The energy density of nutritional shakes helps bodies that may be dealing with compromised health conditions focus on healing while boosting the immune system's ability to do its job. Complete with good sources of protein, healthy fats, and complex carbohydrates, ENU nutritional shakes provide everything a person needs in their journey towards optimal health.
Sports Nutrition
Replacing parts of your diet with nutritional shakes has advantages for people who have committed to an exercise regimen or who are trying to build muscle. Drinking nutritional shakes before a workout can provide you with all of the energy needed to perform at your best, and drinking nutritional shakes after a workout can help replenish the energy lost while rebuilding the muscles that were broken down. (It is not advisable, however, to drink nutritional shakes both before and after a workout.) The quality of the ingredients in an ENU nutritional shake ensure that you'll be prepared to perform at your best during a workout and replenish your body when it's over.
Weight Management
Whether you're trying to lose weight, gain weight, or maintain your current weight, nutritional shakes can help you meet your goals. If you're trying to lose weight, replacing some meals with nutritional shakes can help you avoid unhealthy options, and the protein and complex carbohydrates help your metabolism function at its fullest. If you're trying to gain weight, adding nutritional shakes to your diet will allow you to increase your caloric intake without compromising nutrition. Maintaining a healthy weight is easy with the incorporation of nutritional shakes into your diet, because they allow you to take in the exact number of calories your body needs to stay as is. Since the ingredients in nutritional shakes are tightly controlled, it's easier for you to monitor your intake of calories, protein, carbohydrates, fat, fiber, sugar, and more.
Things to Consider Before Adding Nutritional Shakes to Your Diet
Before beginning to incorporate nutritional shakes into your diet, you should make sure that it's the right thing for you and your health. It's recommended that you consult with your doctor before you make an alteration to your daily diet, especially if your health is in a compromised or sensitive state. If you're trying to gain or lose weight, your doctor will help you determine a healthy number of calories to consume daily.
When you begin replacing meals with nutritional shakes, you should do it consistently, at about the same time every day—you should make an effort to replace meals at strategic times. Closely observe your habits (you can use a food journal for this, if you'd like) and try to replace meals with nutritional shakes at times when you're most likely to make unhealthy choices, when you need energy the most, or when your schedule is too busy to allow you to prepare a balanced meal.
When beginning to replace meals with nutritional shakes, keep in mind that they are not intended to replace your entire diet. Rather, they're meant to supplement a more comprehensive diet to help fill gaps and lapses in nutrition.
Our Nutrition Shakes Are a Functional Addition to Any Diet
Nutritional shakes can adapt to any diet or lifestyle. Regardless of your current state of health, incorporating nutritional shakes into your diet can help you become healthier or maintain the state you're currently in. You can get the healthy lifestyle that ENU shakes offer delivered to your doorstep. If you're interested in learning more about how nutritional shakes can be integrated into your everyday diet, visit the webpage for ENU nutritional shakes or call us today at (855) 266-6733.