Get a
FREE


ENU Intro Pack*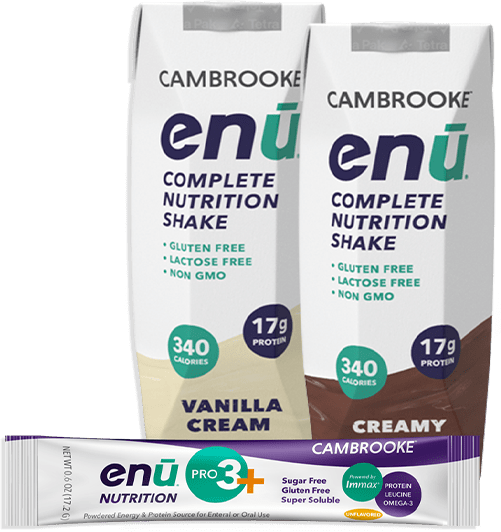 Can You Use Nutritional Shakes for Appetite During Chemotherapy?
A loss of appetite, in addition to other side effects of chemotherapy such as mouth sores and changes in taste and smell, can make it difficult for people going through chemo to eat food. Of all of the adverse effects of chemotherapy — fatigue, nausea, problems with hair and nails, bowel problems — the most consequential is often the loss of appetite, since it can result in weight loss, a catalyst for malnutrition.
Cancer patients that are going through chemotherapy can use the help of ENU nutritional shakes to get the nutrients they need, even if they are lacking a full appetite or are suffering from other side effects of chemo such as mouth sores, dry mouth, or thick saliva. ENU nutritional shakes are especially well-suited to assist chemotherapy patients with weight management and medical nutrition support. Keep reading to learn more about how ENU nutritional shakes are a good option for people suffering from a loss of appetite and other adverse side effects as a result of chemotherapy.
Combatting Loss of Appetite with Nutritional Shakes for Cancer Patients
Going through chemotherapy may make a person unable to eat. ENU nutrition shakes are a good option for cancer patients going through chemotherapy because they are easily consumed and digested. These shakes are good for people going through chemotherapy for the following reasons:
The taste and flavor of ENU shakes is neutral and not likely to induce nausea in the way that more pungent or flavorful foods would. They can even be incorporated into recipes using nutrition shakes to suit specific cravings.
ENU nutritional shakes don't require any chewing, which makes them easy to consume for cancer patients that are dealing with mouth sores, dry mouth, or thick saliva.
Chemotherapy patients often suffer from digestive problems including constipation and diarrhea. Nutritional shakes are easily digested and processed by compromised digestive systems.
Enduring chemotherapy can make it difficult to find the energy to prepare food, even if the appetite to eat it is present. ENU nutritional shakes require no energy or time to prepare; all of the nutritional benefits can be accessed by simply opening the bottle.
People that are going through chemotherapy are often advised to eat according to what their appetites dictate. The ease of preparation, consumption, and digestion offered by ENU meal replacement shakes allows chemotherapy patients to make the most of their windows of appetite with minimal effort.
Nutrients You Need for Energy During Chemotherapy
ENU meal replacement shakes provide a broad nutritional profile. Chemotherapy patients can drink ENU nutritional shakes knowing that their bodies are receiving the nutrients they need to continue to fight for their health.
Getting Proper Nutrition During Chemotherapy
It's imperative for people going through chemo to maintain proper nutrition. With chemotherapy compromising the fundamental functions of the body, proper nutrition can help ensure that the patient has the resources they need to fight cancer as forcefully as possible.
Eating a diet that has enough nutrients during chemotherapy can aid chemo patients with many aspects of their health. Eating well during chemotherapy can help patients maintain their energy levels, guard against anxiety and depression, ameliorate the negative side effects of chemotherapy, and decrease the risk of infection.
Important Nutrients that Cancer Patients Should Consume
Nutritional shakes from ENU have all of the nutrients that chemotherapy patients need to feel certain that their bodies are properly nourished. ENU nutritional shakes contain the three macronutrients – protein, carbohydrates, and healthy fats – in a ratio that assists with optimal digestion and absorption and includes a full profile of additional vitamins and minerals.
One of the most important nutrients for chemotherapy patients to consume is protein. Protein helps with the growth and repair of body tissue and contributes to the regular functioning of a healthy immune system. Protein is also beneficial for chemotherapy patients because it assists with weight management, which is important for chemotherapy patients who are susceptible to losing weight as a result of the loss of appetite. Protein in ENU nutritional shakes comes from whey isolate, which is one of the most quickly absorbed protein sources available.
It is also important for chemo patients to consume a healthy amount of carbohydrates, which give the body energy. The carbohydrates in ENU nutritional shakes come from complex sources including rice, tapioca, brown rice, and quinoa. Healthy fats are also necessary for optimal health in a chemotherapy patient because they aid in the absorption of other nutrients and help the person consuming them feel satisfied. Sunflower and coconut oils are included in ENU nutritional shakes, which are healthy fats that contain Omega-6 fatty acids and medium-chain triglycerides.
People who consume ENU nutritional shakes should be aware of the fact that these shakes are not intended to be eaten for every meal. Chemotherapy patients should make it a point to get most of their nutrients through balanced meals and snacks; nutritional shakes should be used as supplements to meals, between-meal snacks, or occasional meal replacements. Chemotherapy patients who are interested in using ENU nutritional shakes should speak with their doctors before making any major changes to their diets.
Get Proper Nutrition to Maintain Health and Weight During Chemotherapy with ENU Shakes
Nutrition therapy is an important part of the recovery process for cancer patients. Getting all of the nutrients that their bodies need to fight their illness without exacerbating side effects is crucial. ENU nutrition shakes can offer cancer patients everything they need to carry on with their fight against cancer. To learn more about the health benefits of the products sold by ENU, visit us online as soon as possible.