Get a
FREE


ENU Intro Pack*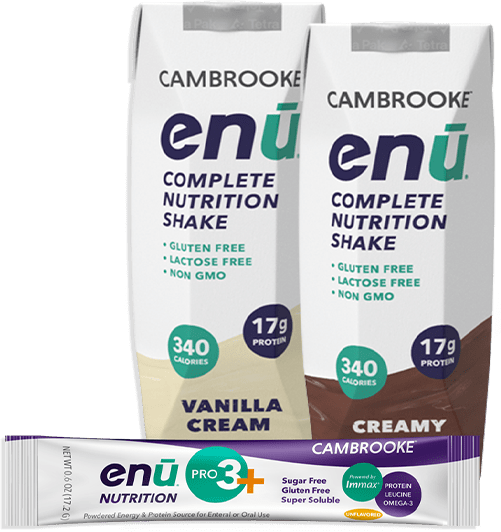 Choosing the Best Meal Replacement Shake for You
Meal replacement shakes were once hard-to-find specialty items, but today, consumers have seemingly countless options. While it's great to have so many choices, the variety can feel a little overwhelming – especially if you've never used weight management shakes before. The good news is that ENU Nutrition makes it easy (and tasty) to choose a meal replacement drink that fits your fitness goals. Whether you want to lose weight, gain weight, or maintain your current weight, there are five reasons why ENU meal replacement drinks can be a healthy and nutritionally-balanced option.
What to Look for in a Meal Replacement Shake
There's no shortage of options out there when you're trying to choose the right meal replacement drink for you. There are meal replacement shakes for women, meal replacement shakes for seniors, meal replacement shakes for losing weight, meal replacement shake for gaining weight – the list goes on (and on, and on).
When we founded ENU Nutrition, we set out to create a health-conscious meal replacement option that would meet a diverse range of nutritional and fitness needs – without sacrificing taste or convenience. That's why we designed a low-sugar, protein-packed beverage that's ready to drink right out of the packaging. ENU can be delivered straight to your door, eliminating the need to wait in line or fight the crowds. Plus, there's no refrigeration required, so you can take it on-the-go at any time to fit your active lifestyle.
So what makes ENU such a good nutritional fit for someone who's trying to manage their weight? Here are five reasons ENU meal replacement shakes make a healthy part of almost any diet plan:
ENU shakes are rich in protein, containing 23 grams per serving. Protein is essential for refueling and rebuilding muscle, which can help you add weight. At the same time, studies have shown that protein can also help you trim your waistline. Whether you're trying to build and tone muscle for a sports competition, gain weight to aid in your recovery from an illness, or shed pounds to achieve a healthier body mass index (BMI), it's crucial to make sure you incorporate sufficient protein into your diet.
ENU shakes give you long-lasting energy by delivering complex carbohydrates, like brown rice and quinoa, plus high-quality, heart-healthy fats, like sunflower oil – not by loading you up with corn syrup that will make you feel groggy and tired later. Our shakes' sophisticated blend of fats and carbs is specially formulated to maximize satiety, or how full you feel, while aiding better absorption of essential vitamins and minerals. By the way, that reminds us…
ENU shakes are loaded with a balanced blend of 24 vitamins and minerals to help you maintain optimal health and performance. For example, you'll get 60% of your Recommended Daily Allowance of Vitamin D, which has a wide range of benefits, such as:

Helping your body absorb calcium, which promotes stronger, properly functioning bones.
Helping to modulate your immune system, which makes it easier for your body to fight and repair damage from illnesses.
Helping to prevent hair loss and tooth decay, which are more likely to occur in people who don't get enough Vitamin D.
Helping to regulate mood, with one study showing that Vitamin D supplements can improve certain symptoms of depression.

ENU shakes contain 450 calories per serving, replacing a meal while still keeping you satisfied. Best of all, only 11% of those calories come from sugar, compared to 27% in Ensure Regular.
Not only do ENU shakes contain the nutrients you need to effectively manage your weight, like protein, Vitamin D, and complex carbs – they also exclude the junk and fillers you don't need, like artificial colors, artificial flavors, and artificial sweeteners. They're also lactose-free and gluten-free for easy digestion, even if you're lactose intolerant or have gluten/dairy restrictions due to an illness or allergy.
Of course, you should always talk to your doctor before changing your diet, especially if you have any health conditions or dietary restrictions that could affect your meal planning. If you're trying to lose, manage, or gain weight, ask your physician if ENU could be right for you.
Get Delivery Nutritional Drinks for Weight Gain, Loss, or Management
It's easy to order ENU nutritional shakes for delivery right to your doorstep. If you're a new customer, we'll even give you a discounted special offer of just $7.99 for an introductory trial pack in two indulgent flavors, Creamy Chocolate and Vanilla Cream. Plus, save 5% when you select an auto-ship option at checkout.
Your fitness goals just got a little closer. To get started placing an order, or to learn more about our meal replacement shakes to gain weight or lose weight, call us today at (855) 266-6733. You can also use our online contact form.