Get a
FREE


ENU Intro Pack*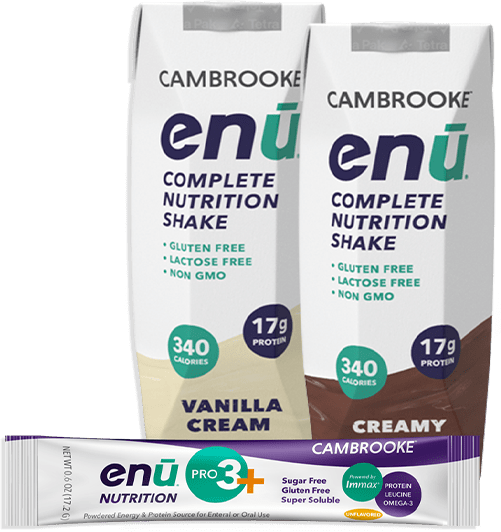 Do Meal Replacement Shakes Contain Enough Protein?
It doesn't matter whether you need meal replacement shakes for weight loss, meal replacement shakes for weight gain, or weight management shakes to maintain your current weight. No matter what your weight goals might be, it's important to choose a healthy and nutritionally-balanced meal replacement option that will deliver the essential vitamins, minerals, and nutrients you need to look, function, and feel your very best. One of the most important nutrients to look for is protein, which is essential for making enzymes, hormones, and maintaining healthy tissue, including your nails and hair. Protein can also help you gain or lose weight by building lean muscle, keeping you feeling fuller longer, and helping you recover after a workout. Read on to learn more about what protein does, why protein is an important part of your diet, and how to find a nutritional shake that contains the right amount of protein to help you achieve your wellness goals.
How Much Protein Should You Have in a Day?
The "average" person needs about 2,000 calories per day – but depending on variables like height, weight, gender, age, and physical activity level, that figure can be substantially lower (or higher).
The same can be said about protein: every person has slightly different needs when it comes to getting the "perfect" amount. The question is, how much protein do you need?
Let's start by looking at the Recommended Dietary Allowance (RDA). According to the Harvard Medical School blog, "The Recommended Dietary Allowance (RDA) for protein is a modest 0.8 grams of protein per kilogram of body weight."
Of course, we don't normally weigh ourselves in kilograms, so we'll have to do a little bit of conversion to find out what this means. Below are a few handy examples, slightly rounded to give approximate figures:
100 pounds = 45.4 kilograms = RDA of 36.3 grams of protein (0.8 grams of protein multiplied by 45.4 kilograms of body weight)
150 pounds = 68 kilograms = RDA of 54.4 grams of protein
200 pounds = 90.7 kilograms = RDA of 72.7 grams of protein
250 pounds = 113.4 kilograms = RDA of 90.7 grams of protein
300 pounds = 136.1 kilograms = RDA of 108.9 grams of protein
350 pounds = 158.8 kilograms = RDA of 127 grams of protein
As you can see, this formula produces wildly different results depending on how much you weigh: about 127 grams for a person who weighs 350 pounds, versus about 36 grams for someone who weighs 100 pounds. However, circling back to what we were saying a few moments ago, the RDA isn't that cut-and-dried, because everyone has a different level of physical activity – not to mention a different weight or athletic goal. Some experts recommend taking in more than the RDA, especially for high-performance endurance athletes. Ultimately, the answer to the question "How much protein should I eat in a day?" depends in part on your current weight, and in part on what you are trying to achieve.
For example, one study published in 2005 in the American Journal of Clinical Nutrition found, "An increase in dietary protein from 15% to 30% of energy at a constant carbohydrate intake… results in significant weight loss": as much as 11 pounds in just 12 weeks, or about one pound per week. Part of this comes from the fact that protein can help improve your satiety, or the feeling of being full after eating. This was shown in another, more recent study, published in 2011 in the peer-reviewed journal Obesity, which found, "When compared to normal protein, the higher protein group experienced lower late-night desire to eat and [less] preoccupation with thoughts of food."
On the other hand, protein can also help you gain weight by working to synthesize and repair damaged muscle tissue, which is why protein-rich foods and beverages are so highly valued by body-builders and weight-lifters. The secret is amino acids, which are the basic building blocks that protein is made from. The amino acids in protein are essential for increasing the size (and durability) of your muscles, which can be a healthy method of putting on weight.
Get Discounts on Delivery High Protein Meal Replacement Shakes for Gaining or Losing Weight
Meal replacement shakes by ENU Nutrition were designed with performance, fitness, and health in mind. That's why each delicious ENU Complete Nutrition Meal Replacement Shake provides 23 grams of protein: 5 more grams than you'll find in Ensure Regular. The protein in our fitness shakes comes from two quality sources: grass-fed whey protein isolate, which is easy to absorb and digest, and non-GMO soy protein concentrate, a plant-based protein rich in valine, an amino acid that can aid muscle recovery while promoting healthy organ function and cell function.
In two delicious flavor options (Creamy Chocolate and Vanilla Cream), ENU nutritional shakes for weight gain, weight loss, or weight management can be delivered straight to your doorstep for effortless convenience. We'll even give you a discount on your first order!
Managing your weight has never been tastier – or more convenient. To learn more about ENU nutritional drinks, or to order your first meal replacement shakes today, contact us online or call (855) 266-6733 to get started.