Get a
FREE


ENU Intro Pack*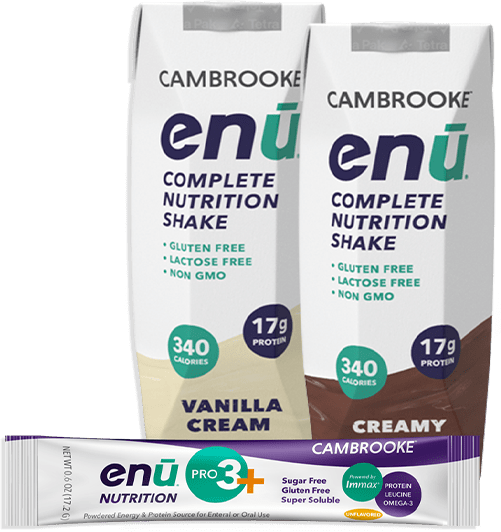 Do Protein Shakes Help Elderly People Avoid Weight Loss?
As we age, we are faced with many physical, psychological, and physiological problems that can significantly impact our lives. Weight loss is one of the things older adults struggle with the most. If you or a loved one has been struggling with weight loss, there are ways to help you avoid losing weight and the problems associated with it. Keeping a balanced diet – in tandem with exercise – can help older adults maintain a balanced weight. Many people have wondered whether incorporating a protein shake for older adults can work as part of their diet. ENU – the makers of nutrition shakes for seniors – invites you to keep reading as we explain whether protein shakes can help elderly people avoid weight loss.
Can Protein Shakes Help Prevent Weight Loss in Elderly People?
As we age and grow older, our bodies tend to lose the ability to grow muscle, keep muscle density, and it can be more challenging to keep your body weight in check. Protein is one of the essential nutrient seniors need to maintain their body weight and nourish their body. Most people tend to believe that a high-protein diet is reserved for powerlifters, bodybuilders, and people performing strength training. However, this is a generalized idea that distances itself from reality. Many elderly people need a diet with high protein to maintain their overall health, muscle strength, and resilience.
Without protein, the human body can begin to break down its muscle mass. Additionally, the lack of protein can also affect an individual's bone structure and strength. This is more patent on older adults, who can find it more challenging to assimilate and process protein compared to their younger years. Therefore, a protein-dense diet is critical.
It is also essential to understand that not every elderly adult can sustain a diet consisting of protein-dense foods. Some people may not have the ability to quickly digest and break down these foods due to a physical – or physiological – condition. This is where nutrition shakes can help elderly people avoid weight loss and other complications related to lack of protein.
A high-protein shake can help boost your body with your necessary daily protein intake without having to eat foods you may not tolerate. However, it is critical to understand that protein shakes are the best "supplement" for protein intake and not a "replacement" for whole foods. It is always recommended to consult with your dietitian before including a protein shake for weight gain.
How Much Protein Do Elderly People Need to Avoid Weight Loss?
Typically, you would need one gram of protein per pound to keep your protein intake in check. This means your dietitian or doctor will evaluate your particular circumstances and determine how much protein you should take on a daily basis. However, keep in mind – as we mentioned – seniors may need a higher protein intake to help them replenish their bodies.
According to the National Institute of Health (NIH), elderly adults need to get 10-35% of their daily calorie intake from protein. However, this may not be enough if you are an older senior. Perhaps a safer bet would be to adhere to one gram of protein per pound. For instance, if you weigh 200lbs, you could consume anywhere from 180 to 200 grams of protein.
Reaching this protein intake goal can be difficult, especially if you rely on whole foods alone. Hence, considering adding a protein shake to your diet can be beneficial. Including one protein shake in between your meals as a snack can help you reach your protein intake goals. However, it is essential to always consult with your dietitian.
Preventing Unintentional Weight Loss with Protein Shakes
As people get older, they may unintentionally see a reduction in their weight. This can happen for a variety of reasons that are not related to a specific diet or implementation of an exercise routine. Many times, unintentional weight loss can happen for psychological, physiological, and social reasons. For instance, people with specific medical conditions such as cancer may lose more calories than seniors without this condition. If their body burns more calories than they consume, they would be under what is known as a "caloric deficit." When a person is in a caloric deficit, they may experience a more evident weight loss. For this reason, they would need to consume foods to help them balance out their calorie expenditure. Protein shakes for weight gain or weight management can help improve calorie surplus and help you reach your goals.
Older adults experiencing psychological issues, such as anxiety and depression, may also experience weight loss. These conditions are known for cutting down a person's appetite. In turn, this can cause weight loss over time. To help avoid weight loss, seniors need to increase calorie and protein consumption. One of the easiest ways to achieve this is to drink a protein shake. This can help make protein and calorie intake easy while preventing more weight loss.
Protein shakes can help promote weight gain in senior citizens and help them nourish and replenish their bodies. However, you should not replace your whole foods with a protein shake intake only diet. It would be best to consult with a professional before incorporating a protein shake into your diet.
Try a Nutritional Protein Shake to Promote Weight Gaining on Elderly People
Managing and controlling weight loss for senior citizens may seem like a challenge. However, you can achieve this goal by incorporating a protein-rich ENU meal replacement shake into a senior's diet. At ENU, we know the importance of maintaining balanced body weight, muscle density, and adequate bone structure – especially during the golden age. That is why we manufacture protein-dense shakes. Protein shakes are not only convenient; they are easy to use and effective. We understand how different elements can affect an older adult's weight as they age. That is why we have created meal replacement shakes and nutritional powder to help them keep their weight in check. To learn more about our nutritional products, visit us online or call (855) 266-6733 today.