Get a
FREE


ENU Intro Pack*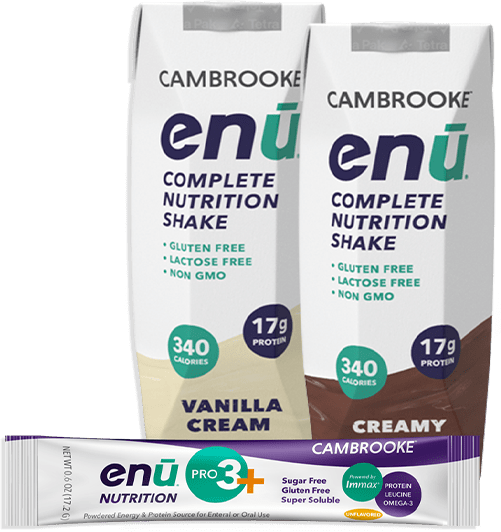 Do Protein Shakes Help People with Cystic Fibrosis?
Cystic fibrosis is a challenging medical condition affecting the lives of thousands of people in the U.S. and around the world. People with this particular condition face debilitating symptoms that make their daily life difficult. One of the most important aspects to consider with this illness is nutrition. The nutritional needs of each patient are different and need to be carefully monitored to prevent malnutrition. One way you can balance your diet and keep track of your daily food intake is to incorporate a protein shake. However, you may wonder how these shakes can help people with cystic fibrosis. ENU nutritional support for cystic fibrosis experts explain.
How Can Protein Shakes Help People with Cystic Fibrosis?
Cystic fibrosis is a progressive, genetic disease that affects the lungs, the digestive system, and other body organs. This condition affects the cells in charge of producing mucus, sweat, and digestive fluids. For instance, people with cystic fibrosis can have difficulty breathing because the lungs' fluids become dense and sticky, often clogging the passageways through which oxygen is supposed to flow.
One of the main concerns about this condition is that it can affect the way the pancreas work. Typically, the pancreas is responsible for releasing digestive "enzymes" to help break down food and convert it into energy extracted from nutrients. The accumulation or overproduction of mucus can interfere with this process, which can affect how people with this condition can keep their diet in check.
Adding a protein-rich nutrition shake can help people with cystic fibrosis balance their diet. A meal replacement shake can be an excellent way to provide you with the required calorie intake as well as easy-to-digest protein. Additionally, a protein shake can help you provide your body with vitamins, minerals, and quality fats. All the ingredients in a protein shake can help you maintain your weight, keep or rebuild muscle, promote proper bone density, and keep your body nourished all day. It is recommended to talk to your physician and dietitian before adding a nutritional shake into your diet.
What Kind of Nutrition Can a Protein Shake Provide to Cystic Fibrosis Patients?
Cystic fibrosis is a complicated condition, and finding the best nutritional plan for a patient can be challenging. According to official sources such as Johns Hopkins, people with cystic fibrosis may need a higher caloric intake than people without this condition. Depending on the person and the severity of their condition, dietary needs can include up to 4,500 calories per day. People living with cystic fibrosis need to pay close attention to their diet and keep count of their calories and the foods they consume every day.
There are specific nutrients that are aimed at balancing a cystic fibrosis patient's diet. For instance, protein should be one of the top nutrients people with cystic fibrosis should consume. In many cases – especially in teenagers – patients with this condition can require a high protein amount. While protein can be found in eggs, soy foods, fish, and other whole foods, protein shakes can boost both proteins and calories, making it easier for the patient to keep track of their nutrition.
At ENU, we provide all our customers with high-quality medical nutrition shakes that can help people with cystic fibrosis. You can take your protein shake on-the-go and consume it whenever you need it. Each container is packed with 400 calories, 20 grams of non-GMO, plant-based protein, and complex carbs. Moreover, we add quality fats to nourish the body and help its balance. We encourage you to talk to your treating physician before incorporating these shakes into your diet.
A Protein Shake Can Help a Cystic Fibrosis Patient's Daily Routine
Depending on the person and the extent of their condition, it is good to stay active and keep a balanced diet as recommended by a doctor and dietitian. One of the best ways to improve lung function and get better quality breaths is to incorporate an exercise routine. You don't have to go all out in your exercises to help improve lung function. A good walk or a low-paced jog can likely help clear up excess mucus in your lungs, making it possible for you to breathe better.
Other low impact exercises such as biking, yoga, and rope skipping can also be excellent options for people with cystic fibrosis. There is also a critical element to consider when incorporating exercises into your routine. Your mind-body connection is essential to improve your physical and mental health. Cystic fibrosis is a challenging condition, but that doesn't mean you can't build a better life through exercise and mental health improvement.
You may wonder how a protein shake enters this equation. Before and after exercise, it is critical to keep your body in check. Consuming calorie-dense and protein-rich foods pre- and post-workout can help you have the energy you need for your training session and the right nutrients to replenish your body after working out.
A protein-rich shake can be part of your daily routine regardless of your training intensity. Many people believe that protein shakes are something only bodybuilders need. However, this is not the case. More than ever before, protein shakes have proven to be efficient, easy-to-use, and beneficial for all people.
ENU Nutrition Shakes for Patients with Cystic Fibrosis
If you or a loved one is suffering from cystic fibrosis and requires a calorie-dense, protein-rich diet, we can help. ENU dedicates all their efforts and resources to creating the best meal replacement shakes to help nourish and replenish the body with top-quality ingredients. We zealously protect our products' integrity and make sure you get what you are looking for in a protein shake. Our product is not only beneficial, but it's also delicious! You no longer have to drink grainy, stale-flavored shakes. We can help you keep your diet in check. To learn more about all our products, call ENU today at (855) 266-6733.