Get a
FREE


ENU Intro Pack*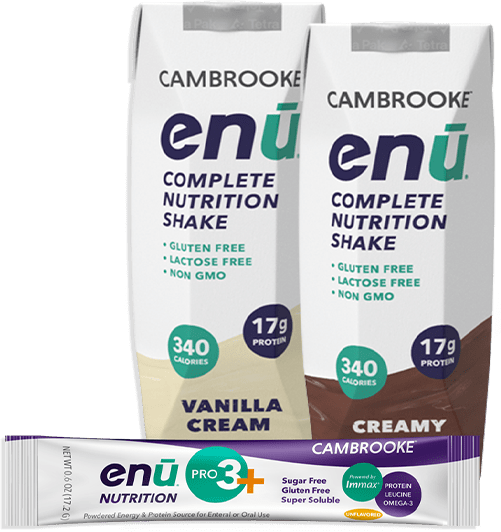 Eating and Getting Nutrients When Your Jaw Is Wired Shut
There could be any number of reason why a person might have their jaw wired shut, including to fix a broken jawbone or improve a speech impairment. As unpleasant as this treatment may sound, the experience of losing the ability to move your mouth is even worse than you can imagine. The impact of having your jaw wired shut extends to almost every aspect of a person's life, perhaps because it changes the way a patient carries out the fundamental functions required by daily life – speaking, eating, drinking, and even breathing.
So how do you get the nutrients you need when your jaw is wired shut? Keep reading as the experts at meal replacement shake company ENU discuss that very topic.
What Nutrients Do You Need When Your Jaw Is Wired Shut?
The foundation of proper nutrition remains the same whether your jaw is wired shut or not; the difference is merely the additional challenge presented by an immobile mouth. The three primary macronutrients that your body requires are fats, carbohydrates, and proteins, each of which serves a crucial role in the body's operations. A mix of vitamins and minerals is also important for maintaining your health, as is consuming the appropriate number of calories to maintain your body weight.
It should be noted that those healing from a broken jaw or any severe injury should take special care to meet all their medical dietary requirements, but especially their daily recommended amount of protein. This critical macronutrient is an important part of the body's healing process, and failure to consume enough of it can slow a patient's recovery from their injury.
How to Get the Nutrients You Need with a Wired Jaw
As you may have guessed, the primary method of getting the nutrients your body needs when your jaw is wired shut is by consuming them in liquid form. This could mean one of several things: Either you puree solid foods into a thin liquid you can drink, you turn to prepared foods such as meal replacement or nutrition shakes, or you snack on products like drinkable yogurts or milkshakes. Whichever you choose, make sure it does not contain solid matter, as it will likely wind up stuck in the wiring along your jaw.
Of all the options, the blending of solid foods into a drinkable form is the most nutritionally sound solution but also the one that requires the most preparation by far. For those unused to daily meal prep, the burden of having to plan out everything you eat each day can be daunting. Still, for those willing to put in the effort, blending your meals can provide the greatest variety of tastes and range of nutrients out of any of the options. To keep the resulting mixture thin, try adding broth, juice, or water. Also, heart-healthy oils such as olive or coconut oil can add calories without thickening the mixture to help you maintain your body weight.
After the blending of solid foods, drinking meal replacement shakes is the most nutritious option available to patients with a wired jaw. These products are designed to meet all your body's dietary needs in one convenient beverage – arguably the perfect solution for those who can't chew their food. Keep in mind, however, that not all meal replacement shakes are created equal; some pad their calorie counts with corn syrups or other unhealthy ingredients or fail to offer a healthy range of vitamins and minerals. Be sure to read the nutrition facts on the label of any product you pick up before relying on it in your day-to-day life.
Meet Your Nutritional Needs with a Meal Replacement Shake
Though blending solid foods may offer a wide range of options for meals, nutrition shakes can also bring a surprising variety to the table. Many of these shakes have a relatively neutral but nonetheless tasty flavor that is easily combined with healthy ingredients, including:
Fruit and vegetable juices
Yogurt, ice cream, and other dairy products
Protein powders and other supplements
Berries, bananas, and other fresh or frozen fruit
The ability to customize these shakes make them an attractive option for those unable to eat solid foods, and they require much less effort to plan and prepare than blended meals. High-quality meal replacement shakes, such as those from ENU, frequently offer a healthful mix of important nutrients as well. Consider adding a nutrition shake to smoothie recipes you may find online.
ENU meal replacement shakes contain 20 grams of protein from whey and soy; heart-healthy fats derived from coconut and sunflower oils; complex carbs from natural sources such as quinoa, brown rice, and tapioca; and a blend of more than 20 vitamins and minerals, so your body gets everything it needs to keep running smoothly. These beverages come in delicious chocolate and vanilla flavors and can be a hearty snack or a quick meal when you need it.
ENU Meal Replacement Shakes Offer Complete Nutrition
When recovering from a broken jaw, major dental procedure, or any other circumstance that requires a wired jaw, the last thing you probably want to do is sit around all day planning meals. ENU nutrition shakes can offer all the benefits of a well-rounded meal without any of the effort. To learn more about how our meal replacement shakes can help you as you deal with a jaw that has been wired shut, visit us online or call us today at (855) 266-6733).