Get a
FREE


ENU Intro Pack*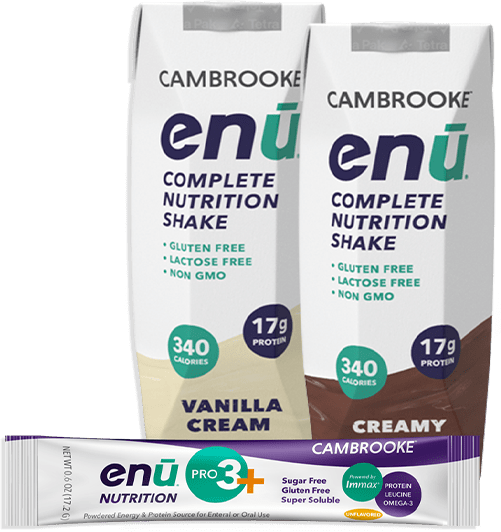 How to Gain Healthy Weight After Chemotherapy Treatments
One of the more dangerous but less discussed effects of battling cancer is that it often causes people to lose significant amounts of weight. In fact, the American Society of Clinical Oncology has reported that about 40 percent of patients who were recently diagnosed with cancer experience weight loss; among those with advanced cancer, the number is more like 80 percent.
It can be easy to overlook the aspect of nutrition therapy after cancer – especially in a society that puts such a premium on weight and body image – but the simple truth is that a patient's body needs to maintain appropriate levels of fat and muscle in order to recover, both during and after chemotherapy treatments. Diet is an important element in this process for obvious reasons, though people recovering from treatment often have trouble getting the nutrients they need through solid foods. Keep reading to find some tips for gaining healthy weight after chemotherapy.
Find Tastes That Work for You
Because chemotherapy can change a person's sense of taste and smell, foods that were once familiar can become intolerable after treatment. This can make establishing a healthy diet – initially, at least – more a matter of figuring out what you can choke down rather than what you find enjoyable or nutritious, and chronic nausea can make it hard to keep down the few meals you manage to consume.
In the beginning, experiment to try and find which tastes you can tolerate and plan your meals around them. Eat small amounts of food as frequently as you can and consider using spices or condiments to impart flavors or add much-needed calories to bland dishes. Meal replacement shakes can be a palatable alternative to solid foods, too; they are often formulated to provide a wide range of nutrients and come in simple, tasty flavors. ENU meal replacement shakes offer a nutritious alternative for people battling illness.
Eat Plenty of Protein
The weight loss that sometimes comes with chemo isn't limited to body fat; more often, the majority of it is muscle. The combination of fatigue, eating difficulties, and digestive problems cause many patients to waste away due to malnutrition and inactivity. Regaining a healthy weight afterward can be tough and will rely largely on the consumption of the three macronutrients: protein, fats, and carbohydrates. Of the three, however, protein is likely the most important.
The amino acids found in protein are crucial to the repair of damaged cells, meaning that those who get too little protein will have a slower recovery process and stay weaker for longer. Consuming more protein with meals, even just in small amounts, will help you build up strength and momentum. Remember that your recovery is a process; establishing good eating habits early on will make things that much easier down the road.
Eating protein is especially important for restoring the body's natural defenses. Chemotherapy compromises the immune system, and the cells that power the system are largely made up of proteins – including immunoglobulins, also known as antibodies. Therefore, the only way to strengthen it is to provide your system with the means to synthesize new proteins by including protein in your diet.
Try to get protein in any way you can, either through conventional foods or the addition of supplements to you diet. Whey and soy proteins are two of the more popular and effective types available, and both are easy to digest. Not only will including protein in your diet support your immune system and healing processes, it will also help to prevent the loss of muscle mass and give you the materials you need to create more muscle as you become more active.
Don't Neglect Healthy Fats and Carbs
Although they tend to be treated like bad words by the health and fitness communities, fats and carbohydrates are both important parts of any diet, especially for someone who needs to gain weight after chemotherapy. Fats are very dense in calories, so they can be a good way to boost your caloric intake without having to eat as much, and carbs provide energy to help you stay as active as possible.
As with any foods, though, the quality of nutrients and ingredients matters. Do your best to avoid trans or saturated fats, as they are associated with a host of health issues; instead try monounsaturated fats like those found in coconut oil. Added sugar and corn syrup should also be avoided in favor of complex, natural forms of carbs.
Do Your Best to Eat What You Can, When You Can with ENU Meal Replacement Shakes
Even with all the above tips in mind, remember that sometimes it's good to just eat whatever you can stomach. The changes in appetite and taste that often come with chemo can severely limit your options, so every meal you keep down is a victory.
ENU meal replacement shakes can make this difficult time easier; you don't have to prepare them in advance, so they're ready for you whenever you find you have an appetite, and they are carefully designed to provide well-rounded nutrition without sacrificing taste. Each carton contains 20 grams of protein along with a blend of healthful fats, complex carbs, and 24 vitamins and minerals. To learn more about all ENU's products, visit us online today.