Get a
FREE


ENU Intro Pack*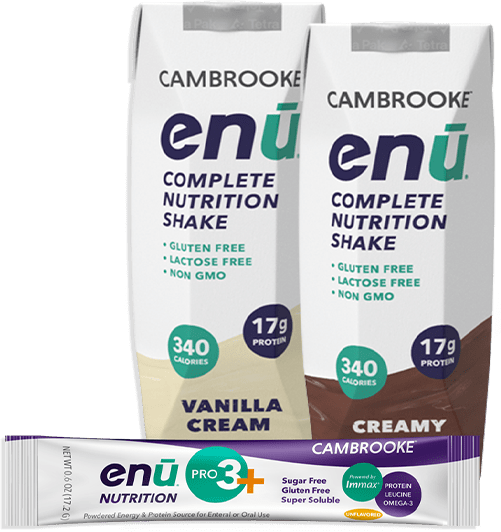 What Are Good Snacks for Chemo Patients?
When battling cancer and the effects of its treatments, no patient wants to have to plan or prep their meals, especially if they have to contend with constant nausea, mouth sores, or other unpleasant side effects associated with chemotherapy. Still, these conditions don't change the fact that chemo patients need to eat; in fact, nutrition for cancer patients is arguably even more important than nutrition for healthy individuals. It's not uncommon for those dealing with this disease to lose significant weight, jeopardizing their health and recovery, so finding ways to get the nutrition you need during chemo is important, even if it's just in the form of snacks. So, what are some good snacks for chemo patients? To find out, keep reading as the people at ENU, makers of liquid nutritional supplements for cancer patients, explain.
Why Chemo Patients Need to Prep with Good Snacks
Although it's used as a tool to heal, chemotherapy also causes some serious, potentially debilitating side effects in the cancer patients who receive it. That's because the nature of chemo is inherently toxic; essential, chemo drugs are poisons designed to seek out tissues that rapidly grow and divide, such as those in tumors. Unfortunately, it also targets healthy cells that behave in a similar way – including those in the mouth, hair, nails, bone marrow, and digestive tract – and because chemo is a systemic treatment, it can affect all of these areas at once.
The result is that many chemo patients have difficulty eating full meals due to the nausea, vomiting, loss of appetite, oral mucositis, and fatigue that tend to plague these individuals. In addition, these patients are at risk of becoming underweight or even malnourished, which reduces the body's ability to fight infections or recover from each chemo treatment.
While fighting these effects can be difficult, the best way to ensure that a chemo patient keeps up their strength is to get them to eat as many nutritious, calorie-dense foods as possible to help them maintain an appropriate body weight. Snacks are especially good tools for this, since they come in many forms, are often portable, and can be enjoyed virtually any time of day – all traits that make it easier for a chemo patient to adjust their eating habits and get the nutrients they need when they can tolerate them. Below, we'll outline some of the best snacks for chemo patients.
Good Snacks for Chemo Patients to Eat
When choosing a good snack for chemo patients, be sure to take into account the symptoms that the person in question is experiencing. If their sense of taste has changed, for example, they may benefit from foods heavy on spices and condiments that improve flavor, but if they have mouth sores, those spices could mean a painful eating experience. At the same time, aim to provide protein, which will help build and preserve muscle mass, and plenty of calories for energy. The following are some top choices for good snacks for chemo patients.
Oatmeal
A breakfast staple for many, oatmeal is particularly attractive for chemo patients because it's soft, with a creamy texture and inoffensive flavor that can be adjusted with common additions like fruit or cinnamon, and it's high in nutrients as well. A single cup of oatmeal can provide a patient with carbs, antioxidants, protein, fiber, and even some healthy fats. Soak some oats in milk and stick them in your fridge overnight for an easy, beneficial snack at home or on the go.
Eggs
Another common breakfast item, eggs are easy to cook and can be prepared in a variety of ways to suit the patient's taste. Just one egg can provide almost 6 grams of protein and 4 grams of fat, and their soft texture and mild taste make them ideal for those with nausea or oral mucositis.
Shakes
Whether you have mouth sores, nausea, or any other chemo side effect that makes eating difficult, choosing to drink your calories and nutrients is often a good idea. By whipping up a homemade protein shake, you can customize your drink with the nutrients and flavors you prefer. In addition, a balanced meal replacement shake can provide a number of resources your body needs; be sure to pick one with plenty of calories and a well-rounded nutritional profile for quick and convenient nourishment anywhere, anytime.
Nuts and Seeds
Though they may be difficult to eat if you have mouth sores, nuts and seeds can be a handy source of protein, fat, and vitamins when you're away from home. Almonds are especially beneficial, since they provide the materials to create antioxidants, and they are easily added to other snacks and dishes, such as oatmeal. Pumpkin seeds can also be a good snack for chemo patients because of the iron and vitamin E they offer.
Avocado
With their relatively recent rise in popularity, avocados have become readily available in stores around the country. That's good news for chemo patients, as these creamy fruits are loaded with healthy fats, fiber, and calories. They're easy to adapt, too; spread them on toast, add them to a soup, or even eat them alone. Plus, their texture and mild flavor make them ideal for patients with mouth sores or dry mouth.
Healthy Nutritional Shakes and Supplements for Chemo Patients Available from ENU
When it comes to supporting the nutritional needs of cancer patients, a meal replacement shake from ENU can be a great choice. Each carton offers 400 calories derived from real food ingredients – not to mention 20 grams of protein, heart-healthy fats, complex carbs, and a blend of more than 20 important vitamins and minerals – and our new Pro3+ powdered nutritional supplement can easily add calories and protein to any beverage. Learn more about how ENU products can help keep your strength up during chemo by visiting us online or calling (855) 266-6733 today.