Get a
FREE


ENU Intro Pack*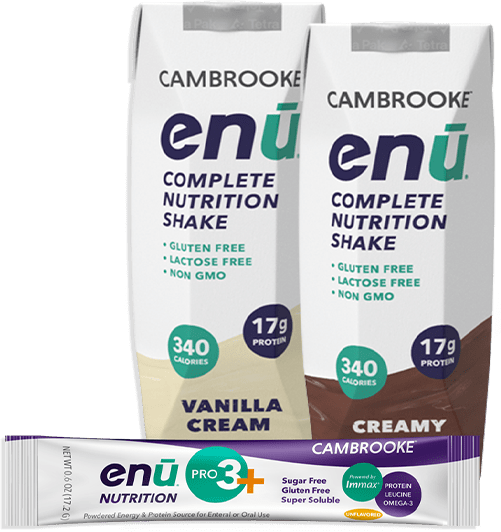 The Health Benefits of Using Meal Replacement Shakes
People may change their diets for a variety of reasons: they may want to gain or lose weight for better overall health, put on muscle mass through a new exercise regimen, or manage symptoms associated with a medical condition. Regardless of the reason that someone may want to change what they eat, ENU nutritional shakes are a good addition to any diet due to their full nutritional profile and ability to be easily transported and consumed.
Meal replacement shakes by ENU can be easily incorporated into anyone's lifestyle. Continue reading for more information about the health benefits of ENU meal replacement shakes and how they can be used to manage weight or help with sports or medical nutrition.
How Meal Replacement Shakes Can Help with Weight Management
ENU meal replacement shakes can be included in a diet plan intended to help you lose, gain, or maintain your weight. Meal replacement shakes for weight management are common because the calories and nutrients in ENU shakes are precisely controlled and consistent across all products, making it easy for people consuming them to know exactly what they are taking in.
Meal Replacement Shakes for Weight Loss
Meal replacement shakes can be used for weight loss by allowing dieters to reduce the overall number of calories they consume in a day. People who are trying to lose weight can replace meals with meal replacement shakes or consume them as a snack between meals so that they can keep their hunger in check until their next meal. The array of nutrients in a meal replacement shake allows a person trying to lose weight to do so without risk of malnourishment. Drinking meal replacement shakes is also a good way to support an exercise regimen, another lifestyle change that can contribute to a person's weight loss initiative.
Meal Replacement Shakes for Weight Gain
People who are trying to gain weight can do so using the help of meal replacement shakes. Meal replacement shakes are good for people trying to gain weight because they are an easy way to add calories to a diet by either drinking them as a supplement to meals or in between meals. They also prevent people trying to gain weight from becoming malnourished, which can happen if someone eats the wrong foods while trying to add weight to their body. Meal replacement shakes assist with consistent, steady weight gain, a process that has a greater chance of succeeding than the rapid weight gained caused by eating unhealthy foods.
Sports and Athletic Performance and Nutrition Shakes
Those seeking to enhance their sports performance or gain muscle frequently use meal replacement shakes. ENU meal replacement shakes are brimming with nutrients that can assist in athletic performance, including simple and complex carbohydrates (the building blocks of energy), complete proteins (essential to repairing damaged muscles), healthy fats (aid in the absorption of other nutrients), and key vitamins and minerals, all of which can contribute to a person's athletic capability.
ENU meal replacement shakes can be consumed either before or after a workout or practice to get maximum results. Drinking a meal replacement shake before a workout or practice is beneficial because it can provide the body with energy that will then be expended. And drinking a meal replacement shake after a workout will assist the body in recovering from intense exertion. A meal replacement shake can help build new muscle proteins, renew stores of glycogen, and expedite the recovery process.
Medical Nutrition Improvements with Meal Replacement Shakes
Meal replacement shakes can help deliver nutrition to people dealing with chronic illnesses and conditions such as cystic fibrosis, eating disorders, and cancer and chemotherapy treatment. Among these, nutrition issues while dealing with cancer and its associated treatments are most prevalent.
Consuming meal replacement shakes for cancer or chemotherapy helps protect against malnutrition by offering the full nutritional profile consisting of carbohydrates, protein, healthy fats, and vital vitamins and minerals. Being properly nourished while going through these difficult experiences is important because proper nutrition assists with immune function, helps prevent anxiety and depression, and ameliorates the degree to which hair, skin, and nails are affected by drugs and radiation.
ENU meal replacement shakes are well-suited to the diets of cancer and chemotherapy patients because they are neutral in flavor, which means they are less likely to cause nausea, and they are easily digestible. They're also easily prepared, which is ideal for cancer patients with little energy for cooking or going out to eat.
Use ENU Meal Replacement Shakes to Improve Your Health
The list of ways that meal replacement shakes can benefit your body is long. The most prevalent health benefits of using meal replacement shakes are weight management, nutrition for sports training, and nutrition for medical conditions. If you would like to experience the bof ENU meal replacement shakes, call (855) 266-6733 or visit our website today.