Get a
FREE


ENU Intro Pack*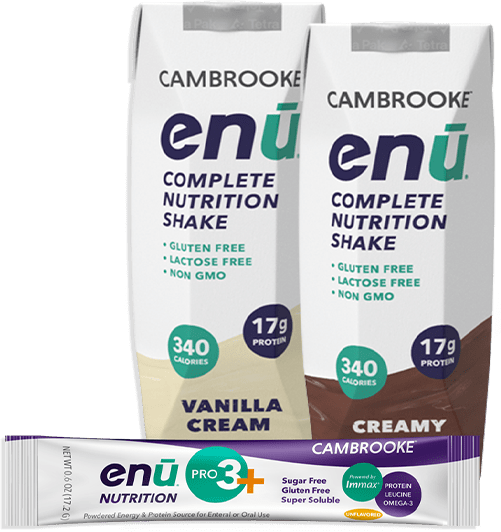 How Much Leucine Is There in Eggs?
Eggs are a favorite breakfast for many. But did you know they're packed with nutrition? Eating a few eggs each day can boost nutrients in your body and offer substantial protein. In addition, eggs contain leucine, an amino acid responsible for protein synthesis.
When you eat several eggs per day, you can increase your leucine content. Eggs have 20% of the recommended daily intake (RDI) of leucine, so it's easy to reach your goal by eating a few every morning. They're small, satiating, and nutritious, making them ideal for anyone who wants to increase their leucine intake. Eating several eggs each day can cause stomach issues, so it's best to combine your egg intake with a protein powder that has a high leucine content as well.
At ENU, we care about making products that help our customers thrive. Our Pro3+ Nutritional Powder contains 0.6 grams of leucine per scoop – the same amount as an egg. To try Pro3+ Nutritional Powder with leucine, visit our website or call ENU today at (855) 266-6733.
What's the Leucine Content of an Egg?
Eggs are a great example of a complete protein. They have all the nine essential amino acids and more, making them ideal for anyone who wants to boost their leucine intake. One of the best things about eggs is that people rarely just eat one. Whether you scramble your eggs in the morning, add them to baked goods, or eat a hardboiled egg as a snack, you can significantly increase your daily leucine intake.
There are about 0.6 grams of leucine in an extra-large egg. That's the same amount Pro3+ Nutritional powder with leucine has per scoop. Eggs are a great source of protein for a reason. The leucine in eggs promotes protein synthesis, causing your muscles to grow and repair more quickly. Often, people undergoing medical treatment need to regain muscle mass. Incorporating eggs into your daily diet can help you do so in an easy way. Compared to other high-leucine foods, eggs are simple to make and eat. One isn't always filling, so eating multiple at breakfast helps you reach your leucine goals before you've finished your morning coffee.
Although eggs only have leucine at 20% RDI, that shouldn't deter you from eating them. Comparatively, the leucine content per one egg is higher than that of other options. Other leucine-rich foods require you to eat several cups before you're able to meet your daily leucine requirements. Eggs, even the large ones, are relatively small. They're packed with other essential amino acids that promote bodily functions and overall health. A few tiny eggs can help you increase your leucine intake faster than other foods can. Incorporating eggs into your diet is relatively easy and doesn't come with many risks. There are also lots of benefits to eating eggs, besides boosting your leucine intake.
What Are Some Benefits Eating Eggs to Boost Leucine Intake?
While the leucine in eggs can help your muscles grow strong, it's not the only nutrient that matters. Eggs are nutrient-dense, containing vitamins and minerals that are essential to your health. They're convenient and versatile, plus easy to prepare.
The great thing about eggs is that they can be prepared in various ways. Whether as an indulgent breakfast or a quick bite, eggs can give you the energy you need throughout the day. Because prepared eggs come in many different forms, you can use that to your advantage when boosting your leucine intake. Pro3+ Nutritional Powder with leucine is super soluble, allowing you to dissolve it in your scrambled eggs. By doing so, you can increase your protein and leucine intake each morning. For people deficient in leucine, that combination can be very helpful.
Eggs are satiating and nutritious. Eating a few each day can help you get nutrients that you may have lacked in your diet before. Eggs are rich in various important vitamins that people are commonly deficient in. They're versatile, so you can eat them during any meal.
It's not always easy for everyone to get the daily nutrients they need. That's especially true for oncology and cystic fibrosis patients, who may be fatigued because of medical treatment. Hardboiled eggs stay fresh for a long time, and you can buy them pre-made. If you want scrambled eggs, they only take a minute to prepare. Even when dining out, eggs are easily accessible. Pairing your morning eggs with a protein shake made with Pro3+ Nutritional Powder with leucine can get you on the right track to start gaining muscle.
As with anything, overeating eggs poses risks. Eating too many eggs can cause stomach issues and discomfort. However, you'd have to eat a lot of eggs for that to happen. Many people eat eggs for breakfast every day without experiencing any issues. Just listen to your body and ask a medical professional about your egg consumption if you have concerns.
How Can You Get Leucine Without Eating Eggs?
Although eggs are a great source of protein and leucine, not everyone likes them. Some people are allergic, and others don't enjoy the taste. Luckily, many other foods are high in leucine. Some, however, require you to eat large quantities before you reach the same leucine intake you would by eating a couple of eggs. If you don't want to change your diet but do want to boost your leucine intake, you can always supplement with protein powders.
While not all protein powders emphasize leucine content, some do. For example, Pro 3+ Nutritional Powder with leucine has 0.6 grams per scoop. By adding a few scoops of protein powder to your existing diet, you can up your leucine intake quickly. Pro3+ has the same leucine content as an egg, without the flavor. It's easily dissolvable, so that you can add it to your favorite foods and drinks with ease. A tasteless protein powder that's high in leucine can be appealing to many people, especially gym-goers and medical patients.
Athletes who want to gain muscle or people experiencing unintentional weight loss can benefit from incorporating a protein powder with leucine into their diet. Not liking eggs doesn't have to prevent you from getting the leucine you need to grow strong. Before changing your diet to increase your leucine intake, speak with your doctor. A medical professional can advise you on including eggs, or Pro3+ Nutritional Powder with leucine, into your diet to reach your health goals.
Use Pro3+ Nutritional Powder to Boost Your Leucine Intake
Adding extra leucine into your diet can help you reach your health goals. To buy Pro3+ Nutritional Powder with leucine, visit our website or call ENU today at (855) 266-6733.