Get a
FREE


ENU Intro Pack*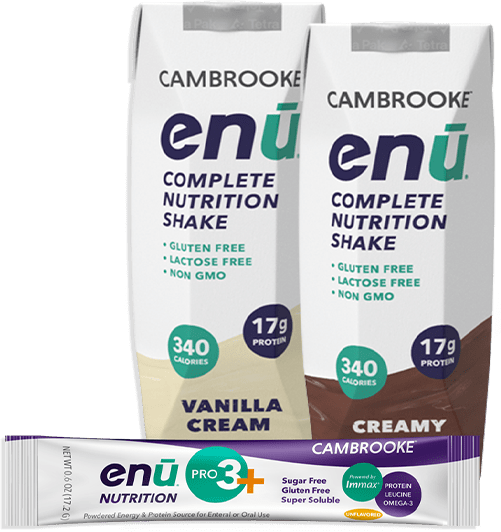 How Can I Increase My Hunger?
Although we're all probably very familiar with the sensation of hunger, it's important to remember that not everyone experiences it the same way. While some individuals battle hunger throughout the day, others must contend with a lack of this feeling, which can cause surprising and far-reaching health issues. When someone isn't hungry, especially for a long period of time, it's easy for them to start skipping meals and eating little or no food from one day to the next. What sounds like a convenient diet for some quickly leads to malnutrition and a host of unpleasant symptoms ranging from fatigue and difficulty concentrating to a reduced libido or even hair loss. To avoid these problems, those with little appetite often want to know, "How can I increase my hunger?" To find out, keep reading as the team at ENU – makers of nutrition shakes and other dietary supplements – tackle this critical question.
9 Tips for Increasing Your Hunger
In today's society, almost any health issue is seen as a reason to run to the doctor's office and get a prescription, but many of the problems we face from day to day – including a lack of hunger – can often be fixed with certain lifestyle changes. If you are struggling with a loss of appetite, talk to your doctor about the issue and ask whether any of the following tips may help increase your hunger.
Eat Smaller Portions
Although most people conform to a standard three-square-meals-a-day eating habit that we're taught is the norm, someone who doesn't get very hungry might be better served by eating smaller portions more frequently. These could take the form of healthy snacks or small meals; anything that gives your body the calories and nutrients it needs is good, even if your intake is stretched throughout the day.
Incorporate Meal Replacement Shakes
A lot of the time, a lack of hunger is caused by a clear physical symptom, such as nausea, difficulty chewing, or chronic pain. For those contending with these issues, a meal replacement shake can offer a variety of ingredients in an easy-to-consume form that doesn't require chewing or food prep, which can improve overall calorie and nutrient intake.
Minimize Fiber and Protein
We're used to hearing that fiber and protein are important nutrients, and in fairness, they are. However, both of these nutrients can also limit hunger. By limiting your fiber and protein intake to your recommended daily allowance, you may be able to stimulate your hunger, or at least limit its suppression.
Limit Liquids with Food
A glass of water may not have any calories, but it still takes up space in your stomach, as does any liquid you drink. Try saving your beverages for well before or after a meal to maximize your hunger and save that space for the calorie- and nutrient-dense foods you'll eat instead.
Socialize Over Meals
Many of us enjoy company when we eat, but what few people know is that socializing over meals can actually increase the amount a person eats. This could be because the act of eating becomes more pleasant or because we don't pay much attention to the amount we eat when we're engaged in conversation, but either way, it can help those struggling with a lack of appetite.
Exercise More Often
Physical activity is one of the simplest ways to increase our level of hunger. When we exercise, our bodies burn more calories, which means that it calls for more calories at mealtimes to replace what we've used up. This means more of an appetite for an active individual and a potential path toward improved food intake.
Spice Up Your Food
To say that we want to eat more food when it tastes good may sound like a bit of a no-brainer, but it's worth bringing up here as a way to increase your hunger. Adding spices and condiments to your food can help to spur your appetite and increase the amount of food you consume, plus many condiments can add some calories as well.
Pick the Right Plate
When it comes to hunger, seeing is often believing: The sight of a full plate can make someone think that they have too much food and can't eat it all, while a plate that's largely empty can make meals feel less intimidating, even if the volume of food hasn't changed. If you struggle with low hunger, try picking a bigger plate to trick yourself into eating more.
Get More of Your Favorites
Another seemingly obvious tip that nonetheless bears mentioning is that you should focus on preparing more of your favorite foods. Having a dish you love sitting in front of you can help ensure that you're motivated to eat, even if it's more to experience the flavor than to appease a sense of hunger.
Consider Supplements
This last tip is pretty common across the Internet – and even more so on the shelves of local drugstores. While some people may be able to increase their hunger by taking a vitamin supplement or some similar product, those who see benefits are generally only those with a deficiency; in other words, if you already have enough of a vitamin like thiamine or zinc in your diet, taking more in pill form probably won't help your appetite.
Try ENU Nutrition Shakes and Powders When You Need to Increase Your Hunger
Whether you're someone in search of nutritional support for cancer patients or a person looking for a weight management shake, ENU has you covered. Our shakes and nutritional powders offer significant amounts of calories and nutrients that can help you stay nourished, even when you struggle with a lack of hunger each day. Learn more about all ENU has to offer by visiting us online or calling (855) 266-6733 today.