Get a
FREE


ENU Intro Pack*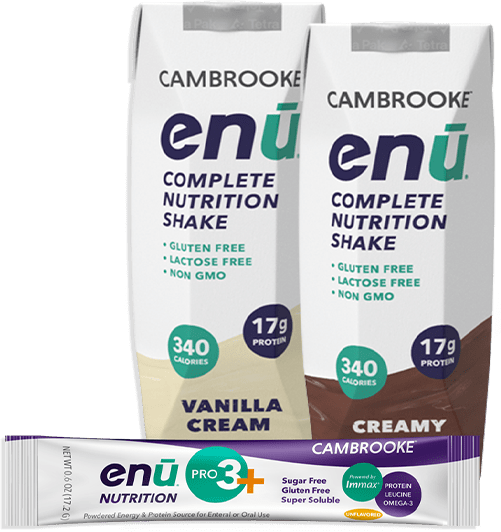 Is Gaining Weight Too Fast Unhealthy?
For some people, gaining weight is necessary for their health. If that's the case, you may think that fast weight gain is the solution. In truth, gaining weight too quickly may be a sign that you're eating unhealthy foods that don't promote wellness. Understanding the right speed at which to gain weight is crucial to avoid potential health complications.
Gaining weight too quickly can be detrimental to your health. Fast weight gain is often caused by eating high-sugar foods with empty calories that offer no nutritional benefit. This can cause a build-up of fat that can lead to health issues. A monitored, sustained approach to weight gain can be healthier for underweight people. For example, gaining no more than one to two pounds per week is generally advised, depending on your situation. Meal replacement shakes can be used to manage weight gain healthily.
At ENU, we make products for people who are malnourished or experiencing unintentional weight loss. Our ENU Nutritional Shakes can help you gain weight sustainably by incorporating energy-dense calories and nutrients into your diet. To learn more about ENU Nutritional Shakes and purchase them for yourself, visit our website today.
Why Is Gaining Weight Too Fast Unhealthy?
Healthy weight gain happens over time, not in a matter of days. If you're underweight or malnourished, your doctor may advise you to gain weight. Maintaining a healthy weight is important to keep your body strong enough to fight off illness when undergoing medical treatment. Malnourishment can worsen medical issues and decrease your body's ability to combat sickness. However, gaining weight too quickly presents several problems.
People undergoing medical treatment may lose significant weight. This can be caused by a lack of appetite, nausea, and other complications that result in weight loss. If your doctor has advised you to gain weight for your health, you may think that rapidly gaining weight is the answer.
In truth, gaining weight too quickly can cause additional health issues. Fast weight gain is generally caused by eating an excess of sugary foods. These foods have a high calorie content, yet those calories are empty. That means that the calories from sugary foods with high amounts of saturated fats offer your body no nutritional benefit. These empty calories don't give your body energy, which can leave you fatigued and lead to fast weight gain.
When you gain weight too quickly, body fat increases. This can lead to other health issues, including type 2 diabetes, high blood pressure, and an increased risk of heart disease. People who need to gain weight following unintentional weight loss may try to do so too quickly, causing unforeseen medical problems. In general, gaining one to two pounds per week is considered healthy. Accomplishing sustained weight gain is preferred over doing so too quickly.
Is Gaining Weight Too Slowly Unhealthy?
Slow weight gain presents other issues and may require you to incorporate supplements into your diet. ENU Nutritional Shakes are formulated for people who have difficulty gaining weight or need to put on a few extra pounds. When you can't gain and maintain weight, your body may not receive the nutrients it needs to stay healthy.
Being underweight presents its own set of issues. Underweight people may experience delayed maturation, fatigue, a worsened immune system, and other problems. For people undergoing medical treatment, maintaining a healthy weight can help your body combat illness. However, regularly eating can be difficult for people going through medical treatment.
That's because treatment often causes nausea, making consuming solid foods hard. A lack of appetite due to nausea can increase weight loss and slow weight gain. Finding the balance between slow and fast weight gain can be beneficial in this case. If you're gaining weight too slowly, speak to your doctor. A medical professional can help create a diet plan that can promote healthy weight gain.
Gaining Weight Healthily with ENU Nutritional Shakes
Formulated to help people gain and maintain weight healthily, ENU Nutritional Shakes may be beneficial to you. Our shakes offer a balance of macronutrients, calories, vitamins, and minerals that can help add whole nutrients to your diet throughout your weight gain journey.
ENU Nutritional Shakes can help provide the additional calories you need to gain weight. With 400 calories per serving, adding ENU Nutritional Shakes to your diet may help with healthy weight gain. Other meal replacement shakes have high sugar content. Additional sugars mean empty calories, which can cause you to gain weight too quickly. With energy-dense calories, ENU Nutritional Shakes can promote healthy weight gain in underweight individuals.
People who are underweight may not get the nutrients they need for a well-rounded diet. Our meal replacement shakes contain the three macronutrients – protein, complex carbohydrates, and fats – that are crucial for a healthy diet. ENU Nutritional Shakes are made from whey protein, promoting muscle growth due to the protein's high leucine content. With carbohydrates derived from brown rice, tapioca, and quinoa and healthy fats from coconut and sunflower oils, ENU Nutritional shakes offer the nutrients your body needs to gain weight healthily. In addition, our shakes can help you maintain your weight once you've reached your goal.
When you need to gain weight, ENU Nutritional Shakes may help. With four grams of medium-chain triglycerides per serving, our shakes are easy to digest, making them optimal for people experiencing nausea from medical treatment. ENU Nutritional Shakes can help you gain weight at the right speed without compromising on nutrition.
For Healthy Weight Gain Try ENU Nutritional Shakes
When you need to gain weight, ENU Nutritional Shakes may help you do so at the right speed. Visit our website today to purchase ENU Nutritional Shakes for yourself.