Get a
FREE


ENU Intro Pack*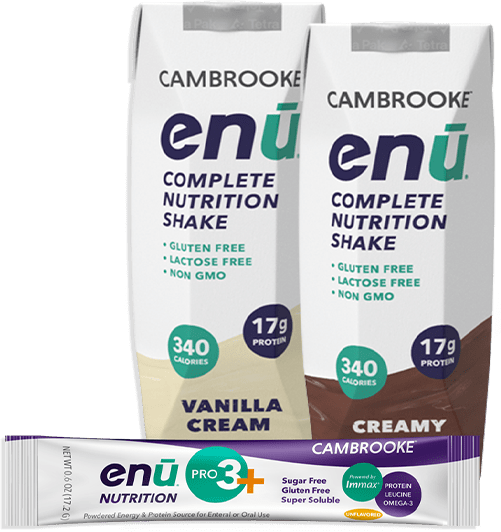 Can Meal Replacement Shakes Decrease Appetite?
According to statistics, roughly 45 million U.S. adults go on a diet every year. With about 94 million Americans fighting obesity – and even more who are struggling to lose those few stubborn extra pounds – weight loss is a major industry. If you've "tried everything," you may be skeptical about meal replacement shakes. But beverages that contain healthy and balanced ingredients, like ENU meal replacement shakes, really can work to help curb your hunger. Read on to learn how weight management shakes can decrease your appetite, making it easier to lose weight (and keep it off).
Reasons You Might Feel Hungry
It's great that you're ready to take control of your health. However, losing weight is only part of the puzzle – it's also important to try and understand what might be causing those feelings of hunger. While that might sound strange, hunger isn't always a simple matter of your body needing more calories. Sometimes, it's a warning that something else is going on.
The better you understand your body (and the signals it's trying to send you), the more empowered you'll be to make healthy decisions for a positive lifestyle. With that in mind, here are two common culprits that, believe it or not, can cause hunger:
Dehydration – Feeling hungry? You might actually be feeling dehydrated. Hunger and thirst signals originate from the same area of the brain, which can cause confusion when you're trying to separate which is which. The next time you're craving a snack, try drinking a glass of water first. If you still feel hungry after 15 or 20 minutes, you probably need a meal after all – but if not, you were probably just experiencing thirst. That's why it's a good idea to try drinking water before you sit down to eat.
Protein Insufficiency – Protein plays a vital role in all types of mental and physical functions, from transporting hemoglobin to regulating growth. When it comes to weight loss and fitness, protein is important for at least three reasons: it helps you build muscle, aids with digestion, and keeps you feeling more satiated (full). If you don't get enough protein from your diet, you can experience a range of health problems – not to mention a nagging sense of hunger.
Can Meal Replacement Shakes Help Control Hunger?
The short answer to this question is yes. Meal replacement shakes are a great option for curbing your hunger without depriving your body of essential vitamins, nutrients, and calories. Unlike some diet shakes, which rely on artificial sweeteners for taste and don't offer balanced nutrition, our meal replacement shakes are scientifically designed to take the place of meals, which means they are nutritionally complete, while providing measured calories to make portion control effortless.
The secret is using ingredients that help to promote satiety. For many people, obesity is linked to frequent feelings of hunger and specifically, cravings for foods that are high in sugar. The problem is that refined sugars force your liver to handle a heavier workload than normal. To cope, your liver starts the process of converting unused calories into fat. This process leads to weight gain – and in the process, increases your risk of insulin resistance, diabetes, stroke, and other health conditions related to obesity.
Fortunately, food science has come a long way over the past few decades, and today's meal replacement shakes taste better than ever better, making it easy to commit to a healthier lifestyle. ENU shakes are designed to help you feel fuller for longer – without the tedious, time-wasting hassle of all that chopping and meal prep!
Our nutritional shakes are made using only the finest quality, non-GMO ingredients, which are blended to create a nutritionally optimized balance in your diet. Our delicious, on-the-go meal replacement beverages come in vanilla and chocolate, but you won't find any high fructose corn syrup here. That's because we don't use any artificial sweeteners in our meal shakes. Instead, we harvest nature's goodness, harnessing the natural sweetness of stevia leaf and other flavors. And to make getting enough protein easier, we pack 20 grams into every serving, using easy-to-digest, grass-fed whey protein isolate that's gentle on the stomach.
Healthy, High-Protein Meal Replacement Shakes for Weight Loss
Our sports nutrition drinks, medical nutrition shakes, and weight management shakes are GMO-free, lactose-free, gluten-free, and Kosher certified. We never use artificial sweeteners, added sucrose, and corn syrup. We also take care to avoid common ingredients like carrageenan and algae, which can upset sensitive stomachs.
Ready to go in a convenient carton, ENU shakes offer 350 calories, 20 grams of quality protein, and up to two-thirds less sugar per calorie than the leading brands. If you're looking for effortless, delicious nutrition to help reach your weight loss goal, contact ENU online and place your order today. Get 5% off on delivery when you select the auto-ship option at checkout.