Get a
FREE


ENU Intro Pack*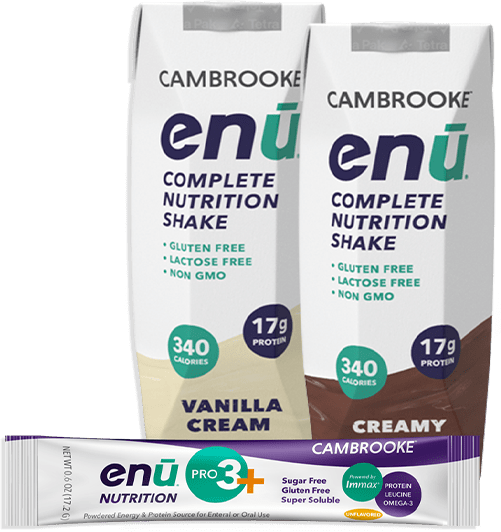 Are Any Meal Replacement Shakes Lactose Free?
Whether you were born with the condition or developed it later in life, lactose intolerance can be a real thorn in the side of anyone out shopping for a meal replacement shake – or a shake of any kind, for that matter. So many tasty and nutritious beverages are based on milk that it can be easy to take this fact for granted, at least until you find yourself unable to consume these products. Still, those whose bodies struggle with lactose have the same needs as anyone else, including – occasionally – the need for a healthy, well-rounded nutrition shake free of lactose. So are any meal replacement shakes lactose free, and if so, are they good for you? Keep reading as the people at ENU discuss this topic in greater detail.
What Does 'Lactose-Free' Mean?
Most people know that lactose is a part of milk, but fewer know that it is a sugar, or that it is processed in your body by lactase, an enzyme. In some people with lactose intolerance, the problem may stem from a lack of this enzyme; in others, it may be caused by lactase that does not work properly. Symptoms of an intolerance include general distress within the gastrointestinal system – gas, bloating, cramps, or diarrhea, especially – when eating or drinking products that contain milk. This condition is different from a milk allergy or milk protein intolerance, either of which would require its own treatment regimen.
For most people with lactose intolerance, the solution is simply to avoid products with lactose in them, which includes soft cheeses, ice cream, yogurt, or any other food product made with milk. This may be easier said than done, however; a significant portion of the products found on supermarket shelves are made with milk of some kind, so it can be tough to find foods that fit a dietary restriction of this nature.
The issue is compounded by the fact that cow's milk is a highly nutritious food and a primary source of calcium for many people. Avoiding foods with lactose sounds all well and good, but it often means cutting key nutrients out of your diet. For this reason, finding replacements for milk is often less a matter of taste or preference than it is a matter of health and nutrition.
Luckily, a market has emerged to cater to those whose bodies cannot process lactose, with products that include lactose-free milk, yogurt, and sour cream. Alternatives such as coconut milk, soy milk, almond milk, and oat milk offer more than a few options for those who can't handle the traditional variety, and many brands now offer lactose-free versions of popular products as well. This includes meal replacement shakes.
Benefits of a Lactose-Free Meal Replacement Shake
Meal replacement shakes, also sometimes called nutrition shakes, can be powerful tools for helping you reach your health and fitness goals. They can be put to use for all manner of things, from serving as a liquid nutritional supplement for cancer patients to a weight gain shake for treating anorexia, and can be incorporated into a number of homemade protein shake recipes. Unfortunately, these products are sometimes off-limits to those with lactose intolerance because many brands contain milk or milk products.
ENU nutritional shakes do not. By providing a well-rounded nutritional profile in a package that is lactose-free, gluten-free, and non-GMO, our meal replacement shakes aim to provide a small, balanced meal to anyone who needs it, no matter your dietary restrictions or health concerns.
Each ENU shake contains 20 grams of protein from whey and soy isolates – two of the most easily digestible sources available – along with complex carbohydrates derived from natural sources like brown rice, quinoa, and tapioca for extended energy. We get our heart-healthy fats from wholesome sources as well; coconut and sunflower oils increase the calorie count to a respectable level while lowering bad cholesterol and helping you feel full. Our formula also features a mix of more than 20 vitamins and minerals, including a sizeable dose of vitamins A and D and almost 200mg of calcium.
Though the nutritional shake ingredients that we use do contain foods derived from milk – making it unsuitable for those who are allergic to it – there is no lactose in our products. By choosing a meal replacement shake from ENU, those with a lactose intolerance can nourish their bodies with a healthful blend of nutrients, whether they're at home or on the go. Plus, our products let you skip the lactase pills entirely, removing one more worry from your mind as you head out the door in the morning or come home craving a nutritious snack. For everything from medical nutrition support to a convenient and tasty snack, try ENU today.
Lactose-Free Meal Replacement Shakes Available from ENU
Thanks to ENU, finding a lactose-free shake for quick and easy nutrition has never been simpler. Now you can give your body the healthy, balanced fuel it needs to keep humming along; just reach into your fridge and pull out a meal replacement shake from ENU, no lactase (or second thoughts) required. To find out more about all our products and how they can help you or someone you know with a lactose intolerance, visit us online or call (855) 266-6733 today.