Get a
FREE


ENU Intro Pack*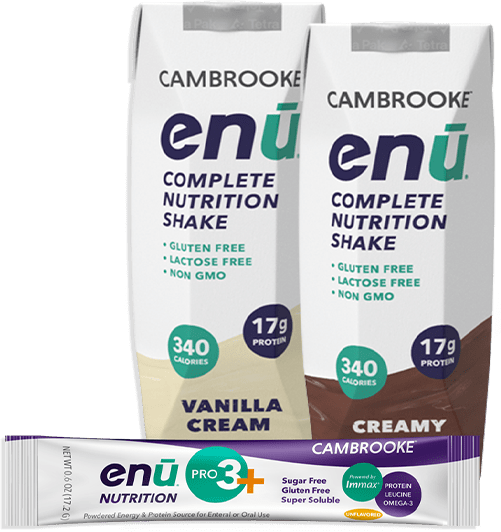 Nutrition Shakes vs Food: Which Is Better for Weight Gain During Cancer Treatment?
For patients in the middle of their cancer treatments, one of the biggest challenges is often just maintaining their body weight at a healthy level. A number of side effects linked to cancer treatments – primarily chemotherapy and radiation – can cause weight loss to some extent, and those same effects can also make it difficult to consume regular meals and keep up with the body's nutritional requirements. Many patients turn to meal replacement shakes for cancer patients during this trying time, but are these beverages better or worse than solid food? Keep reading as the experts at ENU discuss this very topic.
The Trouble with Solid Food During Cancer Treatments
Most dieticians and nutritionists agree that solid food is generally superior to any substitute, even a meal replacement shake because of the way your body processes it. Solid matter is digested more slowly than liquids, for instance, so food you chew and swallow will last longer than, say, a protein shake. Even just the act of chewing can be beneficial; it sends signals to your brain that you are eating and should therefore start feeling full soon. Plus, eating solid foods opens your diet up to a much wider variety than restricting yourself to liquid or prepackaged meals.
Unfortunately, solid foods are not always an option for a person with cancer. Chemotherapy and radiation treatments can cause digestive issues, including nausea and vomiting, that make it very difficult for the body to retain and use solid matter, and they tend to limit the amount of foods you can comfortably taste as well. Another serious issue is the presence of oral mucositis, a condition characterized by painful sores inside the mouth, along with bleeding, inflammation, and a lack of saliva that together make it tough – if not impossible – to chew and swallow food.
Because cancer and its treatments can make the act of eating so unpleasant, solid foods can come to represent a painful obstacle, rather than a tasty meal. This leads many patients to abstain from eating altogether, leading to significant weight loss and a potentially substantial health threat. Malnourishment can seriously jeopardize a patient's ability to endure their treatments or recover from their illness, which may force their doctor to halt or delay further chemo or radiation until they can regain a healthy weight. Without solid foods, however, this can prove challenging.
How Can Nutrition Shakes Help Cancer Patients?
Though they may not be quite as reliable in the long term as traditional foods, nutrition shakes nonetheless offer a number of advantages over solid meals, especially for cancer patients. For one thing, these beverages come in a variety of fairly neutral flavors, making them palatable even for those who experience nausea or changes to their sense of taste. There is also the obvious fact that, as a liquid, they do not require chewing and only need minimal effort to swallow, which can be very helpful for those with mouth sores or inflammation.
Meal replacement shakes require next to no preparation or planning to use, a definite advantage for patients who likely lack the energy to plan and cook their meals before eating. They're also quite convenient; if you find yourself headed out the door on an empty stomach, you can grab a nutrition shake and bring it with you for a small meal on the go. Although this may seem like a minor benefit, nutrition shakes actually encourage healthier eating habits in those who might otherwise skip meals because they remove many of the impediments to nutrition: time, energy, and opportunity.
What to Look for in Meal Replacement Shakes
Like any other food product, meal replacement shakes are only as good as the ingredients they contain. For some brands, that means corn syrups to boost the calorie count, artificial sweeteners to make the drink tastier, or algae or carrageenan to improve the consistency. Patients should generally avoid these products, as their less healthy elements can upset a delicate digestive system.
Instead, look for drinks that contain wholesome, natural nutrition shake ingredients to nourish your system in a balanced way, rather than simply plying it with empty calories. Protein is a key macronutrient for patients battling cancer, as it is an essential component in the body's healing process and can help preserve muscle mass. Carbs and fats are important as well, however; the former provides readily available energy while the latter is very calorie-dense.
ENU meal replacement shakes contain 20 grams of protein from whey and soy isolates for easy digestion; complex carbs from sources including brown rice, tapioca, and quinoa; healthy, unsaturated fats derived from coconut and sunflower oils; and a blend of two dozen vitamins and minerals. For quality ingredients and a well-rounded nutritional profile, try an ENU nutrition shake.
Healthy Meal Replacement Shake for Cancer Patients
Those struggling with the scourge that is cancer will likely find that not only is planning and cooking each meal a monumental demand, but even the simple act of eating a meal can feel downright impossible. ENU shakes offer a solution: a balanced, healthy meal replacement that nourishes the body with essential nutrients without upsetting the system. To learn how ENU's meal replacement shakes for weight management can help cancer patients maintain or gain weight, even in the face of a serious illness, visit us online or call (855) 266-6733 today.