Get a
FREE


ENU Intro Pack*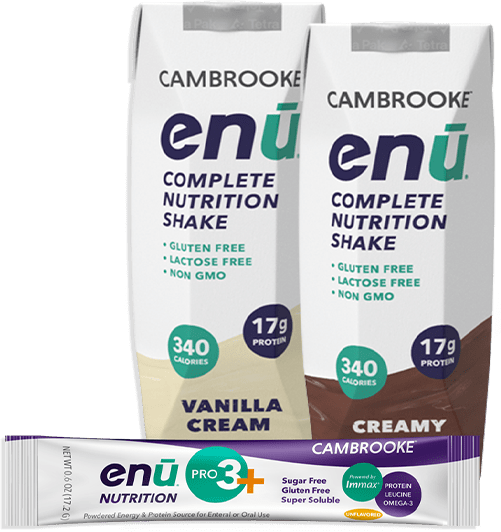 Nutritional Shakes Great If You Lost Your Appetite from Chemotherapy
Chemotherapy can cause those who are going through it to endure serious side effects, including a loss of appetite. The loss of appetite during chemo can be severely detrimental to a patient's health and recovery because it can result in the loss of large amounts of weight, which can be a cause of malnutrition. Cancer treatment patients can get the nutrients they need, even if they've lost their appetite, if they incorporate nutritional shakes from ENU into their diets. Continue reading to learn more about how people who are going through chemotherapy can use ENU nutritional shakes to get the nutrients they need when they lose their appetite from chemotherapy.
Nutritional Shakes for Dealing with Chemotherapy Appetite Loss
When someone is going through chemotherapy, it is often difficult for them to eat. A major side effect of chemotherapy is a loss of appetite on top of other side effects such as mouth sores, thick saliva, and dry mouth, all of which can make it exceptionally difficult for chemotherapy patients to eat and receive the nourishment that their bodies need. However, ENU nutritional shakes are an excellent option for medical nutrition support because they are easily consumed and digested.
Patients that are going through chemotherapy often experience severe nausea that can be made worse by tasting or smelling certain foods. Since ENU nutritional shakes have a neutral and gentle flavor, they are not likely to cause nausea in the patients that drink them. Also, the appetites of chemotherapy patients are often very fickle. Luckily, there are recipes using protein shakes available to make the drinks even tastier.
Since ENU nutritional shakes are liquid, they are especially well-suited for cancer patients who have trouble with chewing and swallowing. ENU nutritional shakes are also easily digested, even by patients that suffer from constipation, diarrhea, and other digestive problems.
Chemotherapy can also make it difficult to find the time or energy to prepare healthy meals. ENU nutritional shakes are ideal meal replacement shakes for cancer patients who are looking for an easy-to-prepare snack or supplement.
Benefits of Nutrition Shakes for Chemotherapy Patients
It is very important for chemotherapy patients to be properly nourished. A loss of appetite can lead to weight loss, which can lead to severe malnutrition. ENU nutritional shakes can help chemotherapy patients maintain their weight while providing them with a full array of macronutrients.
Weight Management
Bodies that are going through cancer treatments function at their best when they are at a healthy weight. ENU nutritional shakes are a great tool that can be used in weight management during chemotherapy treatments. Most chemotherapy patients lose weight during treatment and need to gain weight; since they have a good amount of protein, ENU nutritional shakes can be used to gain weight in a healthy way. Weight gained with the help of ENU nutritional shakes is likely to stay on and contribute to a properly nourished body, plus our shakes can be used to maintain your weight at its current level.
Well-Rounded Nutritional Profile
Chemotherapy patients need to be properly nourished to have the strength to deal with the side effects of chemotherapy and to reduce their chances of serious complications. When chemotherapy patients drink ENU nutritional shakes, they can be certain that they are consuming a full complement of macronutrients, vitamins, and minerals. ENU shakes are beneficial because they contain the following components:
Protein – Protein is important because it aids in the repair of body tissue, maintains healthy immune function, and builds muscle mass. It plays a critical role in gaining and maintaining weight in a healthy way. ENU nutritional shakes contain protein sourced from whey isolate, one the most easily absorbed types of protein.
Carbohydrates – Carbohydrates are essential to providing the body with energy. The complex carbs in ENU shakes come from tapioca, quinoa, and brown rice; complex carbohydrates are superior to simple carbohydrates because they are less likely to cause a sugar spike in the body.
Healthy fats – Healthy fats are important because they help the body absorb other nutrients and create a sense of satiety. Sunflower and coconut oils, which are full of Omega-6 fatty acids and medium-chain triglycerides, supply the healthy fats in ENU nutritional shakes.
Other vitamins and minerals – ENU shakes also have 24 key vitamins and minerals, making them a well-rounded source of nutrition. ENU is proud to offer nutritional beverages that are free of harmful additives such as corn syrup, gluten, lactose, GMOs, artificial sweeteners, carrageenan, and algae. ENU nutritional shakes are also certified Kosher.
Incorporating Shakes Into Your Diet
ENU shakes are not meant to be consumed for every meal. Ideally, ENU nutritional shakes are used in addition to a diet of whole foods. ENU shakes should be consumed either as a supplement to a meal or as a snack; they can replace meals, but it's important that they're balanced with solid foods. Make sure that you speak with a physician before making any changes to your diet.
Nutritional Shakes for Loss of Appetite Due to Chemotherapy
It's important that people that are going through chemotherapy get the nutrients they need, even if they have lost their appetites. One way to obtain proper nourishment in this situation is to drink nutritional shakes from ENU; our drinks allow chemotherapy patients to keep up their strength during their fight against cancer. To learn more about the ways chemotherapy patients can benefit from ENU nutritional shakes, call us today at (855) 266-6733 or visit us online.