Get a
FREE


ENU Intro Pack*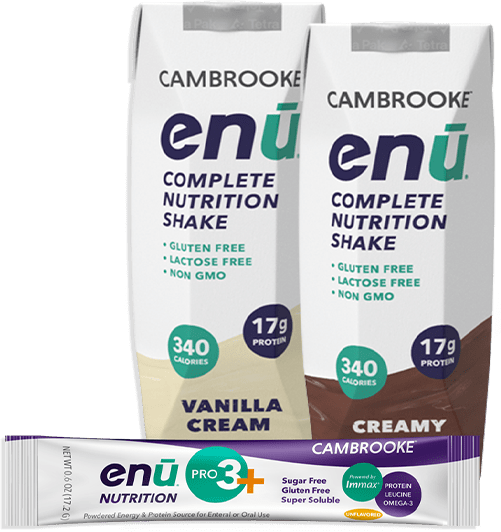 Peanut Butter and Banana Pancakes Using ENU Pro3+ Nutritional Powder
Yield: 4 Servings
Ingredients
1 cup Whole wheat flour
2 tablespoons Sugar
2 teaspoons Baking powder
½ teaspoon Salt
1 cup Whole milk
2 tablespoons Unsalted butter
1 Egg
1/3 cup Creamy peanut butter
1 large Banana, mashed
8 scoops ENU PRO 3+ (2 scoops per serving)
1 tablespoon Vegetable Oil
Directions
Combine wet ingredients (milk, butter, and egg)
Add dry ingredients (flour, sugar, baking powder, salt); whisk until just moistened (do not overmix; a few small lumps are fine).
Slowly fold in peanut butter and mashed banana.
Heat a non-stick skillet greased with vegetable oil and pour 2-3 tablespoons of batter.
Cook until surface of pancakes have some bubbles and a few have burst, 1 to 2 minutes. Flip carefully with a thin spatula, and cook until browned on the underside, 1 to 2 minutes more.
Recipe prepared by Zachari Breeding, MS, RDN, CSO, LDN, FAND
Zachari is a professional chef and clinical dietitian in Philadelphia and recently received his certified specialization in oncology nutrition. Zach is a contributing author to Food and Nutrition Magazine and the Stone Soup blog. In addition, he is the President of a non-profit organization that provides financial assistance to those living with cystic fibrosis and the Owner of Sage Nutritious Solutions, a personal catering/nutrition business. For more information about Zach, visit his website www.the-sage.org.