Get a
FREE


ENU Intro Pack*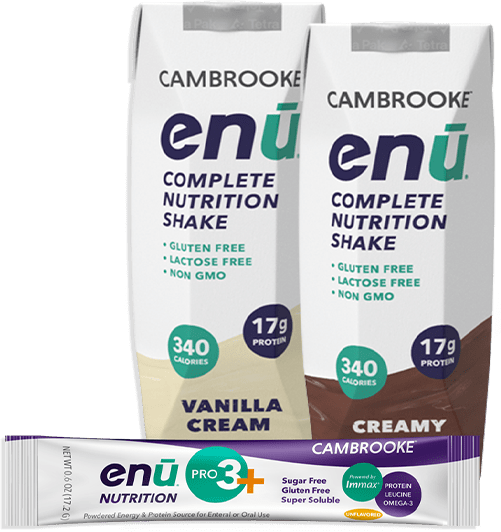 Recipe: Mango Chia Seed Pudding with Vanilla ENU
Hearing the words "chia seed" may bring back memories of the ubiquitous chia pet ads from the 1980's. And yes, the chia seeds you eat are the same ones that grew on chia pets. But that is just a small part of their history.
Thousands of years ago, chia seeds were a staple in Mayan and Aztec diets. The word chia is derived from the Mayan word for strength as Aztec warriors relied on chia seeds to boost energy and stamina. Fast forward to today, where they are touted as a "superfood" – a rich source of nutrients and antioxidants with many health benefits.
Chia seeds are an excellent source of fiber, with 10 grams in just 2 tablespoons (which is one-third of the daily-recommended intake of fiber). The combination of fiber, along with the gelling action of chia seeds when mixed with liquid, make chia seeds a super satiating food. The seeds are also one of the riches plant based sources of omega-3 fatty acids. These healthy fats can reduce inflammation, lower cholesterol, and boost brain function. Unlike flaxseeds, chia seeds to not need to be ground in order to obtain their nutrient benefits.
Chia's mild flavor pairs well with a variety of dishes. One of my favorite ways to use them is in chia seed pudding. With just a few ingredients, this quick and easy dish can be eaten for breakfast, lunch or dessert. The seeds are soaked in a liquid, which transforms them into a creamy tapioca-like pudding. Paired with fruit and nuts, and you have an incredibly nourishing meal.
In the recipe below, I used Vanilla ENU to make a high protein version of chia seed pudding. The natural sweetness from the ENU lends itself well to the pudding. I paired it with mango, one of my favorite tropical fruits, but you can pick any fresh or frozen fruit – just be sure to blend it with water to a thick consistency.
Mango Chia Seed Pudding
Makes 3 servings
Ingredients
1 ½ cup fresh or frozen mango
1 cup water (less if using fresh mango)
¼ cup chia seeds
1 bottle (11oz) Vanilla ENU
¼ teaspoon vanilla extract
6 tablespoons slivered almonds
Directions:
Blend the mango and water together in a blender on high until you have a thick smoothie-like texture.
Pour the mango mixture evenly into 3 glasses or bowls; cover and refrigerate.
Stir together chia seeds, Vanilla ENU, and vanilla extract for 3-5 minutes or until it transforms into a thick pudding.
Refrigerate chia mixture at least 4 hours, or overnight. Then pour chia pudding on top of the mango mixture in even portions.
When read to serve, top each with 2 tablespoons slivered almonds
Nutrition information per serving: 282 calories, 11 grams protein, 11 grams fat (1.7 grams saturated fat), 34 grams carbohydrate, 6 grams fiber
For a higher calorie and protein boost, divide into 2 servings instead. This provides 423 calories and 20 grams of protein per serving.
Recipe adapted from Ashley Neese.
Alissa Rumsey RD, CDN, CNSC, CSCS
Alissa Rumsey, MS, RD, CDN, CNSC, CSCS is a registered dietitian and certified strength and conditioning coach with a private practice in New York City. You can follow her on Twitter @AlissaRumseyRD or visit her website at www.AlissaRumsey.com