Get a
FREE


ENU Intro Pack*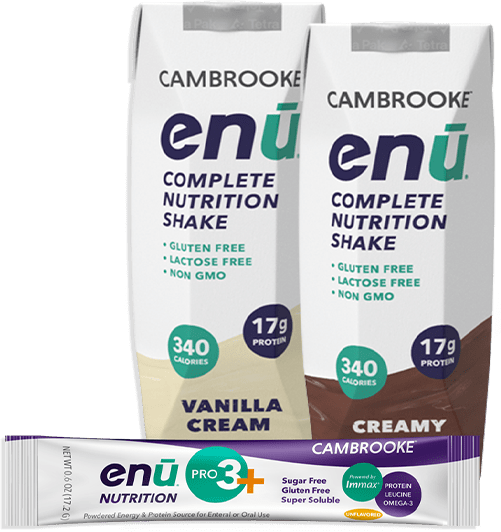 Sources of Healthy Fats for People with Cystic Fibrosis
There are hundreds of thousands of people suffering from cystic fibrosis, a debilitating condition affecting different organs in the body. Patients with this condition are always looking for better ways to improve their diet and provide their bodies with all the nutrients they need. For some, keeping up with the caloric intake required to keep a balanced, healthy body weight can be challenging. This is especially true when eating many different big meals throughout the day.
However, there are ways to meet your dietary requirements while enjoying your meals. ENU makes protein-rich, calorie-dense shakes that can help you with your diet. Our proprietary blend of vitamins, minerals, and nutrients is designed to help our customers properly nourish their bodies. To learn more about nutritional support for cystic fibrosis patients, keep reading from ENU.
What Are the Best Sources of Healthy Fats for People with Cystic Fibrosis?
Cystic fibrosis is a severe medical condition affecting several organs. It is characterized by the over-production of mucus, impacting a patient's overall quality of life. One of the areas cystic fibrosis attacks is the digestive system. People with cystic fibrosis often struggle with their weight, which is why people with this condition often have to meet certain dietary requirements.
In many cases, people with cystic fibrosis are encouraged to eat as much food as they want as long as they are high in healthy fats, calories, and salt. To provide some perspective, a person with cystic fibrosis typically needs double the caloric intake than people without this medical condition. One of the dietary recommendations for many cystic fibrosis patients is that 35-40% of their caloric intake should come from fats. You may wonder what kind of fats are best for your particular diet.
Protein Shakes
The daily caloric, fat, and protein intake requirements for people with cystic fibrosis can be tough to meet relying on whole foods alone. Sometimes, people don't have the stamina to eat five or six meals a day. One of the best ways to solve this problem is to incorporate a healthy protein shake into your diet. At ENU, we understand the importance of meeting nutrition requirements for those living with cystic fibrosis. Adding a nutritional powder such as ENU Pro 3+ into your diet can make a difference. Using this protein is easy and efficient, and it can help maintain a dietary balance. In addition to these characteristics, ENU Pro 3+ is packed with excellent nutrient sources to nourish the body. It is always recommended that you consult with your treating physician and dietitian before adding a protein powder or medical protein shake into your diet.
Eggs
People with cystic fibrosis should consume foods that are rich in protein and healthy fats. This happens because this condition can cause pancreatic deficiencies that can lead to weight loss. Eggs are known to be healthy sources of protein and fats. With close to six grams of protein and five grams of fat per serving – one whole egg – these small yet highly nutritious superfoods can help people with cystic fibrosis battle against pancreatic deficiencies. The number of eggs you can consume in your diet can change depending on your particular needs. Your treating physician or dietitian can walk you through your recommended daily or weekly egg intake.
Nuts
Nuts are highly recommended to people with cystic fibrosis. These small but incredibly strong foods are jam-packed with healthy fats, protein, fiber, and vitamins. Nuts like almonds are among some of the most beneficial sources of antioxidants, vitamin E, and other nutrients that can help nourish the body and keep it at a healthy weight level. Consuming different types of nuts consistently can help promote good health and overall body weight, which is essential for people with cystic fibrosis.
Fish
Fish can help promote a healthy weight in people with cystic fibrosis. Fish like salmon, tuna, and trout can provide people with an extraordinary amount of protein, iron, and healthy fatty acids. Consuming fish regularly – at least three servings per week – can also promote adequate bone structure. Cystic fibrosis has been known to cause bone diseases such as osteoporosis, which is another reason why diet is extremely important. The healthy fats in fish, along with other essential nutrients, can help people with cystic fibrosis maintain a healthy life.
Cystic Fibrosis Requires Healthy Fats and Adequate Exercise
As we mentioned, people with cystic fibrosis need to keep up with a specific diet. It is essential to understand the dietary requirements that will help you with your specific health needs. Additionally, it is critical to understand that just because you need additional fats to help with your condition doesn't mean you can eat all kinds of fats without other health consequences. Some people may think a person with cystic fibrosis can sit down and eat any high-calorie dense meal regardless of fat content. However, unregulated fat and calorie intake can cause other health issues. It is always best to keep a balanced diet that is rich in all required nutrients to keep a healthy weight.
In addition to rich, whole foods and supplements such as meal replacement shakes, cystic fibrosis patients should also consider exercising. Exercise has proven to benefit people with this condition. For instance, adding moderate cardio can help clear mucus that may accumulate in the lungs, promoting better breathing. Other exercises like biking, hiking, and swimming – when done in moderation and monitored by your physician – can also help.
It would be best to consider adding a replenishing, protein-rich protein shake pre- and post-workout. This way, not only can you prepare your body for the exercise to be done, but you also can help replenish your body after training. It is recommended to talk to your doctor before adding a protein shake to your diet.
Protein-Rich Shakes for People with Cystic Fibrosis
If you or a loved one has cystic fibrosis and you are looking for a protein-rich nutrition shake that can help provide all the necessary nutrients, we can help. ENU dedicates all of its effort and resources to manufacturing nothing but the best protein shakes to replenish the body and provide it with excellent nutrients. To learn more about our excellent products, call ENU today at (855) 266-6733.