Get a
FREE


ENU Intro Pack*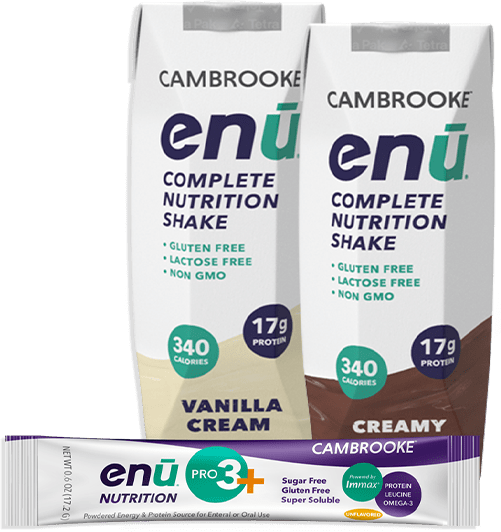 Stevia: An All-Natural Sweetener in Meal Replacement Shakes
In a society hooked on sugar, stevia has emerged in recent years as a promising alternative to both traditional sweeteners and common sugar substitutes. Stevia is a naturally occurring plant that has long been cultivated for its incredibly sweet leaves, which are several hundred times sweeter than sugar. (Estimates range from 100 to 300 times sweeter, depending on the stevia variety.) It also requires much less land and water than other common sweeteners, making it more economical to grow. As stevia is incorporated into more and more food products, including meal replacement shakes, it's natural to wonder what makes this plant such a popular addition to so many items on supermarket shelves. To learn more about this ultra-sweet organism, keep reading as the people at ENU explain.
Where Does Stevia Come From?
The plant commonly called stevia has the scientific name Stevia rebaudiana, and it's actually related to the chrysanthemum. If you're one of those people who prefers to grow their own herbs and spices, stevia can provide the novel experience of letting you grow your own sweetener, too; because the flavor in stevia comes from its leaves, you can simply cultivate a stevia plant of your own at home and use those leaves to improve the taste of tea, coffee, or whatever else you may want to sweeten. Keep in mind, however, that the stevia leaf is significantly more potent than table sugar, so you'll only need a very small amount to achieve the same effect.
Originally, stevia was grown in Paraguay and Brazil, where it has long been used as a sweet food additive. Today, it is also cultivated in Japan and China and exported all over the world. Generally speaking, when a product says that it contains stevia, the term refers to a sweet component of the plant that gets extracted – usually either stevioside or rebaudioside A.
Uses and Health Benefits of Stevia
As a natural sweetening agent, stevia is used in a wide variety of foods to improve taste and is an increasingly common replacement for sugar and artificial sweeteners. Though the leaves of the stevia plant are what provide the sweetness, whole stevia leaves are not approved by the FDA in their raw form or as certain crude extracts, as some evidence suggests that these kinds of stevia could have some negative side effects. However, stevia extract – the ingredient used in everyday food items – is considered quite safe by the Food and Drug Administration (FDA) and Center for Science in the Public Interest (CSPI).
Perhaps stevia's biggest appeal is that it's a "non-nutritive" sweetener, meaning that it has almost no calories. This makes stevia an attractive option in protein shakes for weight loss, as it can provide a pleasant touch of sweetness – even in very small amounts – without causing the same dietary concerns as sugar. Its use also helps manufacturers control the number of calories in their products without having to use artificial sweeteners or other synthetic additives.
In addition to its use as a tool for controlling weight, stevia has shown promise as a sweetener that can benefit those with diabetes. Studies have shown that stevia does not affect blood glucose or insulin levels, meaning that it should be safe for consumption, even in those with diabetes. Perhaps the only downside of stevia use is that some people report a slight bitterness in its taste, though a non-bitter form of stevia can also be found in some products, including lactose-free protein shakes from ENU.
Stevia in Meal Replacement Shakes
Meal replacement shakes can be a useful tool for achieving your health and wellness objectives, no matter what they are. Of course, the quality and effectiveness of a nutritional shake can vary widely from brand to brand; some add synthetic ingredients to improve the taste or unhealthy corn syrup solids to boost the calorie count. ENU shakes, on the other hand, simply contain a non-bitter form of stevia for a touch of natural sweetness without the need for large amounts of fattening ingredients.
ENU meal replacement shakes also offer a balanced nutritional profile aimed at meeting all your body's needs through natural, healthy ingredients. Each carton from ENU contains 20 grams of protein from whey and soy isolates, two examples of complete proteins that are also easily digested and absorbed. Our complex carbs come from whole grain sources, such as brown rice and quinoa, and the unsaturated fats used in ENU shakes come from a blend of coconut and sunflower oils, two sources of heart-healthy fats. Plus, each shake includes a mix of two dozen vitamins and minerals, including significant servings of vitamin D. All ENU products are lactose-free, gluten-free, non-GMO, and certified Kosher.
Healthy Nutrition Shakes Made with Stevia Available from ENU
Whether you want a shake to help you lose weight or as a liquid supplement for cancer nutrition, the meal replacement shakes from ENU have the nutrients you need. Adding an ENU nutrition shake to the end of a dinner can provide a nice boost in calories for those looking to bulk up, either for sports nutrition or as a health measure; conversely, swapping a traditional meal for an ENU shake can help you reduce your calorie intake while still nourishing your body. To learn more about all ENU's products and how they can assist you with your health and wellness goals, visit us online or call (855) 266-6733 today.