Get a
FREE


ENU Intro Pack*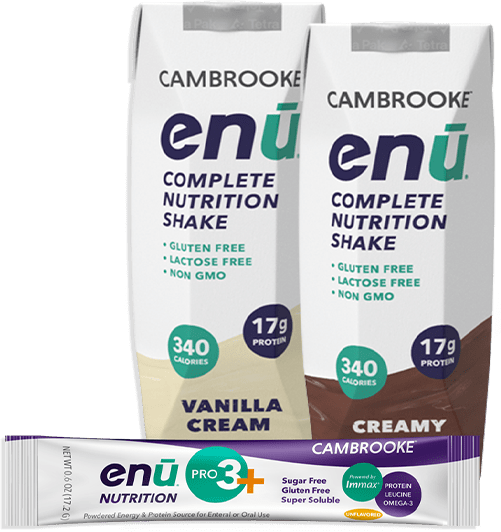 The 10 Best Sources of Leucine
Our bodies are complex and require different nutritional sources to function correctly. Leucine is an essential amino acid that can help promote a healthy, balanced, and fine-tuned physique. Among many things, leucine is responsible for protein synthesis, which plays a significant role in muscle recovery and upkeep.
Not many people know or understand where to look when selecting the ingredients that will be part of their diet. ENU Pro3+ makes it as easy as possible for everyone to add leucine into their diet. In addition to the benefits of leucine, ENU Pro3+ can also add other essential nutrients to your diet, such as protein.
ENU has prepared a list of the ten best sources of leucine you can seek to meet your dietary and nutritional goals. As you will see, our nutritional protein shakes can help you promote a healthy lifestyle in an easy, convenient, and effective way. Our shakes are packed with nutrients, including leucine. To learn more, call ENU today at (855) 266-6733.
What Are the 10 Best Sources of Leucine?
Leucine is an essential amino acid used by the body to carry out different – and critical – functions. Every person must include this vital nutrient into their diet to promote a healthy lifestyle. You may wonder where you can get this essential amino acid from. The following represents the ten best sources of leucine you can introduce into your diet.
Beans
Beans have proven to be an excellent source of nutrition. Beans are not only protein-dense but are also packed with leucine. For instance, a cup of soybeans can provide you with up to 6 grams of leucine. Including beans in your diet can help you keep your leucine intake in check.
Beef
Beef – particularly lean beef – can help you get control over your nutrition by helping you get a good base of protein and amino acids, such as leucine. Eight ounces of lean beef can provide you with 3.2 grams of leucine per serving. You can enjoy delicious food, such as a burger, while nourishing your body with essential nutrients like leucine.
Cheese
Cheese is another excellent source of leucine. Some cheeses can also provide you with protein, which is great for muscle growth and muscle density preservation. Cottage cheese is a kind of cheese that can help with your leucine intake. A cup of cottage cheese can provide you with almost 30 grams of protein and three grams of leucine. Including cottage cheese in your diet can help you meet your leucine intake needs.
Chicken
Chicken is a staple in almost every kitchen in the United States. It has proven to be one of the primary protein sources for many people. Chicken can also be an excellent source of leucine. Chicken can contribute to protein synthesis because of its leucine content. One hundred grams of chicken a day can provide you with up to three grams of leucine.
Eggs
Eggs are some of the most common ingredients that can be found in almost every kitchen. Eggs are one of the most common sources of protein and leucine. Nearly 10% of an egg's overall protein content – primarily found in the white – is made of leucine. Eating two eggs a day during breakfast can help you get your leucine intake early in the day.
Milk
Milk protein found in cow's milk is among some of the highest leucine sources available. Consuming milk, along with other nutrients, can help you maximize your daily leucine consumption.
Pork
Like chicken, pork is a lean meat that can contribute to leucine intake. It generally has a high protein concentration, which in turn can lead to leucine intake. Adding pork into your diet can be an excellent way to promote protein consumption and synthesis through its leucine content.
Seeds
Seeds are excellent sources of leucine. For instance, sesame seeds can provide you with up to 2,300mg of leucine per ounce. There are other seeds, such as pumpkin seeds, cashews, and almonds, which can also be good sources of leucine.
Tuna
Tuna is known for being a healthy food packed with protein, omega-3 fatty acids, and leucine. Including a serving of tuna two to three times, a week can be an excellent and easy way to consume a healthy amount of leucine.
Shakes
Protein shakes can be one of the most convenient and easy ways to get nutrition value throughout your diet. For instance, ENU Pro3+ allows you to add leucine into your diet without thinking about figuring out your next snack. Meal replacement shakes are some of the most efficient ways to meet your dietary goals.
Why is Leucine Important to Your Diet?
Leucine is an essential amino acid used by the body to synthesize protein. Moreover, leucine can play a significant role in tissue regeneration and your metabolic process. Another essential aspect of leucine is that it helps regulate your blood sugar levels and helps promote wound healing. As you can see, all of these body processes – which happen almost daily – are essential to preserving your health and well-being.
A leucine deficit in your diet can lead to severe issues. For instance, if you lack leucine in your diet, you may develop skin rashes, you can lose energy, and experience hair loss. Moreover, the lack of leucine can cause problems with your protein synthesis process, which can lead to muscle density loss.
Leucine is an essential nutrient that should be in everybody's diet. This essential amino acid helps keep your body's balance by carrying out critical functions. However, certain individuals are in a higher need of this crucial nutrient. For instance, people undergoing cancer treatment can experience changes in their diet. There have been many cases where a cancer patient's appetite is disrupted as a result of their chemo and radiotherapy. Cancer patients need to go through a specific and tailor-made diet to tackle all the body's key nutritional components to prevent further issues.
What Supplement is Ideal to Boost My Daily Leucine Intake?
Leucine is a component that should always be part of any individual's diet. Including this amino acid in your diet can help you avoid muscle waste, irregular blood sugar levels, boost your energy, and promote better skin – among other benefits.
Every person should do their best to consume leucine daily to keep their body nourished and balanced. However, some people may find it difficult to find a convenient way to meet their leucine intake. ENU Pro3+ is an amazing supplement that can provide you with the leucine intake you may need. This particular product comes in powder form, which makes it easier to add it to your drink or foods. ENU Pro3+ is packed with L-leucine, to promote muscle growth and retention. Additionally, this supplement has many different nutrients to help balance your diet.
This product allows you to get the nutrition you need, when you need it, without meal prepping or worrying about combining foods that provide you with what you need. However, it is essential to consult with your physician before adding one of these shakes into your diet, especially if you require a special diet.
Meal Replacement Shakes for Your Required Leucine Intake
ENU protein shakes and powders are formulated to meet healthy and balanced nutrition. To learn more about all of our products and how they can help you with your leucine intake, call ENU today at (855) 266-6733.