Get a
FREE


ENU Intro Pack*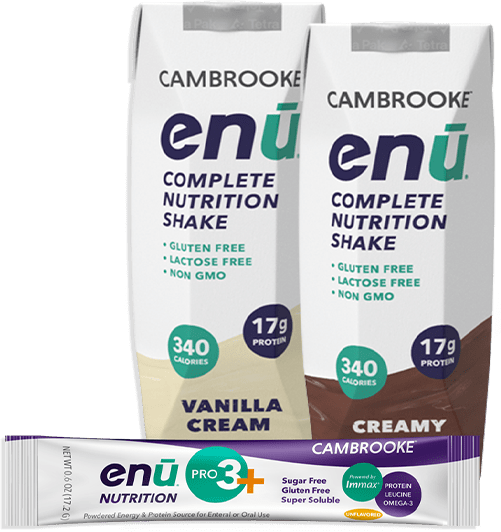 3 Tips for Gaining Weight with Meal Replacement Shakes
Many people think that meal replacement drinks are just another dieting product for weight loss. But did you know that nutrition shakes loaded with things like whey protein, natural carbs, and quality fats like coconut oil can help someone gain weight? ENU Nutrition has great tasting meal replacement shakes to help you gain weight in a healthy way.
Whether you're recovering from an illness, trying to bulk up for an athletic competition, or simply want to build muscle before that summertime beach weather arrives, it might be your goal to gain weight healthily. Opting for a high-calorie, high-protein diet can be beneficial as long as you remain consistent. Meal replacement shakes that are packed with nutrition can be incorporated into your diet to promote healthy weight gain and help you maintain your weight once you've reached your goal.
Our ENU Nutritional Shakes contain important macronutrients and calories to help you achieve healthy weight gain. At ENU, our products are formulated to support nutrition and help facilitate wellness. To learn more about ENU products and buy ENU Nutritional Shakes for yourself, visit our website today.
3 Tips to Use Nutritional Shakes to Gain Weight
Believe it or not, gaining weight can be just as difficult as losing weight – especially if you've been diagnosed with a health condition that decreases your appetite, causes digestive problems, or irritates your stomach lining. That's true especially for conditions such as cystic fibrosis, cancer, or an eating disorder. Weight gain gets even harder once you commit to doing it the healthy way, without taking artery-clogging shortcuts like chips, candy, or soda.
While obesity gets more attention in the media, being underweight can be just as harmful to your health. Yet for millions of Americans, maintaining a healthy body weight feels like a constant uphill struggle.
Fortunately, meal replacement shakes can make it easier to gain the weight – and keep it on. Whether you need to gain three pounds or 30, these simple tips can help you use ENU Nutritional Shakes to gain weight and meet your fitness goals.
Tip #1: Choose a Shake That's High in Calories But Low in Sugar
Most sweet drinks are heavy on the calories, usually due to high sugar content. Sugar might give you a temporary boost, but you are bound to experience a sugar crash midday. Plus, eating too much sugar can also increase your risk for diabetes, cardiovascular disease, and of course, painful cavities.
Sugar is just empty calories. Though sweet-tasting, there's no good stuff – like essential nutrients like vitamins and minerals. Instead of loading up on sugar, look for a calorie-dense shake that keeps added sugars to a minimum and derives most of its calories from healthier sources, such as complex carbohydrates, heart-healthy unsaturated fats, and natural flavors like stevia leaf.
ENU Nutritional Shakes have 400 calories per serving, which can help you add nutritional calories into your daily diet. Our convenient meal replacement shakes can be used as an alternative to an unhealthy meal or for an additional boost of calories throughout the day. Empty calories promote fat gain without giving your body the proper energy and nutrients it needs. The energy-dense calories in ENU Nutritional Shakes can help you achieve healthy weight gain when you need it most.
Tip #2: Choose a Shake with High Protein Content
Building up your fat reserves isn't the only way to gain weight. You can also gain weight by working out and building muscle. However, to do that safely and successfully, you'll need plenty of protein to fuel your new fitness routine – and repair any tissue damage that occurs in the process. As an added benefit, increasing your protein intake can also help your body synthesize hormones, maintain healthier nails, and even lift your mood. Protein is the food for your muscles, which is why it's so closely associated with body-builders and gym-goers. But really, it's one of the essential macro-nutrients that everyone needs for a well-balanced diet.
Our ENU Nutritional Shakes are made from whey protein, a protein that has plenty nutritional benefits. At 10%, whey protein has the highest leucine content when compared to other proteins. A powerful amino acid, leucine promotes muscle growth, repair, and protein synthesis. It can help increase muscle mass, which can aid healthy weight gain. Whey protein is also easily absorbed, making it simple to digest. For people recovering from an illness or undergoing medical treatment, nausea can make it difficult to eat solid foods. ENU Nutritional Shakes promote easy digestion, so you don't have to worry about upsetting your stomach.
Tip #3: Be Consistent
If you choose a calorie-dense product – being careful, of course, to follow the health tips above – a single shake can add hundreds of calories to your daily diet. However, you need to stay consistent to achieve the best possible results. Depending on your gender, age, metabolism, activity level, and caloric needs, adding just 500 calories each day can help you gain up to one pound per week (about four pounds per month). Getting those additional nutrients can be achieved by incorporating high-calorie ENU Nutritional Shakes for weight gain into your diet.
It's useful to keep a daily food diary, which can help you keep visual tabs on what you're putting into your body. Making an effort to reach your daily calorie goal can help keep you on track. Luckily, ENU Nutritional Shakes for weight gain are just as tasty as they are nutritious, so doing so can be a treat.
Of course, you should always consult with your physician before making any changes to your diet, especially if you have any medical conditions, food allergies, or special dietary requirements. A medical professional can inform you of the healthiest ways to gain weight for your body.
When your doctor advises you to gain weight, you may want to reach your goal as soon as possible. Doing that could risk you reaching for unhealthy foods high in sugar and saturated fats. Avoid unhealthy weight gain by choosing to add ENU Nutritional Shakes into your diet instead.
If you follow these tips, you should start to see and feel a difference – not only in the readout on your bathroom scale, but more importantly, in how much strength, energy, and confidence you have. Whatever your weight gain goals might be, ENU can help you get there.
How Can ENU Nutritional Shakes Help You Gain Weight?
ENU weight management shakes deliver a fast, easy, delicious, affordable, and nutritionally complete meal in every bottle. Our ENU Nutritional Shakes can help promote weight gain in a healthy way.
Easy-to-Digest
Sometimes, people undergoing medical treatment or recovering from an illness may have trouble getting the nutrients they need. That can result in unintentional weight loss, which presents other medical complications. When undergoing medical treatment, it's important to maintain a healthy weight to help your body combat sickness. However, treatment and illness can cause nausea, making it difficult to consume solid foods.
Our ENU Nutritional Shakes are fortified with four grams of medium-chain triglycerides (MCTs) per serving, which promote digestion. So even with the extra calories and nutrients, our shakes will leave you satiated without feeling nauseous. This can be especially helpful for people undergoing medical treatment or recovering from an illness.
Nutrient-Dense
With indulgent flavor options in Creamy Chocolate and Vanilla Cream, our great-tasting, easy-to-digest Nutritional Shakes deliver 400 calories, 20 grams of ultra-purified whey protein, complex carbs like brown rice and quinoa, and energy-rich fat sources such as oleic sunflower oil.
Sometimes, we associate carbs with unhealthy weight gain. In reality, complex carbohydrates are crucial to providing your body the energy it needs to function. Just like carbs, healthy fats are crucial for bodily processes. Remember, there's a difference between saturated fats and heart-healthy fats: saturated fats promote unhealthy weight gain and shouldn't be a component of your meal replacement shake. Plus, every shake is fortified with 24 essential vitamins and minerals to promote better bone and immune system health.
Convenient
Our compact, portable meal replacement shakes for weight gain are super convenient. ENU Nutritional Shakes are ideal for an on-the-go lifestyle so that you can continue on your weight gain journey regardless of where the day takes you.
When it's too hard to cook or eat because of medical treatment, turn to ENU Nutritional Shakes. Our meal replacement shakes for weight management can offer the essential nutrients you need for your health. With the three macronutrients – protein, carbohydrates, and fats – ENU Nutritional Shakes can provide well-rounded nutrition in a pinch.
Balanced
When you gain weight too quickly, it's usually the result of eating unhealthy foods. Healthy weight gain doesn't happen overnight. An intentional, sustained approach to weight gain is preferred. Generally, it's healthy to gain one to two pounds per week. Of course, everyone's situation is different, and your doctor may suggest an alternative approach. Regardless, exercising while gaining weight is still important. You're not working out to lose weight in that case; you're doing it to gain muscle mass and stay well.
That's why meal replacement shakes can help you reach your goals, regardless of what they are. The same can't be said for every meal replacement shake out there. Other shakes for weight management have a high sugar content and are devoid of essential nutrients. They can't offer the same nutritional support as ENU shakes for weight gain can. Instead, they may cause unhealthy weight gain that can result in other medical issues. When you want to gain weight, it's important to opt for a nutritious shake that can offer the necessary nutrients required to power your body.
You can use ENU Nutritional Shakes to help you reach your health goals, whatever they may be. Boosting your diet with additional calories and macronutrients can support weight gain – it all depends on how you incorporate meal replacement shakes into your diet.
Remember, it's best to talk with your doctor before using meal replacement shakes to promote weight gain. Changing your diet can affect your body in various ways. Your doctor can help you figure out a plan to do so in a healthy way.
Use ENU Nutritional Shakes to Gain Weight the Healthy Way
If you've been struggling to put on weight, ENU Nutritional Shakes can help you achieve your ideal body at a safe and gentle pace. To learn more about our products or place your first order, contact us online or call at (855) 266-6733.