Get a
FREE


ENU Intro Pack*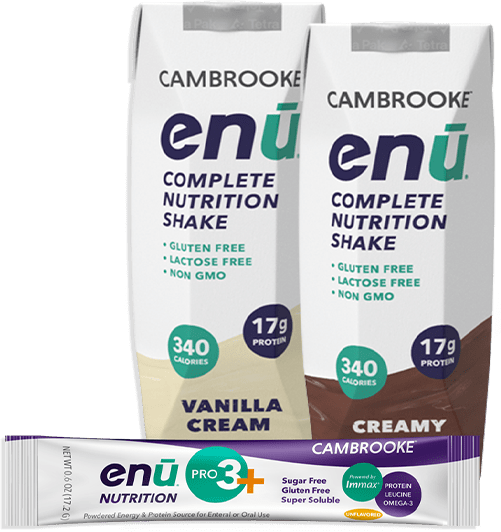 What Can an Underweight Pregnant Woman Take to Gain Weight?
It is common and perfectly healthy for women to gain weight while they're pregnant. However, due to differences in metabolisms, hormones, and eating habits, some women may not gain any weight or may lose some. Pregnant women must maintain a healthy weight for the sake of both themselves and their babies. If you're a pregnant woman looking for a healthy and sustainable way to gain weight, consider supplementing your diet with nutritional shakes from ENU. In this blog post, the experts from ENU will explain how pregnant women can use nutrition shake programs to either gain weight or avoid losing weight.
How to Gain Weight Safely While Pregnant
Pregnant women can take ENU nutrition supplements to gain weight. Since they're high in both protein and calories and balanced with other macronutrients and vitamins, they are a healthy way for pregnant women to gain weight without compromising nutrition.
To gain weight healthily, pregnant women should eat an extra 300 calories per day. These extra calories should be consumed in the form of nutrient-dense foods, as opposed to foods full of saturated fat, for pregnant women to avoid malnourishment. Healthy weight gain should center around a balanced diet containing lots of protein, fruits, and vegetables.
While fresh, solid foods are the best way for pregnant women to get a majority of their calories, ENU nutritional shakes are an excellent way for pregnant women who are trying to add extra calories to their diets. Meal replacement shakes have a full, balanced macronutrient profile made of high-quality ingredients. For this reason, nutritional shakes are used not only for healthy weight gain during pregnancy, but also for medical nutrition support, nutritional support for athletes, and weight gain for anorexia.
Many pregnant women appreciate the fact that ENU nutritional shakes are adaptable and easily incorporated into other recipes. They come in chocolate and vanilla flavors, which makes them a great option for pregnant women who may have a heightened or sensitive sense of smell or taste.
How Nutrition Shakes Help Underweight Pregnant Women Gain Weight
ENU weight gain protein shakes are ideal for underweight pregnant women because they have all of the nutrients needed to safely gain weight while supporting both their own health and the health of their babies. ENU nutritional shakes have balanced ratios of the following macronutrients:
Protein – ENU protein shakes derive their protein from whey and soy, which are the most quickly and easily digested types of protein. Protein is a necessary part of a diet meant for gaining weight because ensures muscle development, as opposed to increased levels of fat.
Carbohydrates – Quinoa, brown rice, and tapioca are the sources of carbohydrates in ENU nutritional shakes. Carbohydrates are essential for sustaining energy levels.
Healthy Fats – The healthy fats used in ENU nutritional shakes come from sunflower oils and coconut oils, which have high levels of omega-3 acids. Healthy fats are useful to people who are trying to gain weight because they create a sense of satiety and assist with the absorption of other nutrients.
Nutritional shakes also have vital vitamins and minerals that can contribute to the overall health of pregnant women who are trying to gain weight. Our meal replacement shakes are also gluten-free and lactose-free and lack artificial sweeteners, GMOs, and colorings. They are also certified Kosher.
The Importance of Being at a Healthy Weight While Pregnant
Pregnant women need to maintain a healthy weight to ensure that their babies will be born healthy.
Side Effects of an Underweight Pregnancy
Being underweight can have adverse effects on both the pregnant woman and her baby. Possible outcomes include miscarriage and risk of premature birth. Premature babies are susceptible to complications, including postpartum hemorrhages and gastroschisis. Babies born to mothers who were underweight during pregnancy also have a high risk of developing obesity, high blood pressure, and high cholesterol at later points in their lives.
Underweight pregnant women may also experience tiredness and fatigue due to malnutrition. They can experience mental fog, osteoporosis, anemia, immune deficiencies, issues with their skin, hair, and teeth, and impaired growth. Extremely underweight pregnant women lack the nutrients their bodies need and may face the risk of death within 8 to 12 weeks if they don't begin to increase their calorie and protein intake.
Avoiding a Dangerously Low Body Weight
No specific body weight is too low to be dangerous since a healthy weight depends on your height. To find out what is too low to be considered healthy, pregnant women can calculate their BMI, which is a loose rubric for quantifying the relationship between height and weight. A BMI below 18.5 is underweight, and a BMI above 24.9 is overweight. Note that BMIs are a loose rubric and should be considered with other factors in mind. Speak with a doctor or medical professional for guidance on what your BMI is and how you can get it within a healthy range.
Meal Replacement Shakes for Healthy Weight Gain During Pregnancy
Being underweight can carry long-lasting health consequences for both pregnant women and their babies. If you're a pregnant woman who is seeking a way to gain weight during your pregnancy, ENU offers low-sodium protein shakes that might be a good option for you. To learn more about how you can incorporate ENU nutritional shakes into your diet as a healthy way to gain weight, call ENU at (855) 266-6733.