Get a
FREE


ENU Intro Pack*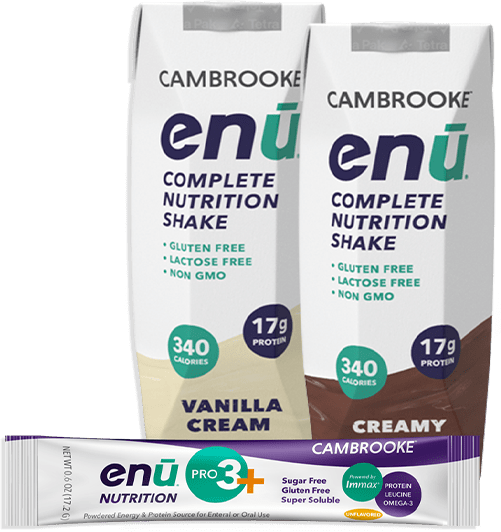 What Meal Replacement Shakes Are the Best for Losing Weight?
Weight loss has become close to an obsession in American popular culture; a stroll through any drugstore will feature aisles filled with drinks, powders, pills, and other products that promise to help you lose weight and lose it fast. Many of these promises are bogus, of course, but nutrition and meal planning have long been shown to be effective for helping people shed unwanted pounds in a healthy, balanced way. Meal replacement shakes can be a powerful ally in your effort to maintain a weight loss diet, but how do you know what are the best meal replacement shakes for weight loss? Keep reading as the experts at ENU explain.
The Basics of How to Lose Weight
A huge number of factors can affect a person's weight loss efforts, many of which are best determined by a dietician, doctor, or other medical authority. However, there is a basic mechanism of weight loss that the vast majority of us can rely on as the foundation of how to burn fat and slim down: simply subtract the amount of calories your body uses from the amount you take in each day to find out your net weight gain or loss in calories. For example:
A standard diet typically consists of about 2,000 calories. If your body is used to maintaining your weight with 2,000 calories and burns that many each day, lowering your daily caloric intake to 1,500 calories will give force your body to burn 500 calories from stored tissue – probably body fat. Because each pound of fat provides roughly 3,500 calories, running a deficit of 500 calories per day will cause steady weight loss at the rate of one pound per week.
Every person has a different metabolism and different caloric requirements for their body to run each day, which can make it tough to nail down exactly how many calories you burn. For instance, those with more muscle tissue will naturally burn more calories, even at rest, while those with less muscle have lower caloric requirements. Aside from calories, though, the ingredients in meal replacement shakes matter as well.
Ingredients to Look for in Weight Loss Shakes
While you should never sacrifice a balanced, healthy diet for the sake of weight loss, there are some nutrients that are particularly helpful to those looking to shed pounds. All three types of macronutrient – carbohydrates, fats, and protein – play a role, but protein in particular offers some potent weight loss power in several ways.
The Power of Protein
For starters, protein requires twice as much work on the part of your body to convert it into glucose compared to the effort required for carbs. While in practice this means that protein is a less effective form of fuel, that's just what someone looking to lose weight wants – less fuel, or calories, that the body can use. Basically, simply eating more protein will force your body to work harder. It also helps those who exercise to build increased muscle mass, which is why protein is such a prominent ingredient in meal replacement shakes for athletes.
Consuming protein, either in the form of solid food or in a meal replacement shake, also makes you feel more full than consuming other types of nutrients. The impact of this is simple but effective: the more satisfied you feel when eating, the less food you consume. In fact, studies have shown that people on high-protein diets tend to eat about 10% fewer calories each day, further aiding weight loss efforts.
There is also some evidence that diets high in protein cause greater fat loss than other diets. Dr. Frank Hu, an assistant professor of nutrition at the Harvard School of Public Health, found that high-protein diets led to the loss of about 4.5 additional pounds over the course of six months.
The Role of Carbohydrates
Though they are often demonized in popular dieting narratives, the fact remains that carbs are still the best source of energy for our bodies. Not only do they provide immediate fuel when consumed, but they also boost exercise performance and preserve muscle – two effects that anyone looking to lose weight should prioritize. Make sure to consume healthy carbs, avoiding things like added sugars or corn syrup in favor of complex carbs. For meal replacement shakes, this means looking out for carbs derived from sources like fruits and grains.
ENU meal replacement shakes contain 20 grams of protein from whey and soy – two of the most efficient forms of protein for your body to use. Each carton also has complex carbs that come from brown rice, tapioca, and quinoa, as well as heart-healthy fats in the form of coconut and sunflower oils. Plus, each shake includes a mix of more than 20 vitamins and minerals to support your body's processes. ENU shakes come in chocolate and vanilla, making them an ideal base for a homemade protein shake recipe.
Healthy, Nutritious Meal Replacement Shakes for Weight Loss
Meal replacement shakes from ENU offer a well-rounded nutritional profile, nourishing your body even as they promote weight loss. Try substituting a meal with one of our shakes and experience how they curb your hunger pangs and help you stick to your diet. Because each carton is clearly labeled with an accurate calorie count and ingredient list, you know exactly what you're getting and how it fits into your weight loss plan. Learn more about all ENU's products and how they can help you lose weight by visiting us online or calling (855) 266-6733 today.