Get a
FREE


ENU Intro Pack*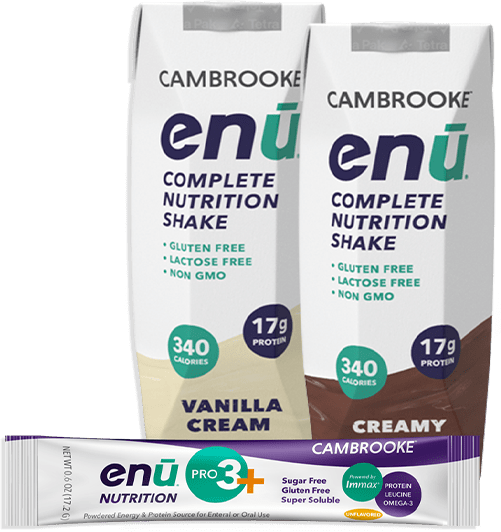 What Supplements Should I Take to Increase My Appetite?
The desire to increase one's appetite is more common than many may think. Indeed, a variety of factors and conditions can make someone want to increase their appetite. For cancer patients, increasing appetite is a necessity to maintain physical and mental health. Alternatively, weightlifters might want to increase their appetite to build more muscle. Regardless, each person will want to know what supplements they should take to increase their appetite.
Zinc and fish oil are two mainstay supplements that allow users to increase their appetite. Yet, there are alternatives to these two. ENU formulates Nutritional Shakes and Pro+3 Nutritional Powder to increase caloric intake without necessarily having to increase your appetite. These nutrient-rich supplements can add another meal's worth of food to your daily caloric intake in the form of a handful of ounces.
The nutritional supplement experts at ENU help our clients achieve and maintain a healthy lifestyle through dietary supplements. If you are interested in learning more about what types of supplements you should take to increase your appetite, visit our website.
Taking Zinc Supplements to Increase My Appetite
Zinc is a vital mineral that everyone must consume to maintain a healthy physical condition. Unfortunately, when people deal with nutritional deficiencies in their diet, the root cause is generally a zinc deficiency. The National Instituted of Health recommends that most people receive between 11 to 8 milligrams of zinc daily. This is because zinc plays a critical role in protein synthesis – the process by which the body produces protein. Additionally, proper zinc intake also strengthens the immune system and aids the body in healing.
But not everyone can consume foods that are rich in zinc. For instance, oysters possess more zinc in one serving than any other food on earth. Yet, if you are allergic to shellfish, you might not be able to consume oysters. The same logic applies to those with dietary restrictions regarding other zinc-rich foods such as red meat or poultry. Additionally, dairy and nut products also offer a valuable source of zinc, but such foods cannot be consumed by those who are lactose intolerant or possess a nut allergy. Here is a brief list of individuals who should consider taking zinc supplements to increase their appetite:
• People with gastrointestinal conditions
• Pregnant women
• Vegetarians
Supplements such as zinc acetate, zinc sulfate, and zinc gluconate should all be considered if you want to increase your appetite. Still, always take the prescribed dose. Too much zinc can negatively impact your health, leading to nausea, vomiting, and abdominal cramps.
Taking Fish Oil Supplements to Increase My Appetite
Like zinc, fish oil has also been found to increase appetite. Fish oil supplements are packed with omega-3 fatty acids. Generally found in fish and flaxseed oil, these acids are critical to overall health. Omega-3 fatty acids improve eye health, often used as a tool against macular degeneration. Additionally, fish oil users are generally at less risk for autoimmune diseases and body inflammation. The ingredients of fish oil can also promote better bone and joint health as well as reduce the risk of asthma in children. Other studies have shown that omega-3 fatty acids also reduce the risk of serious diseases such as colon cancer.
Moreover, fish oil can improve your mental health condition as well as increase your appetite. These omega-3 fatty acids have proven to be a crucial tool in fighting depression and anxiety. Furthermore, low levels of omega-3 acids have been linked with an increased chance of mental illness. Yet, there are side effects to taking too much fish oil. For instance, ingesting too much fish oil can increase blood sugar levels which could be dangerous for some individuals.
Additionally, fish oil can trigger acid reflux and other conditions that make it difficult for people with gastrointestinal issues to take. Furthermore, large doses of fish oil have been associated with insomnia and other sleep disorders. Here is a brief list of other side effects that might affect people taking fish oil supplements to increase their appetite:
• Diarrhea
• Bad breath
• Bleeding nose and gums
• Upset stomach
While zinc and fish oil supplements you can take to increase your appetite, there are alternatives to consider that are less restrictive and possess fewer side effects.
Taking Nutritional Shakes and Nutritional Powders to Increase Your Appetite
ENU's Nutritional Shakes and Pro+3 Nutritional Powder can increase your caloric intake without your having to eat more meals. In other words, our products are developed to get you the proper nutrients without having to increase your appetite. Instead of having to force yourself to eat more than you're comfortable with, these products can turn small meals into nutritional powerhouses.
For instance, a single ENU Nutritional Shake is packed with 400 calories and 20 grams of protein in 8.5 fluid ounces. Moreover, these shakes feature 100% hydrolyzed whey protein to increase absorption. Our Nutritional Shakes are also designed for easy digestion, possessing no artificial ingredients and reduced sugar. Free of soy, lactose, gluten, and GMOs, this shake was designed to be consumed by as many people as possible.
Additionally, our Pro+3 Nutritional Powder is loaded with protein, carbohydrates, healthy fats, and leucine to generate lean muscle mass. This powder is soluble in liquids and moist foods, thereby ensuring minimal effect on the taste, volume, and texture of whatever meal you add it to. Ingesting two scoops of Pro+3 Nutritional Powder three times a day can increase your protein intake by 26%. When used in conjunction with ENU's Nutritional Shake, our products can help customers establish and maintain a healthy, well-rounded diet.
Contact Our Nutritional Experts to Learn More About What Supplements You Should Take to Increase Your Appetite
Regardless of the reason, increasing your appetite can seem like a daunting task. Fortunately, our nutritional experts at ENU have designed products that make that task more manageable and more accessible. If you are interested in learning more about our products, visit our website.