Get a
FREE


ENU Intro Pack*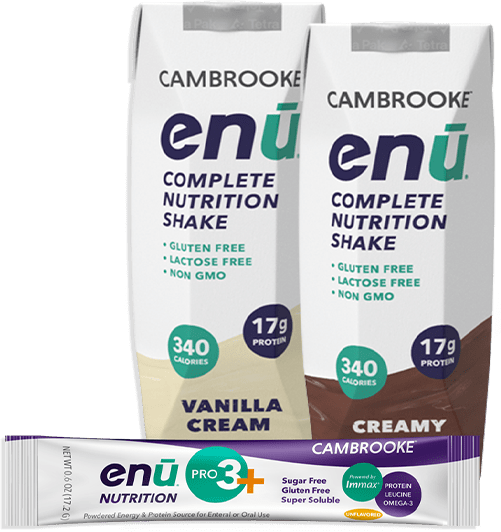 What to Do if You Have No Appetite During Cancer Treatments
People who are going through chemotherapy need to make their health a priority. The biggest contributor to overall health is nutrition. However, getting proper nutrition can be hard for cancer patients due to a lack of appetite and other side effects, such as dry mouth, mouth sores, and a loss of taste or smell. With the use of meal replacement shakes from ENU, cancer patients can be sure that they are receiving a full nutritional profile that does not disturb their compromised ability to eat or taste food. If you or someone you know is a cancer patient who is struggling to eat and get nutrition due to a loss of appetite, get in touch with ENU to learn more about how you can incorporate nutritional shakes into your diet. Call (855) 266-6733 or visit ENU online today.
The Importance of Getting Proper Nutrition During Chemotherapy
ENU nutritional shakes have many benefits for the human body, and one of the most significant is their ability to provide properly proportioned nutrients that come from high-quality sources. Since they offer all of the macronutrients and micronutrients that people need to boost their overall health, ENU nutritional shakes are ideal for use in medical nutrition support.
Since chemotherapy can affect the body's fundamental functions, it is important for cancer patients to not only eat nutrient-dense foods, but to eat them in proper proportions and ratios as well. Consuming food and drinks that have a well-balanced nutritional profile can enhance immune function and support the body's vital systems.
Since people that are going through cancer treatments often suffer from a loss of appetite, it's common for them to lose weight. However, maintaining a healthy weight is a vital factor in a cancer patient's ability to remain healthy during treatment.
Underweight patients often deal with a compromised ability to heal themselves during and after chemotherapy and radiation. One of the most effective ways for cancer patients to prevent rapid weight loss during treatment is to eat a sufficient number of calories every day.
One way to take in a suitable number of calories is to consume them in an ENU nutritional shake. Each ENU shake has 400 calories, which makes them versatile enough to be consumed as a snack between meals, as a small meal itself, or as a supplement to a meal. Since they provide a healthy amount of calories, they can also be ideal as protein shakes for weight loss.
The Benefits of a Meal Replacement Shake for Cancer Patients with No Appetite
ENU nutritional shakes have a full array of macronutrients, micronutrients, and vitamins and minerals that create optimal conditions for health while preventing malnutrition. The components of ENU's nutritional profile include healthy fats, protein, carbohydrates, and more.
The healthy fats found in ENU shakes are important for health because they allow the body to process and absorb other nutrients, making them ideal for well-rounded and balanced health. They also play a major role in making the person consuming them feel satisfied with their meal, which is vital to preventing overeating. ENU includes healthy fats that come from sunflower oils (a source of monounsaturated fatty acids), coconut oils (a source of medium-chain triglycerides).
The protein included in ENU shakes come from whey isolate, which is one of the most quickly absorbed types of protein. Whey protein is also known for being easily digested, which makes it ideal for cancer patients that are dealing with sensitive digestive systems. Soy is another source of protein in ENU nutritional shakes; it is rich in valine, a compound that is important for the healthy functioning of cells and organs. Protein is of vital importance for cancer patients because it helps build muscle mass, repair damaged tissues, and support the healthy functioning of the immune system.
Carbohydrates are another important ingredient in ENU shakes. ENU nutritional shakes derive their carbohydrates from rice, tapioca, and quinoa; these sources are types of complex carbohydrates, which give sustained energy to the body.
There are also 24 vitamins and minerals included in ENU nutritional shakes: vitamin D, folic acid, ascorbic acid, niacinamide, biotin, and many others. ENU is proud to make nutritional shakes that are free of corn syrup, artificial sweeteners, gluten, lactose, algae, and carrageenan. They are also Kosher.
Shakes That Are Easy for Cancer Patients to Drink and Digest
People who are undergoing treatment for cancer appreciate ENU nutritional shakes for their neutral and pleasant flavor, which makes them easy to consume when the patient's appetite or ability to eat has been negatively impacted. These shakes are sweetened using stevia, a natural sweetener, which means that there is no need for additional sugars and flavorings. ENU nutritional shakes are available in either chocolate or vanilla and can be easily adapted for recipes.
ENU nutritional shakes are also an ideal liquid nutritional supplement for cancer patients since they can easily be swallowed and digested by those suffering from dry mouth, thick saliva, mouth sores, or a sensitive digestive tract.
Many cancer patients choose ENU nutritional shakes because of their flavor. Since cancer patients often experience issues with taste and smell and are prone to nausea, eating anything with a strong flavor can be irritating. ENU nutritional shakes, on the other hand, are easily consumed and digested without a risk of irritation. They are sweetened with stevia, giving them a mellow flavor while eliminating the need for sugar and artificial flavorings. And since they are available in two basic flavors (chocolate and vanilla), they are easy to incorporate into recipes that suit the patient's appetite.
Cancer Patients with No Appetite Can Depend on ENU Nutrition Shakes
It's possible to get proper nutrition despite a loss of appetite with the use of nutritional shakes from ENU. With a full profile of nutrients, vitamins, and minerals, ENU nutritional shakes are ideal for consumption by all cancer patients. Get in touch with ENU as soon as possible if you or someone close to you is seeking a solution to their loss of appetite. Call (855) 266-6733 or visit us online to learn more.