Get a
FREE


ENU Intro Pack*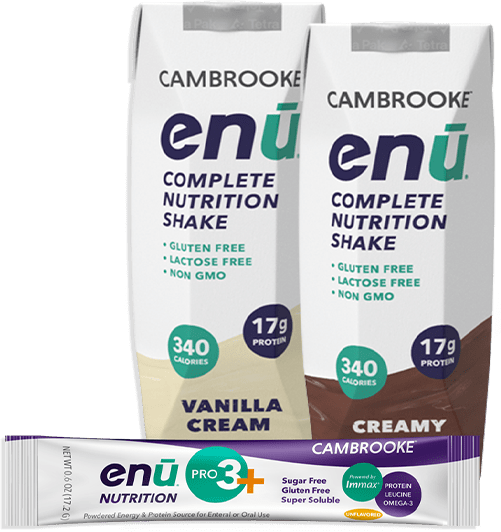 What to Eat When You Don't Feel Like Eating
Losing your appetite or sense of hunger may seem like only a minor issue, but the fact remains that even those who don't feel like eating still need to fuel their bodies somehow. While some people may try to do so by forcing down a large meal, a more strategic approach would likely be more effective. To figure out how and what to eat to maintain your weight, you might have to change how you approach meals and keep in mind the specific nutritional requirements of your body to ensure that those requirements are met. To learn more about how to handle a loss of appetite, including what foods are best to eat when you don't feel like eating, keep reading as the people at ENU explain.
Common Reasons Why People Don't Feel Like Eating
A loss of appetite is a common occurrence across the country, and while it sometimes indicates the presence of a serious illness, many people develop this issue due to a minor or temporary ailment or condition. Below are a few of the most common reasons why people don't feel like eating:
Viral, Bacterial, or Fungal Infections
The body is often subjected to attack by foreign bodies of every type, including viruses, fungi, bacteria, and even inorganic matter. When this happens, the immune response involves the production of hormones that affect, among other things, your appetite. If you have been battling an infection anywhere in your body, treating it should restore your appetite.
Cancer and Its Treatments
It's not uncommon for those afflicted with cancer to not feel like eating, especially if that cancer is located in the stomach, colon, or pancreas. To make matters worse, the treatments used to fight cancer – including chemotherapy, radiation, and immunotherapy – can have a similar effect. If you are dealing with cancer and are having trouble eating enough, consider options that can provide nutritional support for cancer patients.
Digestive Problems
As the system most directly linked to food, the digestive tract can affect how you experience hunger if it's been compromised by some sort of illness. This issue could be as simple as an upset stomach, or it could be something severe and lasting, such as Crohn's disease. For minor illnesses, your lack of hunger could clear up on its own, but a more significant cause may require extensive medical treatment to manage.
Psychological Issues
There are many different mental illnesses and other psychological factors that can cause a person to not feel like eating, including common disorders such as depression, anorexia, or anxiety. Even simple stress can cause this problem, when applied to a significant degree. If you have been struggling with a psychological issue, don't be afraid to talk to your doctor about it, as they may have suggestions for how to relieve your symptoms, including your appetite loss.
Foods to Eat If You Don't Feel Like Eating
When your appetite has fled and food holds no interest for you, it can be easy to lose sight of what nutrients are important – or even whether you should eat at all. However, even if you don't feel like eating, you still need to keep your strength up, and the best way to do so is by focusing on foods that can support your body without too much effort on your part. The following are some good examples of what to eat when you don't feel like eating:
Almonds, Cashews, and Other Nuts
In addition to being small, portably, and mild in taste, many nuts are relatively high in calories and protein, the two most important things to look for when eating with a reduced appetite, plus they have unsaturated fats and fiber as well.
Nutritional Shakes
If solid food is particularly unappetizing to you, turning to liquid meals may be an effective way to boost your intake of calories and nutrients. Meal replacement shakes are one possible option; those from ENU, for instance, contain a balanced blend of vitamins, minerals, and macronutrients, including 20 grams of protein.
Dairy Products
Though they're best known for the calcium they contain, many dairy products – including milk, ice cream, cheese, and yogurt – also contain a surprising amount of protein, and they can be high in calories, too.
Powdered Supplements
For those whose stomachs turn at the idea of eating more than a snack, a powdered nutritional supplement may be helpful. These products can add significant amounts of calories and protein to food or drinks without increasing their volume, making them ideal for those who can't eat much.
Whole Grains
Another convenient source of protein, whole grains can provide a wide array of nutritional benefits without requiring much work to prepare or consume. Quinoa, for instance, contains eight grams of protein per cup, plus fiber, iron, zinc, potassium, and a number of other vitamins and minerals.
Oils and Condiments
By cooking with heart-healthy oils or adding calorie-dense condiments to your food, you can improve the taste and boost the calorie count at the same time, all without giving yourself more to eat. Adding herbs and spices to your food may help as well by encouraging you to eat more than you typically would.
Try ENU Nutritional Supplements When You Don't Feel Like Eating
Part of the issue with a lack of appetite is that it can be a frustrating condition to deal with, especially if you're not sure why it's happening. However, by simply adding an ENU meal replacement shake or a scoop of Pro3+ powder to your diet, you can make it easier to get the nutrition you need during this difficult time. To learn more, visit ENU online or call (855) 266-6733 today.