Get a
FREE


ENU Intro Pack*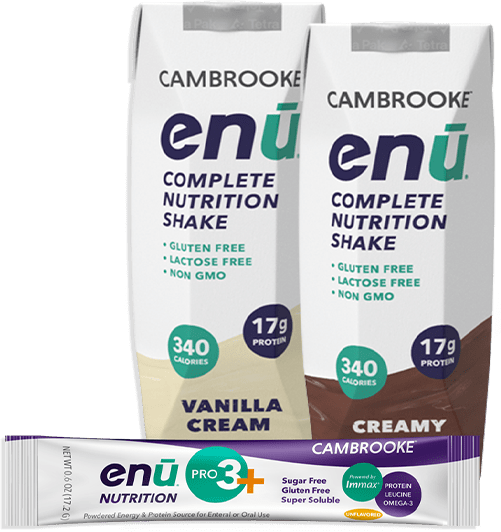 Which Vitamins Are the Most Important in Meal Replacement Shakes?
Calories aren't the only factor to consider when shopping for meal replacement shakes online. You also need to be conscious of vitamins and minerals, which are essential for keeping you at your healthiest. Read on to learn more about what vitamins are, the purposes and benefits of different vitamins, and which vitamins to look for in a nutritionally-balanced weight management shake.
What Are Vitamins and Why Are They Important?
Everyone knows that vitamins are good for you – but why are they so important to incorporate into your diet? What are vitamins, anyway?
Vitamins are "organic compounds," which simply means they contain carbon. (By comparison, inorganic compounds generally do not.) Other examples of organic compounds include amino acids, ketones, and alcohols.
Every vitamin plays a unique role in the body, as the next section of this article explores in greater depth. Yet despite these differences, all vitamins share one trait in common: one of the very best places to find them is in your food. Your body can also produce some of its own vitamins, but only to a limited extent.
Because food is such a crucial source of essential vitamins, it's important to make sure that you're getting a nutritionally-balanced diet that's right for your unique health needs. ENU meal replacement shakes are specially formulated to provide 24 vitamins and minerals your body needs for peak performance.
If you're pregnant, are in training for an athletic event, have a vitamin deficiency, or have been diagnosed with certain medical conditions, your physician might recommend that you increase your intake of a specific vitamin (or several). Always talk to your doctor before making major changes to your diet, especially if you're fighting or recovering from an injury or illness.
Types of Vitamins and Their Benefits
Scientists have identified over a dozen different types of vitamins. Some are water-soluble, which means they can be dissolved in water, while others are categorized as fat-soluble, which means they dissolve in fat, or "lipids." Water-soluble vitamins include Vitamin B and Vitamin C, while fat-soluble vitamins include Vitamin A, Vitamin D, Vitamin E, and Vitamin K. Your body processes what it can use from water-soluble vitamins, then excretes the remainder through your urine. Your body handles fat-soluble vitamins very differently, storing them in various body tissues like the liver and fatty tissue.
Combining vitamins can be beneficial, because certain combinations help your body maximize absorption and efficiency. For example, Vitamin C (which you might remember is water-soluble) can make it easier for your body to effectively absorb folic acid, which is also water-soluble.
As always, you should consult with your physician to determine which types of vitamins you should be focused on. In the meantime, here's a simple overview of all 13 vitamins and the purposes of each:
Vitamin A – Supports bone health, healthy skin, immune health, and vision while lowering cholesterol
Vitamin B – There are many types of B Vitamins, including:

Vitamin B1 (Thiamine/Thiamin) – Increases energy, aids digestion, and promotes a healthy immune system
Vitamin B2 (Riboflavin) – Increases energy, fights cardiovascular disease, and supports healthy blood cells
Vitamin B3 (Niacin) – Lowers cholesterol, promotes healthy liver function
Vitamin B5 (Pantothenic Acid) – Helps your body process carbohydrates, protein, and fat while promoting heart health
Vitamin B6 – Promotes healthy vision, liver function, and metabolism
Vitamin B7 (Biotin) – Promotes healthy skin, nerves, and hair
Vitamin B9 (Folate/Folic Acid) – Lowers the risk of birth defects in pregnant women while reducing the risk of stroke and heart disease
Vitamin B12 – Lowers the risk of anemia, enhances concentration and memory, helps fight depression

Vitamin C – Helps your body absorb iron and heal from injuries while promoting healthy teeth and bones
Vitamin D – Promotes stronger bones and teeth, lowers the risk of cardiovascular disease
Vitamin E – Promotes healthy vision and heart function
Vitamin K – Reduces the risk of blood clots and excessive bleeding
In two indulgent flavors (Creamy Chocolate and Vanilla Cream), ENU nutritional shakes supply the following vitamins with every 11-ounce, 450-calorie serving:
Vitamin A – 25%
Vitamin B6 – 25%
Vitamin B12 – 25%
Vitamin C – 25%
Vitamin D – 60%
Vitamin E – 25%
Vitamin K – 25%
Biotin – 25%
Folic Acid – 25%
Niacin – 25%
Pantothenic Acid – 25%
Riboflavin – 25%
Thiamin – 25%
For complete nutritional contents, see our chocolate nutrition shake and vanilla nutrition shake product descriptions.
Order Vitamin-Rich Meal Replacement Shakes from ENU
Whether you need meal replacement shakes for weight gain or weight loss, ENU provides a nutritionally-balanced, great-tasting blend of the vitamins and minerals you need. With affordable pricing, convenient delivery, and grab-and-go packaging, ENU is zero-hassle, health-conscious fuel that won't slow you down when you're on the run. To learn more and try ENU for yourself, contact us online, or call (855) 266-6733 to place your order.