Get a
FREE


ENU Intro Pack*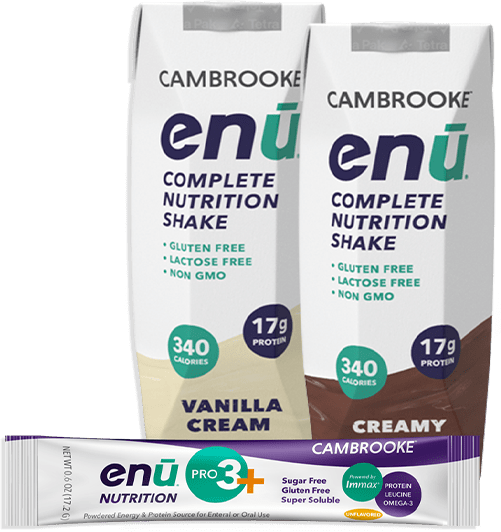 Are Shakes Good Nutritional Supplements for Elderly Individuals?
When we get older, our bodies need some extra nutritional support. Remembering to take multiple supplements isn't always easy, though. Finding a simpler, more convenient option, like healthy shakes, can supplement nutrition for seniors.
There are shakes available that are formulated to support the health of seniors. These shakes can slow muscle loss, or sarcopenia, by offering sufficient amounts of protein. They can improve your immune response by providing important vitamins and antioxidants that otherwise may be missing from your diet. Healthy shakes can boost your calorie intake, nourishing you. It's important to note that not every shake is as nutritious as it claims. Asking doctors about the best shake can help seniors find a convenient, effective nutritional supplement.
The team at ENU cares about formulating products that improve the health of seniors. Our healthy shakes are fortified with the necessary nutrients to support wellness in seniors. For more information about ENU Nutritional Shakes for older adults, visit our website today.
Why Are Shakes Good Nutritional Supplements for Older Adults?
As we age, our bodies require added nutrition. Senior citizens may find that their strength is noticeably decreasing, which could indicate the syndrome sarcopenia. Reduced mobility and an unbalanced diet can lead to muscle and weight loss, which can be harmful to the health of older adults. Shakes can supplement nutrition in other ways too, providing the necessary vitamins and antioxidants to fight against illness.
Slow Muscle Loss
With age comes an almost unavoidable loss of muscle mass. Sarcopenia is an age-related loss of muscle mass and strength. It's common in older adults because of reduced mobility and poor nutrition. Slowing muscle loss or reversing it can help seniors regain their strength and independence. Loss of muscle can correspond with weight loss. Growing weaker increases the chance of falls or broken bones. Injuries in seniors can be much more severe and difficult to recover from.
Shakes that are fortified with the right protein substance can help seniors slow muscle loss. Our shakes for older adults are made with whey protein, which seniors need to boost their leucine intake. Leucine is an amino acid that can promote muscle gain and strength quickly. Seniors dealing with the effects of sarcopenia can benefit from adding healthy shakes into their diet. Increased protein can give your muscles the food they need, while leucine can encourage protein synthesis. The leucine and protein found in healthy shakes can supplement nutrition and slow muscle loss in older adults.
Prevent Illness
When we grow older, our immune response can weaken. Age can affect virtually every bodily protection, including the immune system. It can be more dangerous for seniors to contract an illness than it is for a younger person. Incorporating vitamins and antioxidants into your diet that support your immune response can protect you from sickness as you age.
Vitamins C, B6, and E are all examples of immune system-boosting vitamins that can be vital in a senior citizen's diet. Taking various supplements can be hard to do. So, increasing your consumption of these important vitamins via a healthy shake, like ENU Nutritional Shakes for older adults, can be more convenient. These shakes contain a blend of 24 vitamins and minerals that support general health, including your immune system. Intentionally incorporating these vitamins into your diet becomes even more important to protect yourself from illnesses as you age.
Boost Calories
Loss of appetite can be common in older adults. As we age, our metabolism tends to slow down. For seniors, that could mean they no longer get the nutrients or calories they need to support their health. Consuming fewer calories can cause unintentional weight loss, resulting in unnecessary health complications. Aging can make preparing meals or snacks more difficult, and eating high-calorie solid foods isn't always easy.
To maintain a healthy calorie intake, try drinking healthy shakes. For example, our nutritional shakes for older adults contain 400 calories per 8.5-ounce serving. With shakes, there's no preparation required. Seniors can enjoy tasty shakes while boosting their calorie intake. Consuming energy-dense calories is beneficial for everyone, specifically seniors.
Are All Shakes Good Nutritional Supplements for Elderly Individuals?
Though there are shakes available that are good nutritional supplements for seniors, not every option is the same. Unfortunately, some shakes promise benefits but really contain unhealthy additives that are damaging to seniors. Before using a shake to supplement your nutrition, it's important to speak with a doctor about the product's efficacy.
Some shakes claim to be healthy but are filled with added sugars and are devoid of important nutrients. Unlike ENU Nutritional Shakes, some nutritional shakes for older adults can't support nutrition in anyone, let alone seniors. Products that don't cater to the dietary needs of older adults might not have the necessary ingredients. When you require added nourishment, it's important to use a shake that offers balanced nutrition.
Talk to your doctor about which shakes to add to your diet. A medical professional can advise you on how to best use these shakes to support your health. Remember, a healthy shake should offer a considerable amount of protein to slow or reverse muscle loss and improve strength. It should have sufficient calories per serving and contain the vital vitamins that enhance your immune response. Drinking a healthy shake each day can supplement nutrition for seniors in a positive way.
ENU Nutritional Shakes Are Good Supplements for Elderly Individuals
If you're a senior who wants to improve your strength and wellness, consider adding healthy and nutritious shakes into your diet. To purchase ENU Nutritional Shakes for mature individuals, visit us online today.