Compared to Other Shakes, ENU Provides More Nutrition, Lower Sugar, Better Taste* and the Best Value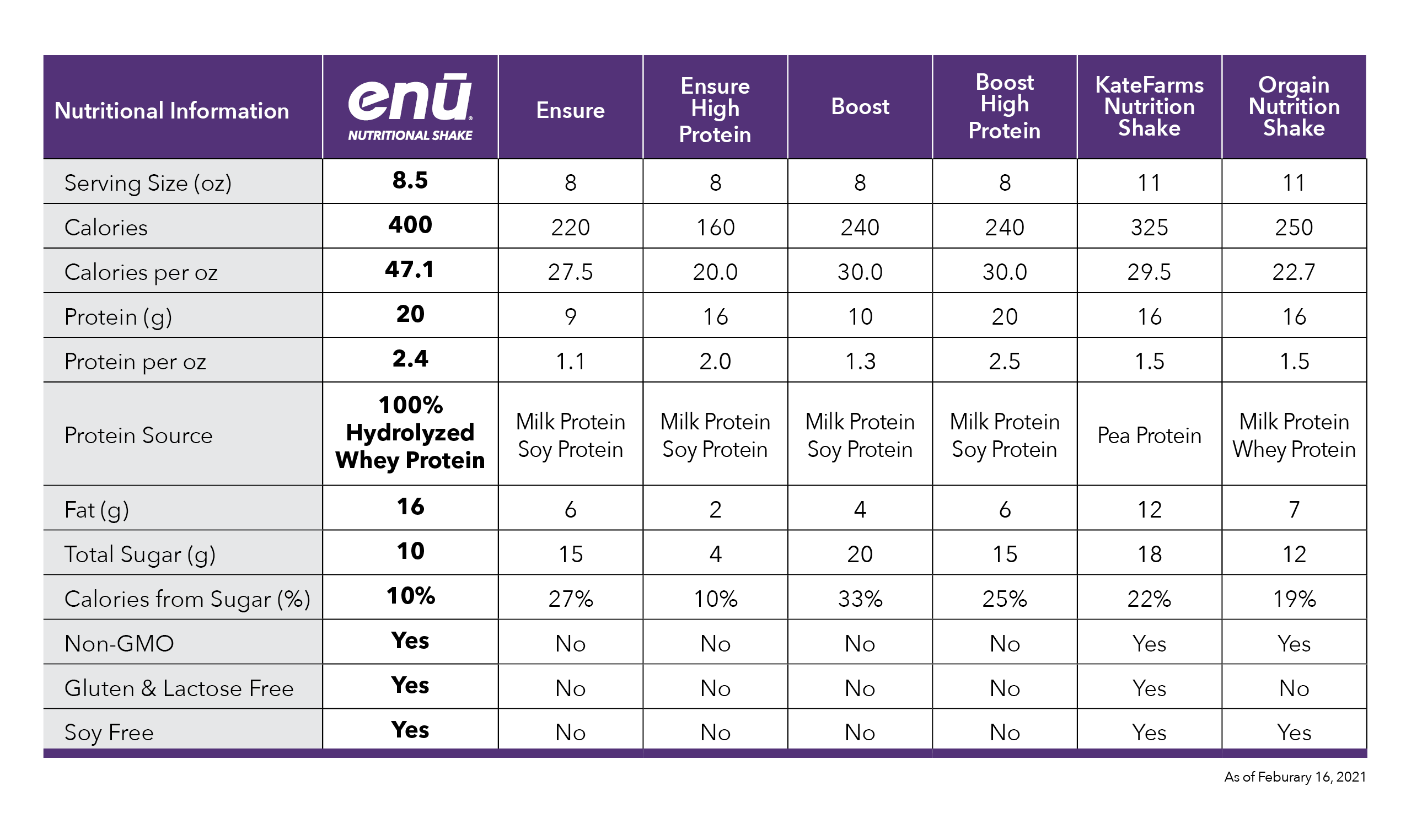 In a Recent Survey, the Taste of ENU Shakes was Preferred by 72% of Cancer Patients
Independent Survey of 209 Patients Battling Cancer who use shakes to supplement their dietary needs
Patients surveyed were battling multiple forms of cancer that experience high rates of malnutrition and weight loss
72% of patients surveyed preferred the taste and texture of ENU Shakes compared to their current shakes
ENU was noted to be lightly sweetened and milder, which is important in patients who may experience taste changes during treatment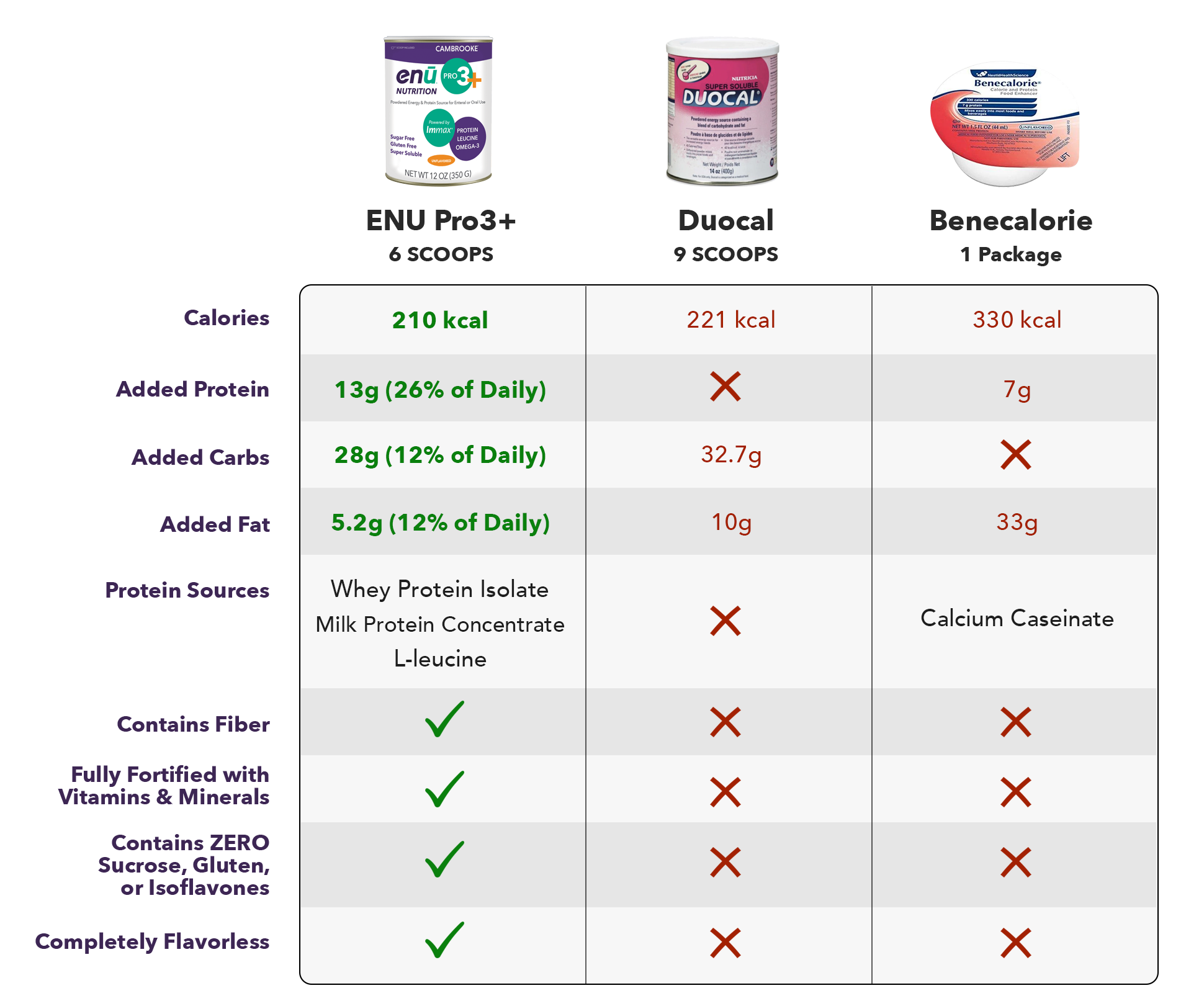 About ENU Pro3+
Unlike other energy supplements, ENU Pro3+ powder is about more than just calories. Our unique blend of macronutrients delivers fats, carbs, and lean protein with every scoop, providing quick and easy nourishment to those who need it. In addition, each serving of Pro3+ contains fiber and more than 20 vitamins and minerals to support the body's systems.
By incorporating ENU Pro3+ into your daily routine, you can more easily hit your calorie goals, helping you to maintain or increase your weight without having to drastically alter your diet. Because our formula has been enriched with leucine, an essential amino acid, Pro3+ also promotes the synthesis of new muscle tissue – a key part of healthy weight gain.
Pro3+ is free of sucrose, gluten, or isoflavones, so it's great for those with special diets or certain food sensitivities. Simply add our flavorless, water-soluble mix to any liquid or moist food for a boost of nutrients and energy with little to no effect on taste or texture. Whether you're after extra calories, more protein, or better all-around nutrition, ENU Pro3+ can help.
* Based on an average daily diet of 1,500 – 2,000 calories per day.
ENU Pro3+ is the Easiest Way to Add Leucine to Your Daily Diet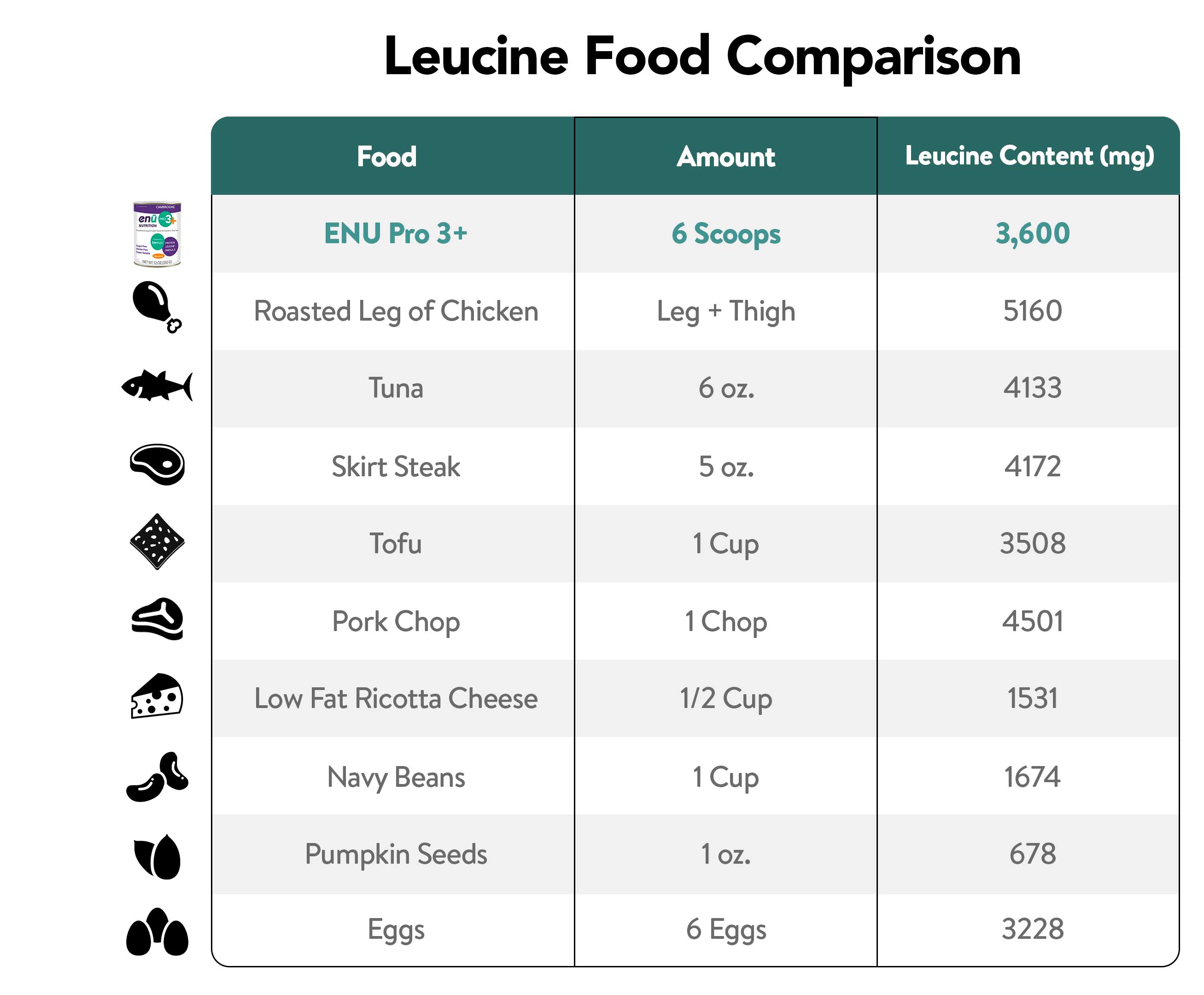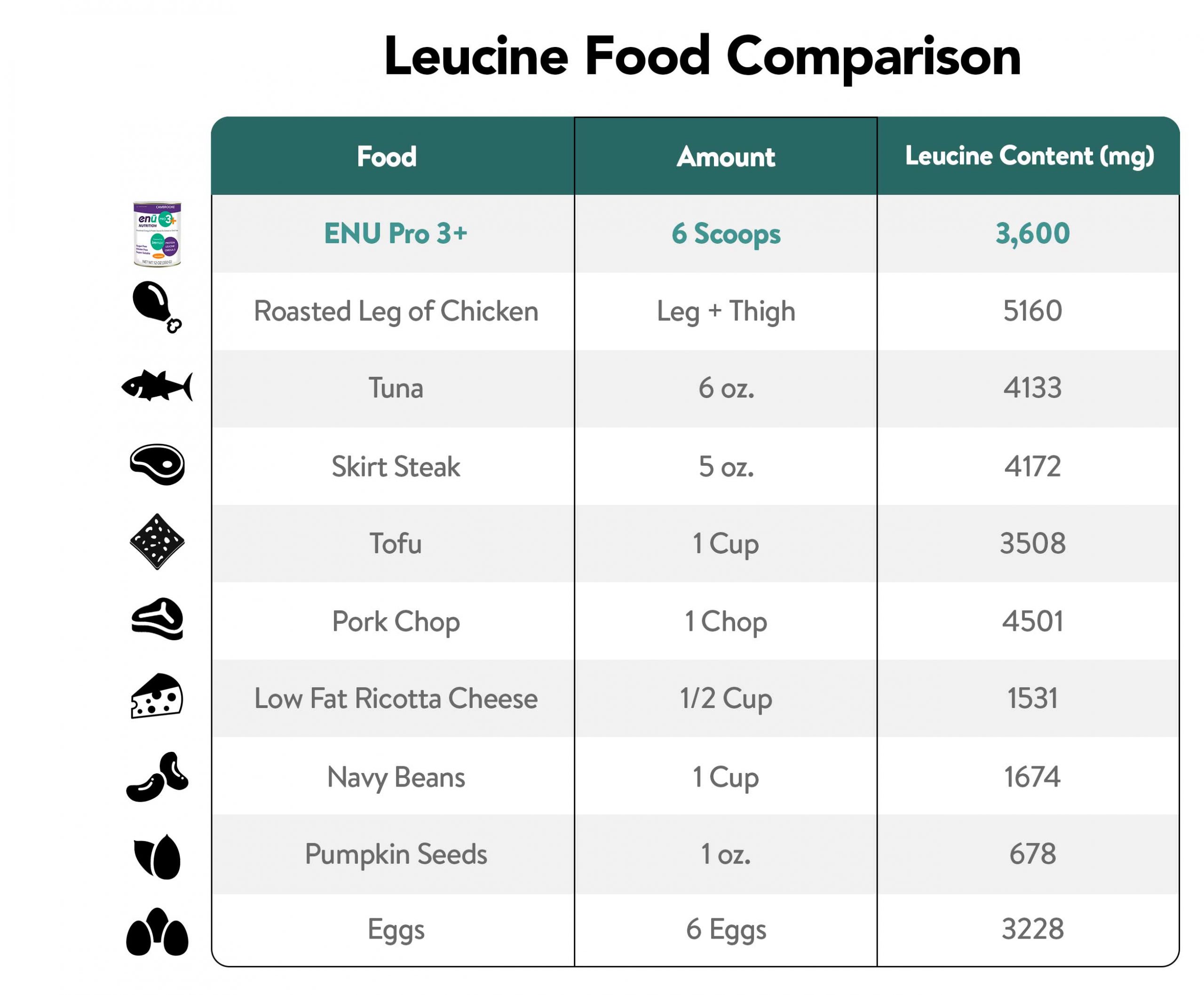 Losing of muscle mass, strength and function especially in aging seniors is a serious problem that threatens the independence of seniors.
On the basis of several acute studies, the dose of leucine necessary to achieve the maximal stimulation of muscle protein synthesis in older persons has been estimated to be ∼3–4 g/meal, (3,000-4,000 mg/meal) which would correspond to ∼25–30 g protein/meal (1).
NHANES data show that older adults achieve such an amount of protein intake only in one of the daily meals, dinner, when they tend to consume most of their daily protein intake (2). The other 2 meals contain suboptimal doses of protein (∼15 g) and leucine (<2 g), which, over time, may negatively affect skeletal muscle mass.
ENU Pro 3+ with protein and L-leucine can help promote muscle mass and strength for your journey wherever it takes you!
Volpi E Campbell WW Dwyer JT Johnson MA Jensen GL Morley JE Wolfe RR. Is the optimal level of protein intake for older adults greater than the recommended dietary allowance?

J Gerontol A Biol Sci Med Sci

2013;68:677–81.

Rhodes D Clemens J Goldman J Moshfegh A. 2007–2008 What We Eat in America, NHANES tables 1–36 [Internet]. 2010. Available from:

https://www.ars.usda.gov/Services/docs.htm?docid=18349

, (accessed 3 January 2018).