Get a
FREE


ENU Intro Pack*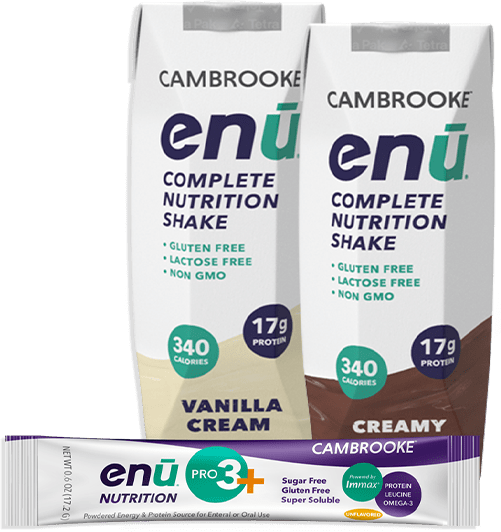 The Benefits of Meal Replacement Shakes for Cancer Patients
Widely recognized as one of the most difficult and deadly illnesses, cancer takes a toll on anyone forced to contend with it. The reason for this is twofold: first, the disease itself is very damaging to the body; and second, the treatment for cancer can be almost as devastating as the disease it aims to subdue. The list of side effects can include difficulties eating, a loss of appetite, chronic pain, nausea, a change in the ability to taste or smell, and anxiety or depression.
In this difficult time, solutions to even the most basic problems can make life just a little more bearable. One way patients can make their lives easier is to integrate meal replacement shakes into their diet. These beverages offer a number of advantages to those dealing with the effects of chemotherapy or radiation. Keep reading to learn how this type of product could help ameliorate some of the effects of cancer treatments on you or a loved one.
Meal Replacement Shakes Are Easy for Patients to Consume
One of the most fundamental issues facing patients undergoing cancer treatment is navigating the nutritional and digestive challenges that come along with these procedures. It is not uncommon for those going through chemotherapy or radiation treatments to develop sores in their mouths that can make eating painful, doubly so if the food being offered is salty or acidic. Those being treated for cancers of the mouth or throat are especially susceptible to this. Even for those without sores, chewing and swallowing solid foods can be challenging. Radiation can cause pain and stiffness in the jaw muscles, tooth or gum decay, and chronic dry mouth.
Customizing meals to circumvent these problems can be time- and effort-intensive, and patients may not be able to incorporate adequate nutrition. Meal replacement shakes can offer a valuable alternative to the soft, bland foods that might otherwise be required. Patients can forego chewing entirely, and no meal prep is required.
Get All Your Nutrition in One Place
Self-care is never more important than during treatment for an illness; providing your body with the resources to heal and replenish its systems is a crucial part of recovery from any disease, and cancer is no exception. However, it can be difficult to incorporate all the macro- and micronutrients your body needs on the kind of restricted diet cancer patients are often forced to adopt. Nutrition or meal replacement shakes can be extremely useful in this regard. Not only are they easy on your mouth and throat, but they are also formulated to provide the nutrients of a meal in one convenient package.
Because the treatment options for cancer ravage the body so thoroughly, oncologists keep constant, careful track of a patient's condition – which includes things like diet and body weight. If the doctor believes that your next radiation treatment may be too much for your body to bear, they could go so far as to delay the procedure until you recover; for a patient eager to be done with the treatments, a development like this can be more than a little disheartening, but it can be prevented with a well-rounded diet that includes an appropriate amount of protein, fats, and carbohydrates. Although a number of meal replacement shakes exist on the market, few put as much effort into offering natural and balanced ingredients and formula as ENU.
ENU includes 20 grams of protein – part whey protein isolate, part non-GMO soy protein – in each meal replacement shake to provide an easily digestible and lactose-free form of protein that can be readily absorbed by your body. Our blend of healthy fats – a combination of sunflower and coconut oils – makes it easier for your body to absorb the vitamins it needs while providing sustained energy. Even the selection of carbs in ENU shakes is designed with your wellness in mind; we use complex carbs from brown rice, tapioca, and quinoa, instead of the corn syrup added to some other brands.
Work Around Your Appetite for the Best Results
Even if pain or nausea are not factors in a patient's dietary choices, many people experience a loss of appetite during treatment, or an appetite that fluctuates throughout the day. Having a meal option that can be instantly ready makes it easier to act when your body feels ready to accept the nutrients, rather than having to force down something your stomach insists it doesn't need. For those whose sense of taste or smell changes during treatment, shakes can also offer a more palatable option than the damp or blended meals that might otherwise be your only option.
Nutrition Shakes That Make Mealtime Faster, Easier, and Healthier for Cancer Patients
Cancer is a disease that imposes crushing burdens – physical, emotional, financial – on those unfortunate enough to be diagnosed with it; meal prep is probably low on the list of priorities. Still, nutrition therapy for cancer patients is an important part of the recovery process, and those who neglect it do so at their own risk. ENU meal replacement shakes can be a source of that nutrition without imposing the extra thought or effort of planning meals, a way to give your body what it needs without taxing your limited energy reserves. To learn more about our products, visit us online today.