Get a
FREE


ENU Intro Pack*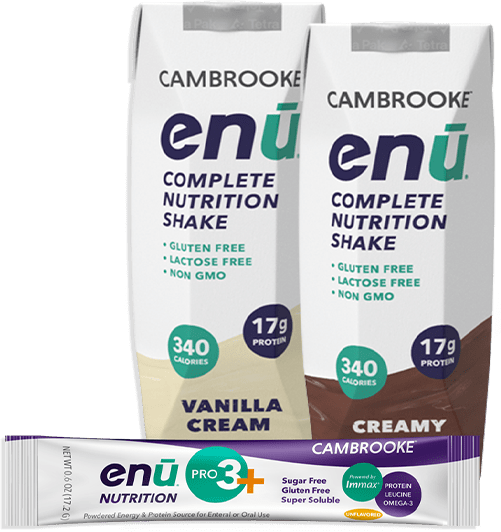 Best Ways to Slow Muscle Loss
Once you start to lose muscle, it can be hard to slow down without the proper treatments. Severe muscle loss can make the most menial tasks difficult and make it harder for your body to fight off illnesses. Of course, we all want to stay strong and healthy, especially when facing medical difficulties. But how can you slow muscle loss, and what are the best ways to do so?
Muscle loss is a common side effect of medical treatment, especially among oncology patients. It's possible to combat severe muscle loss due to medical treatment – cachexia – or age – sarcopenia – by implementing a nutrient-dense diet and engaging in appropriate exercise. Upping your daily amount of protein, calories, and other nutrients can help slow muscle loss in oncology patients or senior citizens. Because nausea and taste fatigue are common among oncology patients, a meal replacement shake can help give you the nutrients and energy you need to slow muscle loss.
At ENU, we know how important muscle retention is, especially among oncology patients and the elderly. That's why our ENU Nutritional Shakes were formulated to slow muscle loss and help you regain your strength. To purchase ENU Nutritional Shakes and learn more about our products, visit our website today.
What Are the Best Ways to Slow Muscle Loss?
Muscle loss can occur from immobility, illness, or happen as you age. It's common among oncology patients due to medical treatment and fatigue, which can cause inactivity. Combatting muscle loss is important for overall strength and health. So, how can you slow muscle loss or prevent it from happening in the first place?
Nutrient-Dense Diet
When you provide your body with necessary nutrients, you may be able to slow muscle loss. You can achieve that by adding energy-dense calories into your diet and upping your protein intake. When you consume healthy calories, your body has more fuel which can make mobility easier. Increasing your protein intake can counteract muscle loss as well, as protein is the food for your muscles to grow.
Each ENU Nutritional Shake offers the three essential macronutrients – protein, carbohydrates, and fats – that promote a well-rounded diet. Our protein is made from whey, which has the highest leucine content of all protein substances. Leucine is a powerful amino acid that promotes protein synthesis, which can boost muscle growth. Because of this, ENU Nutritional Shakes can help you slow muscle loss during treatment.
Exercise
Because muscle loss is largely caused by inactivity, exercise can help combat it. However, it can be difficult for oncology patients and others to work out due to fatigue.
That being said, sufficient exercise can be beneficial in slowing muscle loss. Exercise doesn't have to be extreme. In fact, for people undergoing medical treatment, light exercise is preferred. Regularly walking, moving your limbs, and making an intentional effort to get active can prevent muscle loss. Using your muscles can keep them from atrophying.
Working out, in any form, can be difficult for people experiencing muscle loss. That's why it's important to maintain a healthy diet. ENU Nutritional Shakes can help provide the energy you need to exercise to slow muscle loss.
Why Should I Slow Muscle Loss?
Muscle loss is common among oncology patients and elderly individuals. In oncology patients, cachexia, or "muscle wasting," can occur during medical treatment. As we age, we may become less mobile which can cause sarcopenia. The effects of cachexia can be seen much more quickly than sarcopenia, though both can become detrimental if not addressed.
For all of us, muscles are important. They offer strength, allowing us to move without difficulty. When we think of muscles, vanity muscles like biceps or triceps might come to mind. In reality, the most important bodily functions are supported by our muscles. As muscle loss quickens, your body may become unable to perform those functions properly. Slowing muscle loss is important to improve your quality of life and your health.
Severe muscle loss can make you susceptible to further illnesses and medical complications. While it may seem overwhelming when you hear that your body is losing muscle mass, treatment is possible. Through a healthy diet and exercise, you may be able to combat muscle loss and prevent atrophy. ENU Nutritional Shakes can help give you the tools to fight muscle loss and regain your strength.
Slow Muscle Loss with ENU Nutritional Shakes
At ENU Nutrition, we understand the importance of muscle retention, especially in the elderly and those undergoing medical treatment. That's why our ENU Nutritional Shakes have the ingredients for a balanced diet and can offer energy to make exercising easier. But the benefits don't stop there.
Each ENU Nutritional Shake has 4 grams of medium-chain triglycerides per serving to aid quick digestion. MCTs promote absorption in the gastrointestinal tract, making ENU Nutritional Shakes easier on the stomach. Medical treatment can cause nausea and difficulty consuming solid foods. That's where our shakes to slow muscle loss come in. You can use ENU Nutritional Shakes to add nutrients into your diet without worrying about an upset stomach.
High in calories and protein, ENU Nutritional Shakes to slow muscle loss can help those experiencing cachexia or sarcopenia. They can act as meal replacement shakes when it's too hard to eat solid foods or be incorporated into your diet for that extra boost of energy. With 400 calories and 20 grams of whey protein for easy absorption, ENU Nutritional Shakes can help you combat muscle loss and retain your strength.
At ENU, we get that everyone has different dietary restrictions that can make getting the proper nutrients hard. Our ENU Nutritional Shakes are lactose-, soy-, and gluten-free so that people with such allergies or intolerances can still enjoy our product and reach their health goals.
When you decide to add ENU Nutritional Shakes into your diet to slow muscle loss, talk to your doctor about it. They can give you advice on how to do so in the best way for you.
Use ENU Nutritional Shakes to Help Slow Muscle Loss
When you need to slow down muscle loss, ENU Nutritional Shakes may offer a solution. To purchase ENU Nutritional Shakes and read more about how ENU Shakes can help with muscle loss, visit our website today.