Get a
FREE


ENU Intro Pack*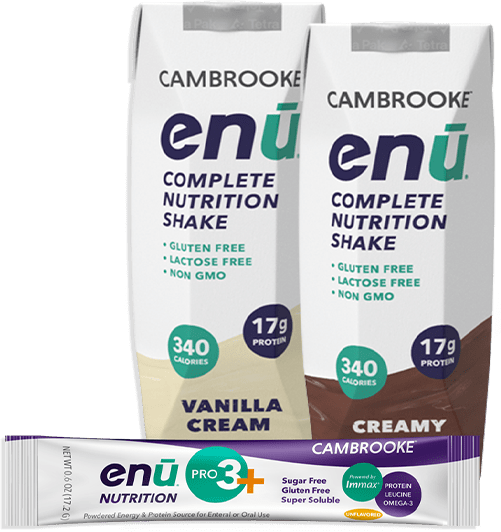 Clinical Perspective: ENU® Pro3+ Powder Increased Fat-Free Mass During Chemotherapy
By JoAnna Hazard, MS, RD, CSO, LDN
Manager of Nutrition & Environmental Services
My Clinical Perspective in Oncology Nutrition:
As a dietitian working in oncology, I tend to see malnutrition and sarcopenia everywhere I look. This might be a simple frequency bias based on the world from which I've emerged. Or, maybe it's because a dietitian's eyes are specially trained to know how to spot malnutrition early. Walking down the halls you notice thinning hair and baggy clothes on the woman who's walking toward you. While getting your coffee you observe the hallowed temples on the gentleman deciding how many eggs to get. He's not hungry but knows he needs to eat. Then when you're walking by wound care you overhear a conversation about a site that just won't heal. The examples are endless in the daily life of the oncology dietitian. Research presented in March 2020 during ASPEN reported that an estimated 40% of people living with cancer were experiencing some degree of anorexia at the time of their FIRST medical oncology appointment and that malnutrition is responsible for up to 30% of cancer deaths. While these statistics are incredibly sad, if you work in the field, it's not shocking. These sad statistics become even sadder when you look at a separate recent study from the University of Colorado showing the field of oncology has an average of three full-time dietitians for every 5000-6000 patients1.
I say all of that to emphasize how much demand there is on oncology dietitians as a profession. We need to embrace new and innovative products that are here to help make our lives easier! Oral nutritional supplements (ONS) have been around for decades, and most of them are made with less than desirable, processed ingredients. Not all calories are created equal and nutrition is more than just macronutrients, but in the crazy that is most days, recommending a standard ONS is just easier for healthcare professionals. I know we can do better for patients.
Clinical Results for ENU® Pro3+ Food Additive, A New Advancement in Nutrition Support:
ENU® Nutrition has created an interesting new product that deserves some attention from the nutrition community. On the surface, their Pro3+ powder may look like just another protein additive, but it's unique when compared to other protein supplements. Pro3+ contributes an additional 35 calories and 2gm of protein per tablespoon to whatever it's added to, without changing the flavor or viscosity. Over a quarter of that protein comes from the branch chain amino acid leucine, which we know is key for muscle maintenance and prevention of sarcopenia. Research examining the efficacy of this product and its impact on the nutritional status of pre-cachectic patients undergoing cancer treatment was completed and presented during ASPEN this year. The results of this trial are what made me start looking at Pro3+ in a different light.
Researchers evaluated two groups of people with similar types of cancer and of similar age, who had received at least 2 cycles of chemo/chemoradiation therapy. All participants were classified as "pre-cachectic" based on ESPEN criteria, meaning this was an early intervention study. Researchers wanted to see if starting nutrition intervention with the Pro3+ early would make a significant difference in outcomes. For four weeks, each group received nutrition counseling and were fed an isocaloric diet, with the intervention group prescribed 630 of their calories to come from Pro3+. At the end of the trial, researchers evaluated before and after differences for key measurements including total calories consumed, total protein consumed, and percentage of fat-free mass.
The results were more than impressive! What they found was both groups ate about the same number of calories from actual food, 1421 calories vs 1399 calories. Interestingly, the Pro3+ group was able to consume an additional 350 calories on top of their normal food calories each day AND meet their total daily calorie requirements! This is because Pro3+ is added to food and patients do not need to consume a larger volume of food daily. Broken down even further, this means the supplement group was able to eat approximately 1756 calories or 28cal/kg/day. On top of all that, the supplement group also was able to meet the ESPEN recommended amount of protein per day of 1.5gm/kg/day, vs the control group which was closer to 1.0gm/kg/day.
What this translated into was a significant difference in fat-free mass (FFM) during the course of the one-month study. Both groups were able to maintain their percent of FFM during cancer treatment, but the difference in FFM was statistically different with an increase of 4.08% in the Pro3+ group! That bears repeating so let me say it another way. The group that received Pro3+ actually INCREASED their fat-free body mass while undergoing chemotherapy. This is a direct result of meeting their nutrition goals and consuming the right type of amino acids to stimulate muscle growth.
Looking at this study, I think the key take away is this; if the intervention is started early, ENU Pro3+ can positively increase overall oral intake and fat-free mass. This study also demonstrated that patients using this product may have an easier time meeting their calorie and protein goals. We live in a world where oncology dietitians are staffed about one to every 2000 patients, which means we may not get to follow our patients as closely as we'd like sometimes and our days can be harried. We need more well-designed products that get the results we need as efficiently as possible and Pro3+ is just that.
Citations:
1 Food and Nutrition Board; Health and Medicine Division; National Academies of Sciences, Engineering, and Medicine. Examining Access to Nutrition Care in Outpatient Cancer Centers: Proceedings of a Workshop. Washington (DC): National Academies Press (US); 2016 Aug 26. 3, Models of Care: National and International Perspectives. Available from: https://www.ncbi.nlm.nih.gov/books/NBK384591/