Get a
FREE


ENU Intro Pack*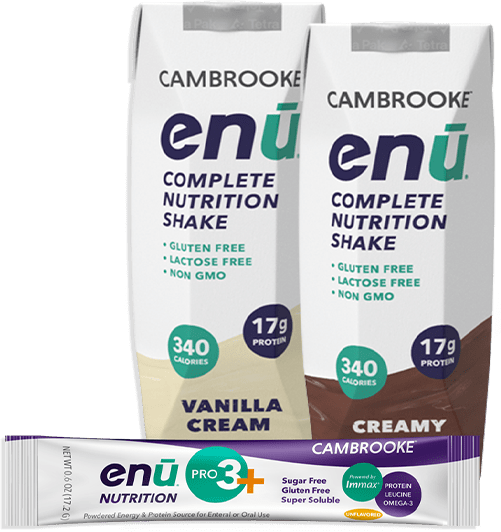 Meal Replacement Shakes vs. Protein Shakes
Meal replacement shakes and protein shakes are similar products that are both designed to help consumers reach their fitness goals, whether that means shedding pounds, packing on muscle, or simply maintaining a healthy weight. If you're trying to gain, lose, or manage your current weight, it can be beneficial to incorporate meal replacement shakes or protein shakes into your regular diet. But what is the major difference between protein drinks and meal replacement drinks for weight gain, weight loss, or weight management? And which type of product is right for you?
Meal replacement shakes and protein shakes are different products that provide different nutrients. For example, meal replacement shakes are generally more well-rounded in nutrients than protein shakes. Though protein shakes usually contain primarily protein, it's important that they also have nutrients that work in tandem with protein to generate positive results. For example, ENU Nutritional Shakes have whey protein for easy digestion and incorporate leucine, which aids in muscle growth. Though meal replacement shakes often have more nutritional value than protein shakes, that doesn't mean it's impossible to find protein shakes that provide adequate nutrition. ENU Nutritional Shakes offer the muscle-building capabilities of a protein shake, with the calories and nutrients of a meal replacement shake. Don't settle for a protein shake that is subpar, just because you've been told they should only provide protein.
At ENU, we create products that provide complete nutrition. Our ENU Nutritional Shakes are protein-dense meal replacement shakes that can help you reach your health goals. To purchase ENU Nutritional Shakes for yourself, visit us online
What Are the Differences Between Protein Shakes and Meal Replacement Drinks?
At first glance, it seems like the difference between protein shakes and meal replacement shakes is obvious. After all, it's right there in the name! Protein shakes contain high protein levels, while meal replacement shakes are designed to take the place of certain meals – right?
Well, that's the basic idea; but it's not quite the full nutritional picture. In reality, the differences between these two types of popular health products are a little more nuanced. Let's compare some of their core differences side by side, keeping in mind that every brand has its own set of ingredients and nutrition facts.
Meal Replacement Drinks
These products are generally designed to help you lose weight by substituting one of your regular meals.
Meal replacement shakes often contain more calories, more fat, and more carbohydrates than protein shakes.
They typically feature a blend of essential vitamins and minerals.
Even though meal replacement shakes aren't marketed as protein drinks, that doesn't mean they're devoid of protein.On the contrary, these products typically feature some protein content, albeit at lower levels than you'd find in most protein shakes. For example, ENU Nutritional Shakes contain 20 grams of protein per serving.
ENU Nutritional Shakes are made for those experiencing involuntary weight loss or malnutrition, unlike other meal replacement shakes. Because of that, our products have important vitamins, minerals, and nutrients to help you maintain a healthy diet.
Protein Shakes
Needless to say, protein shakes are high in protein. They generally pack in somewhere around 25 grams, depending on the specific product.
While meal replacement beverages are meant to facilitate weight loss, protein shakes are more focused on fueling intense workouts by helping you firm, tone, build, and repair muscle tissue.
Unlike meal-replacing drinks, which substituteone of your meals altogether, protein shakes are typically meant to supplement your regular diet. They're normally designed to be consumed before or after a workout.
Protein shakes often have fewer calories than meal replacement drinks because they aren't supposed to provide a full meal. They also tend to have a lower fat content, often containing just a few grams. Likewise, protein drinks are typically lower in carbohydrates, usually containing around five grams or less.
Protein drinks are less likely to be packed with the sorts of vitamins and minerals you'll often find in meal replacement shakes. However, many do provide calcium.
Some protein powders used in shakes are high in sugar. Adding sugar to protein shakes may spike your energy for a short while but won't give you the sustained energy you expect from a protein shake.
ENU's Pro 3+ Nutritional Powder is designed to help promote muscle strength.
You can buy protein shakes pre-made, or you can make them at home with your own protein powder. Making your own protein shake with a trustworthy protein powder like Pro 3+ allows you to know it's in your protein drink. You can control added sugars and nutrients by making a protein shake at home.
How Much Protein is in Meal Replacement Shakes by ENU?
Still not sure whether protein shakes or meal replacement shakes are the right dietary option for you? Then why not get the best of both worlds?
At ENU, we've designed a unique, nutritionally balanced product that combines the punch of protein shakes with the vitamins, minerals, and calories you would find in a meal replacement shake. In two delicious flavors, Vanilla Cream and Creamy Chocolate, our healthy, zero-hassle, easy-to-digest weight management shakes contain:
23 gramsof protein
450 calories
24 vitamins and minerals, including 60% of your Daily Value (DV) of Vitamin D to help give your immune system a boost
11% calories from sugar, compared to 27%in other leading shakes like Ensure Regular
In addition to providing balanced nutrition for improved weight gain or weight loss, our nutritional shakes are also:
Gluten-free
GMO-free
Lactose-free
Kosher certified
Compliant with college sports regulations
Free of any artificial colors, sweeteners, flavors, or ingredients
Made with high-quality natural fats and complex carbohydrates,such as heart-healthy sunflower oil, to help deliver a steady supply of energy so you can tackle your day head-on – without getting the dreaded "sugar crash" of energy drinks or candy bars later in the day
ENU Nutritional Shakes are made with those experiencing unintentional weight loss or malnutrition in mind. Packed with healthy calories, fats, and protein, our meal replacement shakes can help our customers stay on track with their nutrition.
What Are the benefits of Pro 3+ Nutritional Powder?
At ENU, our protein products are focused on overall health. ENU Nutritional Shakes are designed to safely increase daily protein intake for our customers. Some highlights of our meal replacement shakes include:
Soy-Free
Gluten-Free
Lactose-Free
ENU Nutritional Shakes also contain super important nutrients that promote muscle mass and strength. Our meal replacement shakes are made with whey protein, which is rich in leucine, an essential amino acid. This powerful nutrient triggers muscle synthesis in the body, helping your muscles to grow strong.
Both ENU Nutritional Shakes are made from 100% hydrolyzed whey protein. Whey protein is the richest in leucine and is the most easily digestible protein substance. That's because our whey protein is hydrolyzed, meaning the lactose is broken down, allowing it to be easily digested even in people with lactose allergies. Our protein-dense meal replacement shakes are fortified with medium-chain triglycerides, which also promote quick digestion and absorption.
ENU Nutritional Shakes also has important fatty acids, like omega-3s. Similar to leucine, omega-3s can help promote muscle growth. For people experiencing muscle loss, our meal replacement shakes may help to regain muscle and strength.
How to Incorporate Meal Replacement Shakes or Protein Shakes into Your Diet
You may want to add meal replacement shakes or protein shakes into your diet for many reasons. Maybe you want to gain muscle, maybe you want to lose weight, or maybe you want to add nutrients to your diet. Regardless of your reasoning, it's important to responsibly add these products into your life.
It isn't safe to utilize meal replacement shakes too often. Although healthy options, like ENU Nutritional Shakes, may provide necessary nutrients, you should not use them to replace each meal. It's not healthy or safe to forsake solid foods completely, as you may find yourself in a dangerous calorie deficit and devoid of important nutrients.
Constant consumption of protein shakes can be unhealthy as well. If you greatly exceed your recommended daily amount of protein too regularly, you may cause harm to your body. That's why it's so important to consult with a medical professional before taking serious steps to drastically changing your diet. Pre-made protein shakes may also contain harmful additives and sugars that don't aid your overall health.
When adding meal replacement shakes or protein shakes to your diet, it's important to do so responsibly. Talk to a doctor about what's best for your body. That will help you understand the correct amount of meal replacement or protein shakes for you.
Meal Replacement Shakes and Protein Shakes for Oncology Patients
For oncology patients, weight loss can be dangerous. Unfortunately, cachexia, or unintentional weight loss, can cause difficulties in treatment. Maintaining nourishment becomes increasingly important. Pro 3+ uses whey protein, which has anticarcinogenic, immunostimulatory, and anti-inflammatory properties. These qualities can benefit oncology patients seeking treatment.
Unintentional weight loss due to cancer or other medical treatment can also cause severe muscle loss. Pro 3+ contains leucine, protein, and omega-3s that can help aid in muscle regain or maintenance. Leucine is the amino acid that best promotes protein synthesis, which is necessary to gain muscle. For oncology patients and others, supplementing with leucine-rich products may help muscle synthesis and promote energy.
ENU products are easy on the stomach, allowing those with sensitive stomachs to digest without difficulty. The blend of proteins, complex carbohydrates, vitamins, and minerals come together to create products that aren't harsh on your stomach. ENU Nutritional Shakes are lactose-free, soy-free, and gluten-free, allowing for easy digestion. Our shakes contain 4 grams of MCTs per serving that aid in digestion for upset stomachs. At ENU, we understand that our customers require a sensitive approach to nutrition. That's why we create products to help promote a healthy diet for those that need it most.
Use ENU Nutritional Shakes to Boost Your Protein Intake
When you want to increase your protein intake, opt for ENU Nutritional Shakes. With 20 grams of whey protein per serving, our meal replacement shakes can help you get the protein you need. To purchase ENU Nutritional Shakes, visit us online.