Get a
FREE


ENU Intro Pack*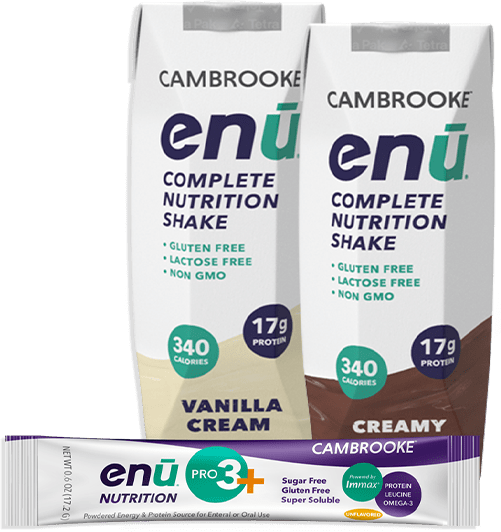 How Can You Get Extra Nutrition During Cancer & Chemo Treatments?
Staying healthy while battling cancer can prove extremely difficult for many patients, not only because of the disease itself but also because of the side effects that come with chemotherapy and other common cancer treatments. These side effects can impact everything from the patient's ability to chew and swallow food to their willingness to eat and level of hunger, which makes conditions like malnutrition and dehydration serious concerns for those fighting cancer. That said, there are a few ways that patients can get extra nutrition during cancer and chemo treatments, such as protein shakes for cancer patients, which will ultimately improve their chances of recovery and make it easier to maintain a healthy weight at this critical time. If you or someone you know is going through chemotherapy, keep reading as the people at ENU explain how to tackle this serious issue.
Nutritional Priorities During Chemotherapy Treatments
When it's tough to eat enough food or drink enough fluids, one tactic that can help keep you nourished and hydrated is to focus on certain foods and drinks as a form of medical nutrition support. Establishing nutritional priorities is important for chemo patients because they often have a diminished appetite along with symptoms such as nausea, mouth sores, and other things that can make eating difficult or unpleasant. For this reason, it is crucial to plan to make the best possible use of a patient's limited appetite.
Calories
One of the most important nutritional considerations for cancer patients is their caloric intake. The number of calories a certain food or beverage contains is an indication of how much energy it offers; foods with lots of calories, including many foods generally considered unhealthy, provide the body with significant amounts of energy, while foods with few calories offer only limited energy, even if they contain plenty of vitamins, minerals, or other types of nutrients.
Because cancer patients need to keep up their strength by consuming calories and maintaining a healthy body weight, even in the face of severe side effects, many of the most common nutritional guidelines can be set aside for the duration of the chemo regimen. Instead, the patient should work to get as many calories as they can, even if it means drinking a daily milkshake, adding lots of condiments to food, snacking throughout the day, or turning to other habits that healthy individuals are often encouraged to avoid. Cooking with oils and frying foods can also improve the calorie counts of meals, and those who struggle to eat solid foods can try a liquid nutritional supplement for cancer patients like those from ENU.
Protein
Another key consideration is the need for protein during treatments. As the body is subjected to the ravages of chemo, radiation, and other cancer treatments, it needs to constantly work to heal itself, especially between treatments. To do this, the body requires significant amounts of protein, a nutrient critical to the body's healing process. Without enough protein, a patient can face longer recovery times, which can lead to delays in treatment that can impact the patient's overall prognosis.
Of course, getting the protein you need is often easier said than done. Many of the most common protein-rich foods require effort to eat, which may place them out of reach for those suffering from oral mucositis, nausea, vomiting, fatigue, changes in taste, or a general loss of appetite. One solution is to add protein powders to meals, either as part of a dish or an ingredient in a homemade protein shake recipe. Many dairy-based foods and drinks – including milkshakes, chocolate milk, yogurt, and ice cream – contain protein, and they can make for an enticing treat when your appetite is waning.
Meal Replacement Shakes for Cancer and Chemo Nutrition
If solid foods and DIY nutritional shakes aren't cutting it, remember that meal replacement shakes can offer plenty of calories, vitamins, minerals, and macronutrients – the major category of nutrients, comprising fats, carbs, and protein. Ideally, you should select a nutritional shake that uses natural, wholesome ingredients; many of these products just offer empty calories derived from things like corn syrup, which is sometimes used to boost the calorie count of a product at the cost of its nutritional value.
By comparison, the meal replacement shakes provided by ENU focus on providing well-rounded nutrition and a healthy dose of calories without the harmful additives found in other products. Each carton from ENU contains 20 grams of protein from whey and soy isolates – two sources of protein that are gentle on the digestive system – along with complex carbs derived from whole grains and beneficial fats that come from coconut and sunflower oils. Plus, each ENU shake includes 24 different vitamins and minerals, and they come in two tasty but easy-to-stomach flavors: chocolate and vanilla. Our products are lactose-free, gluten-free, and non-GMO as well, so you don't have to worry about dietary restrictions.
Find Balanced, Accessible Nutrition with ENU Meal Replacement Shakes
Meal replacement shakes offer many advantages that make them an effective and useful tool for maintaining nutrition during cancer and chemo treatments. Not only are ENU shakes healthy and delicious, but they also offer convenience by allowing patients to avoid grocery shopping, meal prep, and other energy-draining obstacles to a healthy meal. Each shake offers 400 calories – the amount you'd find in a small meal – so that patients can get the energy they need without having to force down solid food. To learn more about ENU products and how they can help with cancer nutrition, visit us online or call (855) 266-6733 today.