Get a
FREE


ENU Intro Pack*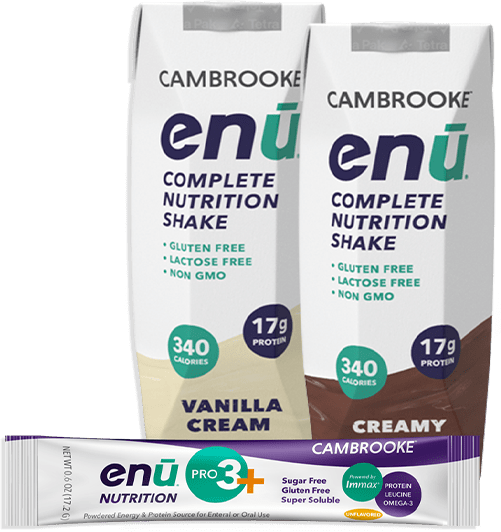 Recipe: Pumpkin-Acorn Squash Soup
This savory soup is the perfect anecdote to a cold winter day. Pumpkin and acorn squash are seasoned with thyme, ginger and nutmeg, while vanilla Enu adds to the rich flavor. Top with a dollop of plain Greek yogurt for an extra boost of protein. This soup freezes well so leftovers can be easily saved.
Ingredients:
1 medium acorn squash, about 2 pounds
1 (15 oz) can of pureed pumpkin (not pumpkin pie filling)
1 medium sweet onion, chopped
2 tablespoons butter
1 tablespoon chopped fresh thyme
4.5 cups chicken broth
1/4 cup vanilla Enu
1/8 teaspoon ground ginger
1/8 teaspoon ground nutmeg
1/2 teaspoon salt
Fresh ground pepper to taste.
Directions:
Preheat oven to 400 degrees F. Cut acorn squash in half and scoop out seeds. Fill a shallow baking pan with 1 inch of water. Place squash halves cut side down into the pan and bake for 30-40 minutes or until squash skin can be pricked with a fork.
Allow squash to cool, then scoop out pulp and set aside (discard shells).
Melt 2 tablespoons of butter in a dutch oven over medium heat. Add onion and saute for 5 minutes. Add thyme and saute for 1 minute
Stir in pumpkin puree, squash pulp and chicken broth. Increase heat to medium-high and bring to a boil, then reduce heat to low and simmer for 6 minutes
Remove from heat and let cool for 10 minutes. Add the soup, in batches to a food processor or blender and process until smooth (alternatively you can use an immersion blender).
Return pureed soup to the pan. Stir in vanilla Enu and next 4 ingredients. Cook, stirring frequently for 3-4 minutes or until heated through.
Makes 4 servings
Nutrition per serving: 206 calories, 8 grams protein, 7 grams fat (3.8 grams saturated fat), 32 grams carbohydrate, 8 grams fiber