Get a
FREE


ENU Intro Pack*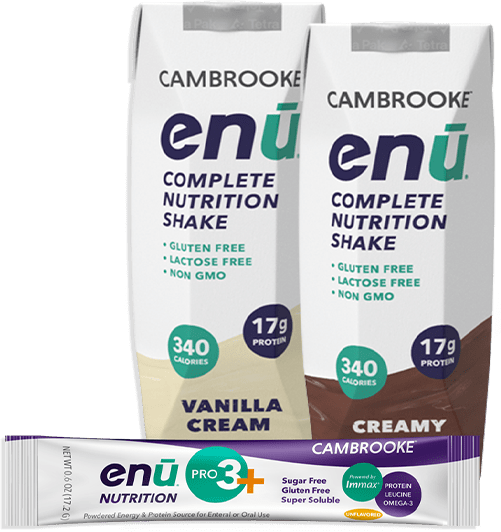 The 3 Most Important Ingredients in Fitness Shakes
There are so many different types of fitness shakes available. They're marketed as energy-increasing, healthy options for that pre-workout boost or to improve all-around wellness. However, some fitness shakes mask a large sugar content and are devoid of crucial elements. So, when searching for a fitness shake, it's important to scan the label for these three important ingredients.
Any fitness shake should contain high amounts of the three key macronutrients; fats, carbohydrates, and protein. These three nutrients are essential for a well-rounded diet. They work in tandem to provide energy, promote muscle synthesis, and sustain bodily functions. These three ingredients are necessary for any fitness shake. Without them, the nutritional value gained from fitness shakes may be subpar.
ENU is dedicated to formulating nutrient-rich products for our clients. Our ENU Nutritional Shakes are packed with 400 calories and 20 grams of protein per serving, along with carbs and healthy fats. To buy ENU Nutritional Shakes for yourself, visit our website today.
What Are the 3 Most Important Ingredients in Fitness Shakes?
The idea of fitness shakes is to promote wellness and boost nutritional intake. A healthy fitness shake should contain protein, carbohydrates, and fats. Without these ingredients, your fitness shake may not boost your energy, help your muscles, or have any positive effect on your overall wellness.
Protein
Your fitness shake should have a high protein content. Protein is a vital macronutrient that is essential for many bodily processes. In addition, it can help repair muscles after a workout and promote muscle growth. From athletes who want to gain muscle mass to people who need to gain weight after medical treatment, a protein-rich diet is a must.
ENU Nutritional Shakes are made from whey protein, the protein substance with the highest leucine concentration. Leucine is an amino acid that works to repair muscles, increase endurance, and lessen recovery time after a workout. Whey protein is also easily digestible, making it ideal for various people with stomach sensitivity. People who are ill from medical treatment may require additional nutrients. ENU Nutritional Shakes can offer that without upsetting your stomach.
Carbohydrates
Complex carbs are essential in a well-balanced diet. Carbs are the body's greatest power source; they provide your body with long-lasting energy throughout the day. If a fitness shake doesn't contain carbohydrates, it won't provide you with the energy you need pre-workout or post-workout.
In the fitness community, carbs may have a negative connotation. They're sometimes associated with unhealthy foods. However, complex carbohydrates are necessary for your diet to give your body the energy it needs to perform.
Each ENU Nutritional Shake has complex carbohydrates from healthy sources like brown rice, and tapioca. Carbs from whole grains and healthy starches can offer significant energy and restore your glycogen levels. That's the energy storage center your muscles pull from when they need that extra boost in the gym.
Fats
Heart-healthy fats are part of the three key macronutrients in a well-rounded diet. Healthy fats provide energy, protect your organs, and aid in the body's absorption of vitamins. Like carbs, fats may have a negative connotation. The truth is, they're a necessary component of any diet. Your fitness shake should include healthy fats to promote wellness.
In ENU Nutritional Shakes, fats are derived from healthy sources, like coconut and sunflower oils. The fatty acids in these oils have various health benefits, including improving heart health, burning fat, and increasing energy. Because of that, healthy fats are an important ingredient in any fitness shake.
Some fitness shakes claim to be healthy but actually contain high amounts of sugar and few calories or vital nutrients. Check the ingredients in your fitness shakes; do they contain healthy protein, fats, and carbs? If not, they may not be the ideal fitness shake for you.
What Are the Benefits of Fitness Shakes?
When fitness shakes have healthy ingredients, they offer additional benefits. ENU Nutritional Shakes are convenient, easily digestible, and can be used as a meal replacement shake in a pinch. They're also non-GMO and gluten-, lactose-, and sugar-free.
Convenient
Pre-packaged fitness shakes allow you to take them on the go to drink whenever you need that extra energy. Our ENU Nutritional Shakes are 8.5 fluid ounces per serving. These compact shakes pack a punch, containing 400 calories each. You can bring them with you on the way to the gym for a pre-workout boost or carry them in your bag whenever you need some extra calories. They're convenient and travel-sized, making them ideal for a busy lifestyle.
Easily Digestible
Fitness shakes should be accessible to all. Because they're packed with essential macronutrients, vitamins, and minerals, they're helpful for many different types of people. Those experiencing unintentional weight loss due to medical treatment may require additional calories and nutrients throughout the day. However, medical treatment can cause nausea, which may make it difficult to consume solid foods.
ENU Nutritional Shakes are designed to be easily digestible for just that reason. Made with whey protein, our fitness shakes contain the protein source that's least harsh on the stomach. Each ENU Nutritional Shake contains four grams of MCT – or "medium-chain triglycerides" – which aid in digestion. This makes ENU Nutritional Shakes ideal for people who have sensitive stomachs or are prone to nausea.
Meal Replacement
Because fitness shakes contain the nutrients required for a well-balanced diet, you can use them to occasionally replace meals. Whether you want to lose weight or manage calorie intake, or you are ill from medical treatment, using fitness shakes as a meal replacement can help. Each ENU Nutritional Shake contains 400 calories, making them optimal to replace snacks or whole meals.
Of course, fitness shakes shouldn't take the place of solid foods too often; that could leave you in an unhealthy calorie deficit. However, ENU understands that sometimes it can be impossible for people experiencing medical treatment to find the energy to cook or even go to the grocery store. Sometimes, it may be hard to eat solid foods due to nausea and illness. In that case, the right fitness shake can be used as a meal replacement.
Before using fitness shakes, it's best to speak with a doctor. A medical professional can advise the best options for you and help you avoid unhealthy fitness shakes.
For Healthy Fitness Shakes Try ENU Nutritional Shakes Today
When you require a healthy fitness shake option that contains essential fats, proteins, and carbs, try ENU Nutritional Shakes. Visit our website today to get your own ENU Nutritional Shakes and to learn more about ENU.