Get a
FREE


ENU Intro Pack*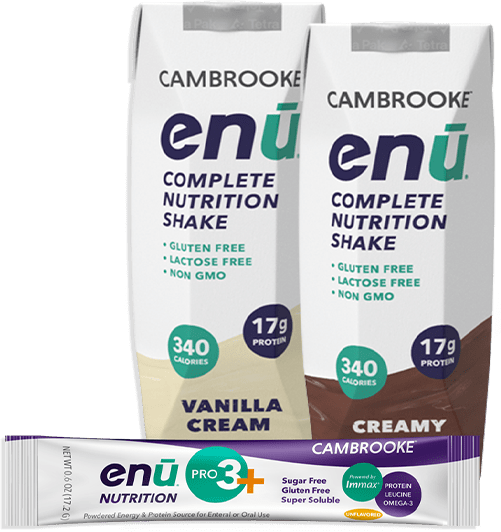 Things to Include in a Cystic Fibrosis Diet
Although life with cystic fibrosis can be every bit as fulfilling as life without it, the condition nonetheless requires that a number of adjustments be made to a patient's lifestyle, especially where their diet is concerned. To stay healthy, those with cystic fibrosis must observe certain nutritional guidelines, such as getting the proper number of calories on a daily basis and prioritizing certain macronutrients over others. To meet these goals, it's often helpful to plan meals ahead of time and include calorie-dense foods, but first you need to know what kind of dishes work best for this type of diet. Below, the team at ENU – makers of high-calorie nutrition shakes for cystic fibrosis – talk about some things to include in a cystic fibrosis diet. Keep reading to learn more.
Nutrients to Include in a Diet for Cystic Fibrosis
When you live with cystic fibrosis, your body has much higher energy needs than most others, which is why calories are so important. Below, we'll look at the calorie requirements for a proper cystic fibrosis diet and what nutrients should make it into your meal plans.
Calories
In general, people tend to build their diets around a standard calorie count of about 2,000 per day, though of course that can vary widely depending on a person's biology and lifestyle. Someone with cystic fibrosis, however, must set much higher goals; a woman with cystic fibrosis will likely need at least 2,500 calories just to stay at their current weight, while a man will probably need at least 3,000. If you're looking to gain weight, up that number by at least 500 in both cases, and if you struggle to meet that goal, consider a high-calorie nutritional powder that can add energy and protein without increasing the volume of your food.
Fats
As the most calorie-dense macronutrient, fat is an excellent addition to any cystic fibrosis diet, especially since it's the nutrient most likely to be passed through the body without being fully absorbed. However, not all fats are equally good for you; some have harmful effects, even for those who need all the calories they can get. Aim for unsaturated fats, rather than saturated or trans fats, as they're better for your heart and can help reduce inflammation.
Protein
Protein plays many roles that can benefit those with cystic fibrosis, but the two biggest reasons to include it in a cystic fibrosis diet are that it aids the body's natural healing process – helpful for tackling infections – and works to preserve muscle tissue. Because those with cystic fibrosis can easily lose weight in the form of both fat and muscle, protein can help your muscles stay strong while keeping your body healthier overall.
Foods to Include in Your Cystic Fibrosis Diet
When planning for the day ahead, someone with cystic fibrosis will likely need to fit calories into their day anywhere they can, whether at home, at work, or on the go. The following foods can help you or a loved one meet their calorie- and nutrition-oriented goals from the time they wake up until they settle into bed for the night.
Breakfast Foods for a Cystic Fibrosis Diet
Eggs can be an excellent source of protein, and they can be prepared in any number of ways, adding variety to your breakfast while providing you with the nutrients you need. Making yourself a breakfast burrito with scrambled eggs, beans, and cheese can be a great way to start the day, as it contains a sizeable amount of calories, or consider frying up an egg to add calories without increasing the volume of food. Other helpful additions include large muffins or scones, high-calorie weight gain protein shakes, or a fruit parfait with full-fat yogurt.
Making Lunch on a Cystic Fibrosis Diet
As one of the most versatile items on any menu, sandwiches can make for great additions to your cystic fibrosis diet. Not only can you include high-fat ingredients like cuts of deli meat, cheese, or bacon, but you can make sandwiches in advance for the sake of convenience, and they can easily be packaged for on-the-go eating. When you're eating at home or out at a restaurant, burgers can be a good choice, and even salads can work if topped with fatty additions like extra cheese or guacamole.
Dinner Ideas for People with Cystic Fibrosis
When dinnertime rolls around, you'll have plenty of options to meet the goals of your cystic fibrosis diet. Pizza is always a favorite; add extra cheese and plenty of toppings to up the calorie count of each slice. Pasta is another popular choice, and one that's easy to adjust; include butter or olive oil in your sauce to boost the fat content of the dish. Plus, there's always dessert; while you shouldn't drink a sugary milkshake or eat a slice of cake every single night, they can offer tasty ways to get more calories.
Snacking on a Cystic Fibrosis Diet
Although meals are, naturally, an ideal time to get your calories and nutrients, those with cystic fibrosis often struggle to meet their dietary goals through meals alone, which is where snacks come in. Bringing sources of calories and fats along with you or keeping food at work can make a big difference; maintaining a steady supply of nuts, hummus, string cheese, fresh fruit, or shakes for weight management can bolster your efforts to stay at a healthy weight.
Add ENU Nutrition Shakes and Powders to Your Cystic Fibrosis Diet Today
When you have cystic fibrosis, getting all the calories and nutrients you need to stay at a healthy weight can be a daily challenge, but ENU can help. Try adding one of our nutrition shakes to your routine after a meal for 340 more calories, heart-healthy fats, and 20 grams of protein, or mix our Pro3+ nutrition powder into your favorite drink instead. Learn more about all the benefits of ENU products by visiting us online or calling (855) 266-6733 today.