Get a
FREE


ENU Intro Pack*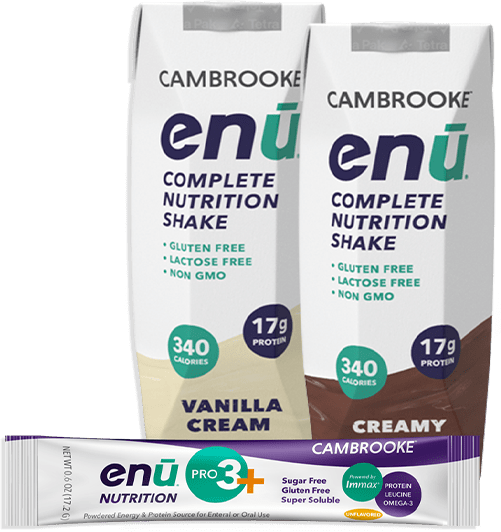 What Protein Is Best for Muscle Loss in Elderly People?
Getting older comes with a whole slew of health problems, many of which are, unfortunately, unavoidable. That said, if you or someone you know has experienced muscle loss due to aging – a condition called sarcopenia – know that there are steps you can take to deal with the issue. Both diet and exercise play an important role in helping elderly people who lose muscle mass; perhaps the biggest concern is the amount of protein the person gets each day. However, some sources of protein are better than others when it comes to addressing the problem of muscle loss, leading many to wonder: What protein is best for muscle loss in elderly people? To find out, keep reading as ENU's experts on protein shakes for elderly people shed some light on this topic.
What Kind of Protein Should Elderly People Use for Muscle Loss?
Nowadays, there are tons of different protein supplements available to cater to every dietary need or restriction, including those of elderly people, but the most popular of these by far is whey protein. Supplements based on whey protein powder and nutrition shakes that feature it as a key ingredient are used by everyone from professional athletes to home-bound seniors in need of a boost to their muscle mass, largely because it excels in a few key areas.
Easily Digested and Absorbed
Even for young, healthy people, consuming the wrong protein supplement can cause some of that protein to literally go to waste because whole proteins are not easily absorbed by the gut. The body first has to break down protein molecules before it can use the amino acids inside, and any protein that's not digested in time winds up exiting the body unused.
Fortunately, whey is an example of an easily digestible protein, making it an efficient choice for anyone, but especially for elderly people. If your digestive system is picky about what it accepts, know that the addition of why protein will likely be gentler on your body than other types.
A Complete Protein
Although you might assume that all protein is the same, there are actually many different types, each containing its own unique blend of amino acids. Depending on what your goals might be, the amino acids a particular protein offers can make a great deal of difference, and the best kinds for elderly people are generally the "complete" proteins, such as whey.
In all, our bodies need 21 basic amino acids to survive. Nine of those we can't make on our own, so we have to get them from the things we eat and drink; these are the "essential" amino acids. Protein sources that contain significant amounts of all nine essential amino acids are called complete proteins because they give you everything you need in one convenient, nutritious package, so they're a great option for older adults experiencing muscle loss.
An Affordable Ingredient
Whey has been around for a number of years at this point, which is part of why it's found in stores all over the country. While not all of these whey supplements are the same, the ubiquitousness of whey offers a great financial benefit for those who use it, either on its own or as part of a healthy protein shake for weight gain – namely, it's so widely available that it's not expensive.
How Whey Helps with Muscle Loss in Elderly People
As mentioned above, whey is a complete protein, which means that it contains – among its nine essential amino acids – the three branched-chain amino acids, or BCAAs. These three compounds are not only very helpful for slowing the loss of muscle tissue in elderly people but also for building up new muscles for improved strength, stamina, and independence.
A 2018 study in The American Journal of Clinical Nutrition found that, among the different types of protein studied, only whey protein was effective at improving lean leg mass and boosting muscle protein synthesis in elderly participants. Much of the reason for this success lies with whey's high concentration of leucine, one of the BCAAs and a critical component in any muscle-building nutritional shake for elderly people.
When you use protein to help with muscle production, it's leucine that tends to do the heavy lifting, biologically speaking. Leucine is the amino acid that tells your body to kick its muscle-making process into high gear, and leucine – along with other amino acids – is a key ingredient in the actual creation of new muscle cells. The authors of one 2006 study concluded that a high amount of leucine can even reverse muscle loss in elderly people.
Taking whey protein to address muscle loss in elderly people isn't as simple as just drinking a shake, however. To truly be effective in your muscle-preserving and muscle-building efforts, you'll need to engage in some resistance training. If you or someone you love is enduring muscle loss, consider enlisting the help of a personal trainer who can create a safe workout routine, as, without exercise, you won't build much muscle, even with the best protein in the world. In addition, be sure to talk to your doctor before starting any exercise regimen or adding a regular nutritional supplement to your diet.
Try a Nutritional Protein Shake for Elderly People to Help Restore Lost Muscle
Stopping the loss of muscle tissue may seem like a tall order, but the truth is that it's a very achievable goal for many elderly people. Try adding a protein-rich ENU meal replacement shake or nutritional powder to your diet and boost your protein intake today. Learn more about how ENU shakes with whey protein can help you with your muscle loss by visiting us online or calling (855) 266-6733 today.